Warner Ultimate Collector's Editions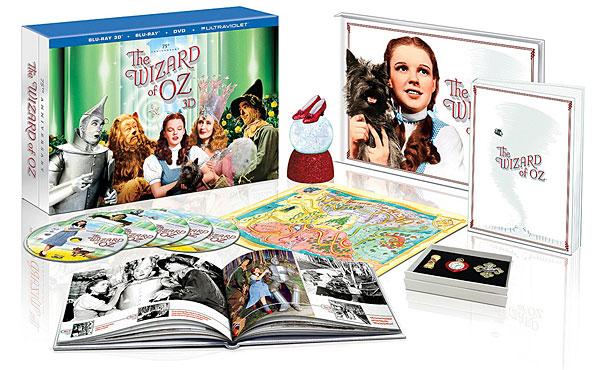 An eclectic batch of classics—old and new—is the basis of four very different Ultimate Collector's Editions from Warner. Festooning eminently rewatchable favorites with a thoughtful array of mementos, the 91-year-old studio is fueling our passions with individually numbered limited-edition sets perfect for the most devout film fanatic in your life—even if it's you.
The Wizard of Oz 75th Anniversary Collector's Edition
Among the most anticipated discs of last year and one of the most beloved movies of all time, The Wizard of Oz also enjoyed a brief 2013 theatrical run...in IMAX 3D! Determined to make this new version truly special, Warner began with an 8K-resolution scan of the original camera negative, and then depth-mapped the restored 2D image frame by frame to create new 3D imagery. Particular attention was paid to the relative distances to the viewers' POV, a process further refined with the use of a rotoscope to fully layer shapes and objects. The resulting Blu-ray 3D is one of the most impressive stereoscopic conversions of a catalog title I've seen, with an illusion of organic dimensionality that fairly begs us to travel down the Yellow Brick Road alongside Dorothy & Co.
The quality of the 1.37:1 image itself is lovelier than ever too, with countless minor flaws from the 2009 disc apparently remedied. (The included 2D Blu-ray appears to be that same vintage '09 platter, bundled here with a double DVD and UltraViolet Digital Copy.) New for the 75th anniversary is another full-length documentary taking its place amid the many bonus features from the previous box, but this one is crammed with alternate tchotchkes: a light-up snow globe, three lovely "award" pins, a hardcover book, and plenty more.
The Dark Knight Trilogy: Ultimate Collector's Edition
Christopher Nolan's fairly miraculous reinvigoration of the Batman mythos in three parts has earned its ample praise. For this handsome keepsake box, the content of the Batman Begins, The Dark Knight, and The Dark Knight Rises discs is identical to each title's original release—a pity considering the edge enhancement on the middle installment and the fact that Begins dates back to the earliest days of HD disc. No real complaints about Rises, at least.
Clearly, this edition is about the physical bounty—stylized art prints, one die-cast vehicle per movie, a softcover behind-the-scenes book—plus a bonus disc anchored by a deep, fascinating documentary that puts the entire trilogy into perspective. The screen tests are a special treat, as is an upbeat sit-down between Nolan and the great Superman director Richard Donner. IMAX aficionados should enjoy the large-format sequences from the second and third films isolated here, finally pillarboxed to approximate their proper 1.44:1 aspect ratio. (The otherwise 2.4:1 feature presentations shift to full-screen 16:9 for these scenes.) UltraViolet Digital Copies of all three will help round out your virtual library.
James Dean Ultimate Collector's Edition
What other actor has found such an enduring legacy from only three feature films? Almost 60 years old, East of Eden, Rebel Without a Cause, and Giant have been restored from their original camera negatives at 4K, all presented at their correct, somewhat-less-common aspect ratios: Eden and Rebel at 2.55:1 ("CinemaScope"), Giant at 1.66:1 (5:3). Eden, Dean's first, is the best looking of the bunch, especially the refreshed color palette. Giant is still tainted by some video glitches and soft focus—inherent to the original photography?—but surely trumping all previous versions. All are sharp but not overly so, their filmic warmth maintained. Dialogue is thankfully clear, and the lovely musical scores display excellent fidelity in their respective DTS-HD Master Audio 5.1/5.1/2.0 incarnations.
Most of the considerable extras are ported from the long-available DVDs, with expert commentaries on all, plus a new featurette about co-star Dennis Hopper on Rebel. More reproductions of vintage Hollywood paraphernalia abound.
JFK 50th Anniversary Ultimate Collector's Edition
Whether or not you endorse filmmaker Oliver Stone's reliance upon conjecture interwoven with fact, JFK remains a watershed in its provocative exploration of John F. Kennedy's assassination and its grander implications. The JFK gift set ups the classiness of even this formidable lot by including memorabilia that concentrates on true American history, with a campaign poster, respectfully assembled documents and correspondence, a book of quotations, and more. Even the Cliff Robertson–starring dramatization of Kennedy's military service, PT-109, rides along on DVD.
The bonus Blu-ray from Stone's recent Untold History of the United States series delves deeper still. The well-over-three-hour JFK Director's Cut does not appear to have been remastered, but it preserves well enough the director's frequently used pastiche of media, different film stocks, even black-and-white moments, at 2.4:1. The 1965 documentary Years of Lightning, Day of Drums has at least been remastered for DVD, joined by the new JFK Remembered: 50 Years Later.
LATEST VIDEO