U2: The Joshua Tree – Super Deluxe Edition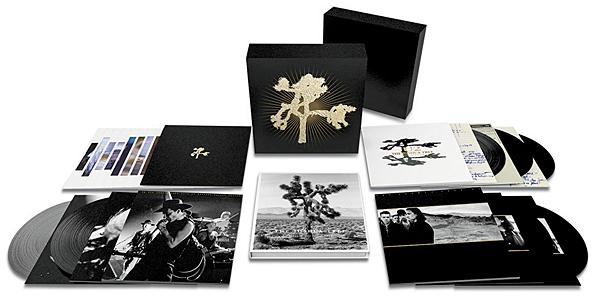 The Joshua Tree is an album most assuredly deserving of this uber-deluxe-level treatment, and it's also been released in conjunction with U2's duly dubbed The Joshua Tree Tour 2017, during which the album itself is being played in its entirety for the first time. The 49 tracks on this collection are spread across seven LPs and four CDs, accompanied by an 84-page hardbound book of unseen personal photos taken by The Edge during the band's official 1986 Tree photo sessions with Anton Corbijn in the Mojave Desert.
The Joshua Tree was the initial apex of the Irish band's early love affair with the lure—and the lore—of the ideals, hopes, dreams, and wide- open spaces of these here United States, later chronicled to great effect in their ensuing 1988 U.S. A/V travelogue, Rattle and Hum. The Joshua Tree's broad sonic template was firmly set in motion by producers Brian Eno and Daniel Lanois on 1984's The Unforgettable Fire, which built both outward and inward from the hair-trigger intensity of Steve Lillywhite's production style for the band's first three albums: 1980's Boy, 1981's October, and 1983's War. Needless to say, with nine weeks at No.1 on the U.S. album charts, back-to-back No.1 singles ("With or Without You," "I Still Haven't Found What I'm Looking For"), and over 25 million albums sold worldwide, The Joshua Tree catapulted U2 to virtually instantaneous—and wholly deserved—stadium-filling status.
The first disc holds the top-shelf 2007 remaster of the original album proper, while the second disc contains a galvanizing 1987 concert at Madison Square Garden in New York. The live highlights include a cathartic take on the whisper/scream exposition juxtaposition on "Exit," the rabble-rousing cautionary tale that is "New Year's Day" (where Bono encourages the audience to sing the first verse on their own), and the uplifting rhetorical sing-along refrain of the show-closing "40."
The fourth disc is chock full of B sides and out- takes that otherwise would be career pinnacles for many bands. "Luminous Times (Hold on to Love)" is anchored by some shimmering piano lines and Larry Mullen Jr.'s cascading percussion, as Bono's vocals channel a pleading buildup to rapture in a way that would do his spiritual cousin and fellow countryman Van Morrison quite proud. "Spanish Eyes" and "Deep in the Heart" can be seen and felt as veritable bridges from the aural palette of The Unforgettable Fire. Meanwhile, the stripped-down "Silver & Gold (Sun City)" is a finger-snapping foot-stomper drenched in equal parts echo and panache. ("I am someone" indeed…)
The third disc, though, is the one that brings The Joshua Tree squarely into 2017, with all-new remixes of a half-dozen of the album's most indelible earworms. St Francis Hotel transforms "One Tree Hill" into an even deeper spiritual dirge, while Jacknife Lee slices "Bullet the Blue Sky" into a pulsating, bass-heavy siren call. Daniel Lanois returns to inject both "Running to Stand Still" and "With or Without You" with his own brand of swirling modern electronic twang. Steve Lillywhite streamlines "Red Hill Mining Town" with added string textures on the choruses, and Flood turns "Where the Streets Have No Name" on its head, now recast as a howling, haunting beast of a track that should immediately be earmarked for end-credit accompaniment to follow a Game of Thrones episode that has more than its usual share of particularly palpable, visceral carnage.
I do have to note here, however, it's a shame this super deluxe edi- tion does not also include the bonus DVD found in the 20th anni- versary multidisc package released in 2007, or that a surround sound mix was not commissioned from the aforementioned Steve Lillywhite—a noted, adven- turous 5.1 aficionado—but, alas, you can't have everything.
That being said, what is included here does not disappoint. As box sets celebrating and expanding iconic albums go, The Joshua Tree is a near-faultless example of how spiritually enriching music can assist you in finding just what you were looking and listening for all along.
CD
Label: Interscope/Island/UMe
Audio Formats: 44.1-kHz/16-bit PCM Stereo (CD), 44.1-kHz/24-bit PCM Stereo (download)
Number of Tracks: 49 on 4 discs
Length: 3:37:05
Producers: Brian Eno, Daniel Lanois, U2 (original album, B sides, 2017 remixes); The Edge, Cheryl Engels (2007 remastering)
Engineers: Flood, Dave Meegan, Pat McCarthy (original album); Arnie Acosta (2007 remastering); Daniel Lanois, St Francis Hotel, Jacknife Lee, Steve Lillywhite, Flood (2017 remixes); 5 more

"Outside, it's America." That's U2 vocalist Bono, setting the stage for the explosive climax of "Bullet the Blue Sky," one of the pivotal tracks on the band's 1987 masterpiece, The Joshua Tree. As Bono purposefully charges his way through the denouement of the narrative, ace guitarist The Edge literally dive-bombs the aural equivalent of the lyrical floodlights—let's call them "flood-licks"—through a series of unrelenting scorched-earth riffs while the track careens to its final U.S. caress. A chilling indictment of late-1980s Reagan Administration foreign policy, "Bullet" is no less stinging today—and but one of the many highlights of a career-defining album now being properly feted in a 30th anniversary super deluxe edition box set available in multidisc vinyl LP and CD options (not to mention 24-bit digital downloads).