Temple of the Dog: 25th Anniversary Expanded Edition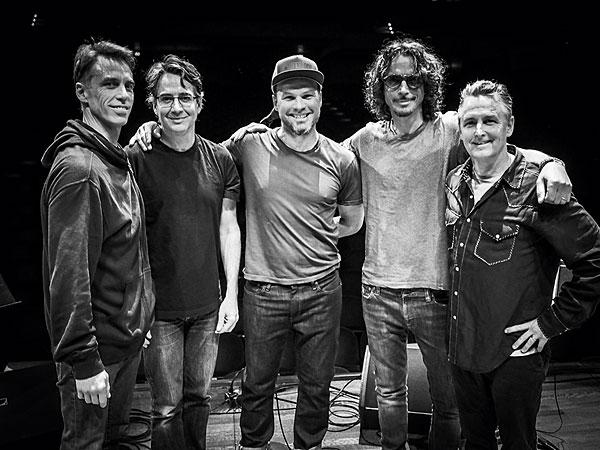 To be sure, Temple of the Dog—named after a line from one of Wood's magical Mother Love Bone songs, "Man of Golden Words"— has a storied pedigree. Vocalist and chief lyricist Chris Cornell was Wood's roommate and one of his closest friends—and he's also the frontman of Soundgarden, who had just found their major-label footing with 1989's pummelfest Louder Than Love and were on the cusp of completing their hard-hitting alt-rock breakthrough, 1991's Badmotorfinger. Wood's bandmates in Mother Love Bone, bassist Jeff Ament and guitarist Stone Gossard, had previously spent time in Green River, a seminal band canonized on the regional 1986 Deep Six compilation. Ament, Gossard, and Temple guitarist Mike McCready were concurrently recording Ten, the 1991 debut album of their other new band, Pearl Jam. Temple also enlisted powerhouse Soundgarden drummer Matt Cameron (who now splits his drum-chair time between Soundgarden and Pearl Jam) and tapped a recently transplanted San Diego surfer for background and featured vocals—one Eddie Vedder, who himself was in the midst of finding his own creative footing as he became Pearl Jam's frontman.
To celebrate the band's legacy, the five core members reunited for a half-dozen live shows in November 2016. They also approved this 25th Anniversary Expanded Edition box set, which contains four discs chock-full of Dog treats. Two CDs feature the original album, alternate mixes, outtakes, and Cornell's almost fully realized demos, which set forth quite the Temple tracking template. The DVD and Blu-ray share 45 minutes of visual content, but the producers wisely consigned historically interesting but A/V-quality-challenged elements to the DVD only, such as a November 1990 club appearance filmed on a video camera propped up on Soundgarden soundman Terry Date's mixing desk and Cornell and Vedder's semi-impromptu reading of "Hunger Strike" at a 1992 Lollapalooza stop in Phoenix.
The clear cream of the extras crop is Adam Kasper's 96-kilohertz/24-bit 5.1 mix of the original album on Blu-ray. While grunge has long been the go-to word for describing early-'90s Pacific Northwest–bred music, you won't find any sonic sludge dripping from this wholly enveloping mix. Album opener "Say Hello 2 Heaven" sets the mark, with Cornell's murmur-to-a-scream vocal elegy initially setting up shop in the center channel, with full harmonic vocal accompaniment on the choruses nestled in the rear channels as Ament's propulsive bass line gives the subwoofer channel its proper throttling.
"Reach Down" is a turgid 11-minute chug 'n' churner, again assigning vocal harmonies to the rears. It's also a showcase for McCready's formidable lead-guitar skills, as the able axeman channels his innermost Hendrixian/SRV tendencies with a blistering solo sequence that begins by dominating the front right, with supplemental riffs countering back and forth in both rear channels. After this multi-minute jam clinic, the accompaniment drops out for 40 seconds to enable a caterwauling Cornell to repeatedly implore in all channels, "I gotta reach down and pick the crowd up/carry back in my hand to the promised land"—an aural soul cleansing of the highest order.
It's hard not to sing along with the chorus of "Hunger Strike," but if you can resist that tempting pang, you'll be rewarded with many surround-centric treats. (And, yes, you can also separately cue up the accompanying video the band shot on the beach at Discovery Park on the eastern shore of Puget Sound.) Cameron's stickwork and cymbal attack is a nice rear-right detail. When Vedder's all-channel vocals enter at 1:11, the track's energy ramps up another notch, and his lower-toned, expressive "unh-huh" ad-lib after the "when my cup's already over- filled" line is chill-inducing. Here, Kasper masterfully threads Cornell's yells with Vedder's counterpoint on the repeated line, "I'm going hungry." (You're now singing along to it in your head, I can tell.)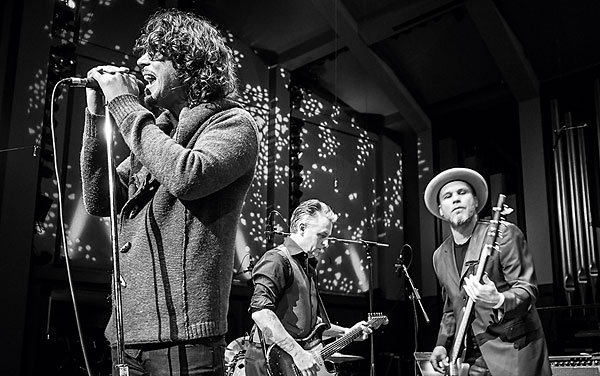 Ultimately, Temple of the Dog is a heartfelt, of-the-moment document that captures six musicians' intuitive connec- tion through grief that resulted in a litany of elegiac sounds. In the album's booklet, Ament's handwritten stream-of-consciousness liner notes conclude, "No pressure. No hype. Just music to make music. Friends and a reason. Chemistry. Beauty. Life rules." The uplifting surround sound palette of Temple of the Dog continues to affirm that drive and positivity with real bite.
CD, DVD & Blu-ray
Label: A&M/UMe
Audio Formats: 96-kHz/24-bit DTS-HD Master Audio 5.1, Dolby TrueHD 5.1, PCM Stereo (Blu-ray and downloads); 192-kHz/24-bit PCM Stereo (downloads); 48-kHz/24-bit (live video material); 44.1-kHz/16-bit PCM Stereo (DVD and CDs)
Number of Tracks: 49 on 4 discs (25 on two CDs, 16 on DVD, 18 on Blu-ray)
Length: 5:53:58 (2:22:53 for two CDs, 1:38:41 for DVD, 1:52:24 for Blu-ray)
Producers: Jeff Fura (2016 reissue); Adam Kasper (5.1 mixes and mastering, alternate mixes, demos); Brendan O'Brien (stereo mixes and remixes); Rick Parashar, Temple of the Dog (original album)
Engineers: Rick Parashar, Don Gilmore
The Seattle music scene was devastated. Andrew Wood, the promising and charismatic frontman of Mother Love Bone, was found dead of a heroin overdose in March 1990. His bandmates and close friends were in despair, and the one catharsis they found to deal with their pain in the ensuing year was in making new music together. As a result, out of the wake of Wood's passing was born a 1991 Seattle supercollective dubbed Temple of the Dog, who became best known for their massive grunge-era alt-rock MTV hit, "Hunger Strike."