Rush: Hemispheres - 40th Anniversary Super Deluxe Edition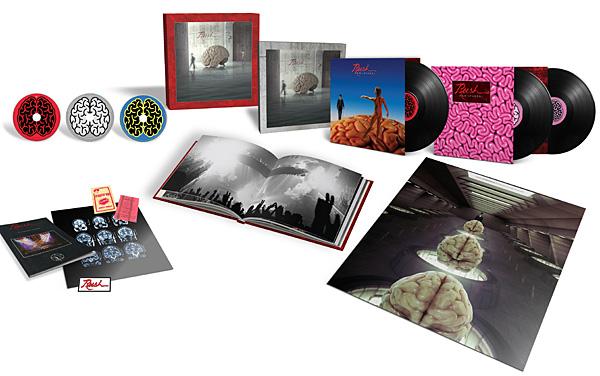 And just like its two direct- predecessor brethren, Hemispheres has been properly feted in a quite extensive 40th Anniversary Super Deluxe Edition box set. Two CDs and three 180-gram LPs share both the remastered original album and 10 additional of-era live tracks, while one Blu-ray contains a masterful 24-bit/96kHz 5.1 mix by longtime Rush production compatriot Richard Chycki plus four period videoclips, the latter quartet in stereo at 24/48. A deep-dive essay focusing on the album's technical minutiae from Grammy-winning Professor of Music Rob Bowman is included in a hardbound book along with other collectibles—all ensuring this deluxe edition is yet another fine example of UMe knowing exactly how to make expensive box sets worth every penny.
For Rush completists like yours truly, getting 10 properly (re)mastered bonus live tracks from two pivotal late-1970s performances is nothing short of an aural godsend. The first nine cuts come from the band's illustrious appearance at the Pinkpop Festival in The Netherlands on June 4, 1979. The various supposed soundboard- culled bootleg options for Pinkpop have long been just a few notches above satisfactory, so hearing the full breadth of the band's attack on "Cygnus X-1 Book II," "Closer to the Heart," and "Something for Nothing" are most welcome.
Because the Pinkpop performance of "2112" hadn't been fully captured on tape by the engineer in charge of that day's radio broadcast, a 19:45 version of the song was instead harvested from the band's November 20, 1978 performance at the Community Center in Tucson, Arizona. Again, this mix is light years ahead of what appears on my passable, alleged sound- board-drawn bootlegs—but, naturally, I wouldn't mind having a remastered version of that evening's entire performance in hand. Perhaps the Rush camp will consider instituting an authorized live-archive series akin to Bruce Springsteen, The Grateful Dead, and The Allman Brothers Band, all of whom have similar artist-vetted programs in place for upgrading and/or replacing countless unauthorized releases that span their extensively bootlegged careers.
And then comes the surround mix on Blu-ray. While Steven Wilson did the 40th anniversary 5.1 honors for A Farewell to Kings in 2017, Rush returned to Chycki for Hemispheres, and the man who'd helmed a half-dozen Rush 5.1 mixes prior was more than up to the challenge. "The prime directive was to maintain the integrity of Hemispheres' essence, never compromising the original focus," Chycki told me prior to the box set's release. "Recreating vintage reverbs and ambiences so they ebb and flow just like the original versions was an exciting adventure."
True to his word, Chycki found the surround sweet-spot where adventure and original intent intersect. The exceedingly complex, multiple-time-signature-embedded 18-minute title track sets the tone from the get-go. Drummer Neil Peart's flanged cymbals, bassist/ vocalist Geddy Lee's Oberheim polyphonic synthesizer, and Alex Lifeson's chorused guitar lines entangle accordingly across the front stage before full- channel envelopment ensues. Peart's first recorded use of a gong dramatically reverberates through the channels near the track's endgame, leading to Lee's final vocal push on the right, all buttressed with Lifeson's regal acoustic textures.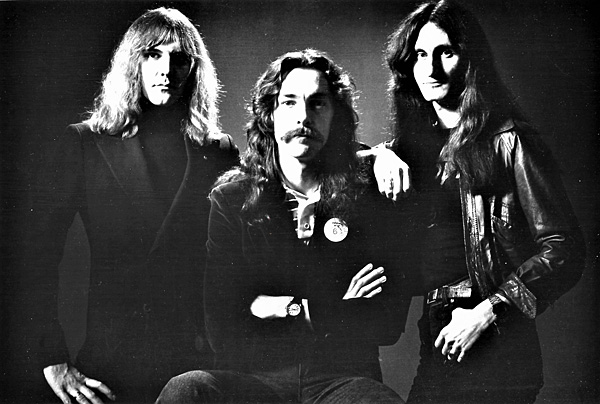 The all-out all-channel metallic assault of "Circumstances" acts as a tone break of sorts. It is then followed by the cleverly allegorical "The Trees," with volume-swelled layers—led by Lifeson's deft classical guitar intro and Peart's percussive effects, crotales, and wind chimes—all properly delayed into the rear channels. The proceedings conclude with the epic 9-minute instrumental, "La Villa Strangiato," a tour de force that showcases the raw power of Lifeson's master-class guitar-soloing down the middle as supported by the rhythm section's jazz chops during a key transition that finds Peart channeling Gene Krupa and Lee divining Weather Report.
And just like that, "La Villa Strangiato" has officially vaulted into my personal Top 3 Rush 5.1 song mixes—the other two being Wilson's take on A Farewell to Kings' immortality morality play "Xanadu" and Chycki's own all-channel mix for the pond-hopping Moving Pictures travelogue, "The Camera Eye."
With a full gap-year already underway until the next ruby celebration in the band's catalog surfaces in 2020 for Permanent Waves, one wonders if Chycki will once again get the nod to bridge the 5.1 divide. In the meantime, let us celebrate the heady mindfield that is Hemi- spheres. With the brainpan-filling contents of this stellar box set, the heart and mind are indeed united in a single perfect 5.1 sphere.
CD, LP, & Blu-ray
Label: UMe/Mercury/Anthem/Olé
Audio Formats: 16-bit/44.1kHz PCM Stereo (CD); 24-bit/96kHz DTS-HD Master Audio 5.1, 24-bit/96kHz Dolby TrueHD 5.1, 24-bit/96kHz PCM Stereo (Blu-ray audio tracks); 24-bit/48kHz Stereo (Blu-ray videos)
Number of Tracks: 36 (14 on 2 CDs, 14 on 3 LPs, 8 on 1 Blu-ray)
Length: 4:38:21(1:47:48on3CDs,1:47:48 on 3 LPs, 1:02:45 on 1 Blu-ray)
Producers: Rush, Terry Brown (original recordings); Sean Magee, James Clarke (deluxe edition mastering); Richard Chycki (5.1 mix)
Engineers: Pat Moran, Declan O'Doherty, Terry Brown, John Brand (original recordings); Michelle Harrison (5.1 engineering); Andrew Walter (5.1 mastering)
Rush was on a roll. After the celebrated Canadian trio had finally broken through the FM ether with 1976's dystopian statement piece 2112, they took the next evolutionary sonic turn with 1977's expansively majestic A Farewell to Kings. The following year, Rush rotated the screws once again by taking their proto-prog metal to the headiest of limits on 1978's Hemispheres, their final mind-altering statement of the Me-So-Introspective Decade before shedding their muso-skins yet again with 1980's forward-thinking Permanent Waves.