The Rolling Stones: Goats Head Soup Super Deluxe Edition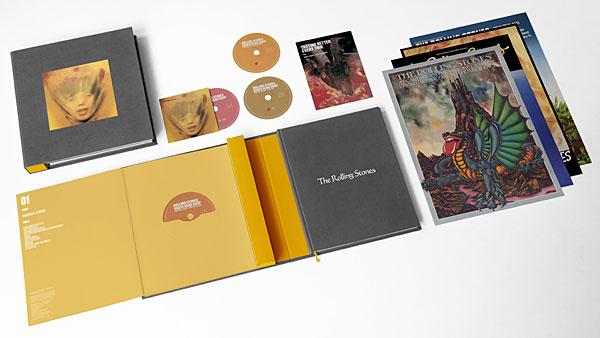 Goats Head Soup
as your favorite Rolling Stones album? Anyone? No? Can't say I blame you. Any record following The Stones' May 1972 career-defining double-album masterpiece
Exile on Main St.
would have an impossibly high bar to overcome, no matter what made the final cut. Fact is,
Goats Head Soup
had a master chef's menu stacked against it from the outset. And time has very much
not
been on its side, as
Goats Head Soup
has long served as a relatively underappreciated entry in The Rolling Stones' somewhat uneven mid-1970s studio-album canon.
However, thanks to a new multidisc box set, Goats Head Soup has been served up for a well-deserved auditory reassessment. As is often the case with deluxe reissue campaigns these days, Goats Head Soup actually appears in a wide variety of formats, including single LP and CD, double LP and CD, and as the ultimate crown jewel—a four-disc Super Deluxe Edition box set that houses three CDs and one Blu-ray, the latter with a stellar Dolby Atmos mix courtesy the irrepressible Giles Martin. (Note: If you don't yet have Atmos, the surround mix will defer to either 24-bit/96kHz DTS-HD Master Audio 5.1 or 24/48 Dolby TrueHD 7.1 accordingly—even though, for some unknown reason, the BD's onscreen menu doesn't show you these options.)
Naturally, I instantaneously gravitated toward the lavish 11¾-by-12½-inch box set. The gray woven-cloth frame around the centered, 6½-inch-square cover image of Mick Jagger's cheeky, chiffon-gauze-veiled facade lends an admittedly classy touch to the proceedings. That said, a few nomenclature points must be deducted for the decision to only feature the band's name and their signature tongue logo in white at opposite ends of the outer box's spine without listing the album title there as well. It's a questionable titular omission that detracts from the box's overall presentation and prestige.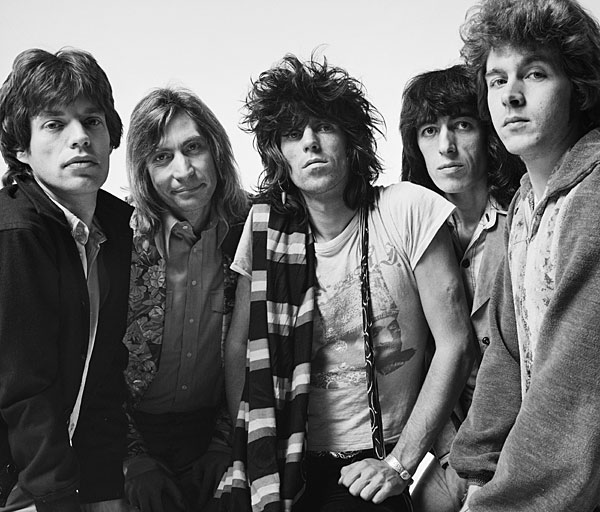 Thankfully, the Goats box's innards go a long way toward bridging that gaffe. A 128-page hardbound book that's literally bound to the back of the inner right side of the box is laden with much historical detail and vibrant photography. Meanwhile, the four discs themselves are nestled in individual slots on four sturdy, flippable yellow cardboard pages on the box's left interior side. It's all somewhat awkward to manage at first, but you get used to it.
Sonically speaking, the aforementioned Giles Martin has seen fit to upgrade and upbraid Goats' Jimmy Miller-produced of-era grungy sheen, something most especially apparent via the broadened scope of his Dolby Atmos mix. (As I've said before, Atmos should become standard issue for any future historical releases of this magnitude.)
But first, to the 2020 stereo mixes. Disc 1 comprises the requisite core album, and if you're a fan of the treacly hit ballad "Angie," you'll appreciate its acoustically delicate 2.0 presence here. Disc 2 sports 40 minutes of rarities and outtakes, including the much lauded "Scarlet," a gnarly collaboration with Led Zeppelin impresario guitarist Jimmy Page, as well as the standard Stones chugger "All the Rage" and the funky back-alley slink of "Criss Cross," along with seven additional instrumentals and alternate mixes.
Disc 3 offers 86 minutes of live material dubbed Brussels Affair – Live 1973, recorded on October 17, 1973 at Forest National Arena in Brussels, Belgium. This is primo '70s live Stones, as defined by the inherent grit 'n' grime of tracks like the dangerous groove drama of "Midnight Rambler" and the full-tilt honk of "Rip This Joint."
Disc 4 contains the aforementioned mighty Dolby Atmos mix, along with three glam-centric videoclips and three bonus audio rarities unlisted in any of the packaging—including the previously mentioned "Scarlet" being spelled with two t's on the onscreen menu, even though it appears with only one t everywhere else in the box set.
In Atmos, the opening track, "Dancing With Mr. D," drips with slithery, post-Exile sinew, supported by Charlie Watts' subtle, muted cowbell in the center channel. The clumsily titled "Doo Doo Doo Doo Doo (Heartbreaker)" beats strong and true with Billy Preston's restless right-channel clavinet, a lively and fully immersive horn section, and Mick Taylor's tasty wah-wah guitar riffage wafting on up into the ether. "Winter," my personal favorite Goats cut, benefits from having pianist Nicky Hopkins' back-half string arrangement being given a heavenly lift while ethereally surrounding Jagger's emotive, echo-laden vocals. The final track, "Star Star"—you know, the one with the unprintable, repetitive expletive exclamation during the chorus—finds Keith Richards' Chuck Berry-inspired rhythms and Jagger's squeals firing on all-channel cylinders.
Presented in its newly energized box set form, Goats Head Soup can officially take a higher position on The Rolling Stones' recorded menu, coming across as a much more sonically succulent entry than previously thought. Whoever feels remastered and reinvigorated aural entrees like these are never as good as they were upon their initial incubation period should dip their spoons into this noticeably better bouillabaisse of properly seasoned Soup.
CD & BD
Label: Polydor/UMe
Audio Formats: 16-bit/44.1kHz PCM Stereo (CD); 24-bit/96kHz PCM Stereo, Dolby Atmos, 24/48 Dolby TrueHD 7.1, 24/96 DTS-HD Master Audio 5.1 (BD)
Length: 3:59:15 (2:46:13 on 3 CDs, 1:13:02 on 1 BD)
Number of Tracks: 51 (35 on 3 CDs, 16 on 1 BD)
Producers: The Rolling Stones (box set); Jimmy Miller (original album)
Engineers: Giles Martin (mixing engineer, Dolby Atmos and 2020 mixes); Craig Silvey (2020 mixes); Emily Lazar (mastering engineer, Dolby Atmos and 2020 mixes); Greg Calbi, Miles Showell, Type 40 (2020 mastering); Glyn Johns (chief engineer and mixer, original album, rarities, and alternate mixes); Carlton Lee, Howard Kilgour, Doug Bennett (assistant engineers, original album, rarities, and alternate mixes); Rod Thear, Ron Neveson (assistant engineers, rarities and alternate mixes); Bob Clearmountain (mixing, live material); Stephen Marcussen (mastering, live material); Andrew Johns, Tapani Tapanainen, Mick McKenna (engineers, live material)
Show of hands, please—how many of you rate August 1973's