ReplayTV PC Edition
Bringing ReplayTV to the next frontier.
The company that invented the DVR is re-inventing it. ReplayTV has left the living room to TiVo, last-generation ReplayTV recorders, and cable and satellite providers that offer DVRs as a premium feature.
Rebecca programs an automatic record function for all movies starring Vanessa Redgrave.
Now ReplayTV is moving on to a new frontier: the computer. According to Bill Loewenthal, vice president and general manager of ReplayTV, the living-room DVR isn't the preferred video-recording solution for a lot of kids and young adults who spend more time holding a mouse than the coffee-table remote. It's also an affordable alternative to pricey DVRs.
"The DVR is the only way a lot of consumers want to watch television," Loewenthal says. "PC Edition is a way for many consumers who may not have the opportunity for a DVR in their life to bring it into the platform in which they want to consume their entertainment." That, he says, is the PC.
The PC offers a different experience, but it's not uncharted waters. Microsoft's Media Center PC has been recording TV shows for several years, and it's a marquee feature of the next-generation Vista platform. Sage TV and SnapStream's Beyond TV have also found ways to put TV on consumers' terms via PC. Amid the competition, ReplayTV believes their PC Edition offers robust filtering and convenience features that justify its $20-per-year subscription fee.
ReplayTV's uncluttered interface.
ReplayTV PC Edition works with select Hauppauge video cards priced from $99 to $129 each. The $49 software price nets you the first year of service, including the electronic programming grid and recording features. Each year after that runs $20. ReplayTV PC Edition works exclusively with the Hauppauge WinTV-PVR-150 (model 1045) and WinTV-PVR-USB2 (model 941) TV tuners. PC requirements are fairly standard, including a 1.3-gigahertz or faster processor, 256 megabytes of system RAM, Windows XP Home or Professional or Media Center PC operating system, a sound card, a video-graphics card with AGP8X graphics interface and at least 128 MB of video RAM, Microsoft's Direct X technology, and a broadband connection. Future versions will support the Vista platform.
Recording capability is limited to single-tuner standard-definition analog versions now, but a step-up model due out later this year promises digital cable support, multiple tuners, and HDTV. Subscribers who buy the ATSC/NTSC version of the card will receive an automatic update on the software side, Loewenthal says. ReplayTV for the PC isn't compatible with DSL services like FIOS because the Hauppauge cards don't support the IR codes, he says. A list of compatible cable and satellite set-top boxes is available at www.replaytv.com. Oh, and for all Apple users, ReplayTV PC Edition doesn't work with the Mac.
So, why pay $49 for a software app and yearly fees when you can get, say, Microsoft Media Center PC software for free? The answer is a more personalized experience, according to ReplayTV, whose tailored navigation features drill down further than those found in Media Center software and other programs. "We're not trying to compete with Media Center," maintains Loewenthal. "Media Center is an entertainment-based 10-foot UI [user interface] for music, videos, photos, and a breadth of functionality rolled into one experience. For the avid TV fan, we do some things differently that make it easier to navigate the long list of favorite recorded TV shows."
A search for Arnold Schwarzenegger brings up both movies and political programming.
With the vast storage potential of a high-volume hard-disk drive, securing enough capacity on a PC for TV programs isn't much of an issue, but finding and accessing recorded programs can be. ReplayTV PC Edition provides additional filtering techniques for the avid fan of particular genres, actors, or directors and other criteria. Beyond the standard trolling for genres and actors, you can find shows similar in theme or with the same actors. If you like the cast of the old Perry Mason show, you can ask ReplayTV to hunt down more programs with the same actors. If you love the movie Eight Men Out, you can instruct ReplayTV to find other historical dramas or related programs that include the actors from the movie.
ReplayTV's Useful Searches feature takes program hunting to the next level. You can grab recordings by season premieres or season finales, pluck playoff games from the sea of sporting events, whittle down the list of recording options to prime-time shows, and scan by critics' choices and kids' programming. Surprise Me is a feature that scours the program guide in search of characteristics you've specified, such as actor or genre. You can specify how many hours of Surprise Me programs to allow on the grid at any given time.
ReplayTV PC Edition also boasts advanced recording based on time slot, a feature that's critical to fans of syndicated shows like The Sopranos and CSI: Miami that run on various channels and time slots during a given week. "Any DVR you go to presents a search result showing every individual episode in the next 14 days," says Loewenthal. "That's a lot to navigate through. We show you the time slots of when that show airs. When you just choose Sundays at 9:00, ReplayTV skips the next step of turning off all the days you don't want it to record. We make recording much more precise for the novice user."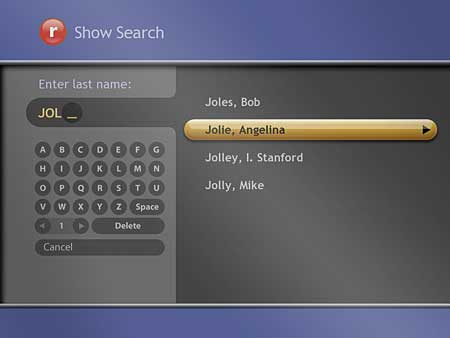 If an Angelina Jolie movie is out there, ReplayTV will find it.
Filtering techniques are just as welcome on the catalog side where you want to find programs fast. Instead of scrolling through a long list of recordings, ReplayTV organizes according to a category such as Movies or by individual shows so you can easily find all episodes of, say, Iron Chef just by looking for the title in the recorded-program list.
Another feature is Overlap Manager, which addresses scheduling issues for programs that overlap by a minute or two, and a custom jump option that shoots you ahead by a specified period of time—say, 20 minutes into a movie, for example—using the remote's number and Skip buttons. And, true to the name, you can replay 7 seconds to catch an instant replay.
At a time when you can download favorite movies and TV shows at the click of a button, does it make sense to pony up for a program guide and recording software and then spend $20 per year thereafter? If you're a TV junkie and the PC is your primary source of entertainment—or you're a road warrior logging long flights—it could be a reasonable investment to rake in the shows you don't want to miss.
ReplayTV PC Edition isn't the only game in town. Here's a peek at some of their competition.
Microsoft Media Center
It's hard to beat free for value. A 14-day free electronic programming guide and recording software are part of Microsoft Media Center Edition 2005 and two of the five Vista options. Basic DVR features include the ability to pause live TV and search for and automatically record programs based on actor, director, or genre. The software allows you to burn TV shows to CD and DVD, and you can sync recorded TV shows to a Portable Media Center, Pocket PC, or Smartphone.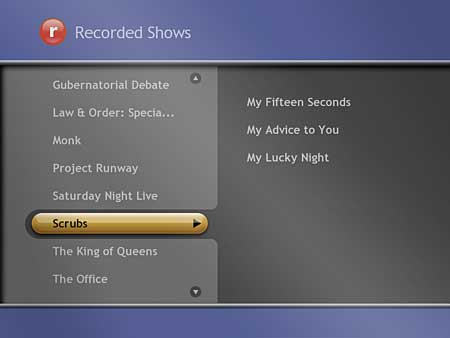 Show breakdown by episode.
SageTV Media Center with Placeshifter License Combo ($99)
The subscription-free 14-day electronic programming guide offers one-touch recording using a grid. It also has a place-shifter that lets you access your media from any network location within your home or over the Internet using a broadband connection. You can pause, rewind, and fast-forward live TV. You can automatically program it to record shows based on your viewing tastes, and it allows for multiple-show recording with multiple tuner cards. Compatible tuner cards are listed on the www.sagetv.com Website. HD recording is possible from over-the-air broadcasts. You can record videos from Google Video, including music videos, TV shows, and movie trailers.
SnapStream Beyond TV Satellite Digital Cable PCI Bundle ($149)
Designed for digital-cable and satellite users, the kit combines a Hauppauge PVR-150 (PCI TV tuner card with MPEG-2 hardware encoding and IR blaster and code library) and Beyond TV 4 software. You can search for programs by actor, director, or title on the subscription-free electronic programming guide, skip commercials and sections of programs, and record HDTV from over-the-air signals. A burn plug-in ($29) records programs to DVD. The program supports DivX, Windows Media Video (WMV), and MPEG-2 formats, which you can select to optimize for playback on different devices. You can compress videos in WMV format for playback on Windows Media devices for on-the-road viewing.