The Replacements: Pleased to Meet Me - Deluxe Edition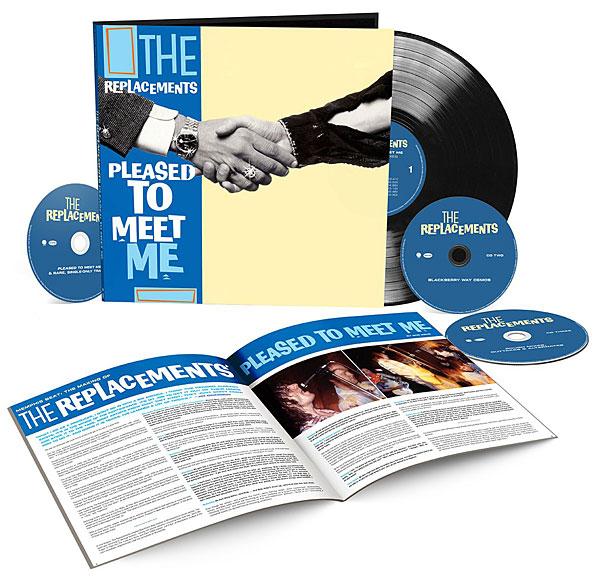 That's what I was thinking to myself as I watched these four Minneapolis-bred indie-rock stalwarts attempt to play through their rag-tag set while opening for Tom Petty and The Heartbreakers on August 19, 1989, at the Brendan Byrne Arena in East Rutherford, New Jersey.
And, yes, "attempt" is the exact right word for it. The 'Mats (as they were colloquially known) had a long-entrenched reputation for falling apart onstage—more often than not, the band chose to wear it as a badge of honor—and they didn't disappoint as both spectacle and specimen that night. Tom Petty fans who didn't know what to make of The 'Mats were amused at best, but when the lads did get their sh-- together in spite of themselves, they proved why they were anointed early on as one of the great American alternative rock hopes of the mid/late-1980s and early-1990s.
'Mats fans have their favorite eras of the band—hardcores lean more toward their initial Twin Tone label lower-fi punk aesthetic (like June 1982's Stink EP), some prefer the mid-transitionary period (a la their September 1985 major-label debut on Sire, Tim), and others, like me, find their sweet spot with April 1987's Pleased to Meet Me.
Point of fact, Pleased to Meet Me also has the unique distinction of being the last new album I bought on vinyl in the spring of 1987 before switching over almost exclusively to CDs a month later (though, of course, I returned to purchasing vinyl again before the decade was out). In those heady, early digital-disc days, CDs would be released a few weeks (or more) after their LP counterparts—and were packaged in those pesky longboxes, no less. Net result—I spent a good amount of time spinning Pleased on my turntable before I even had the chance to listen to it digitally.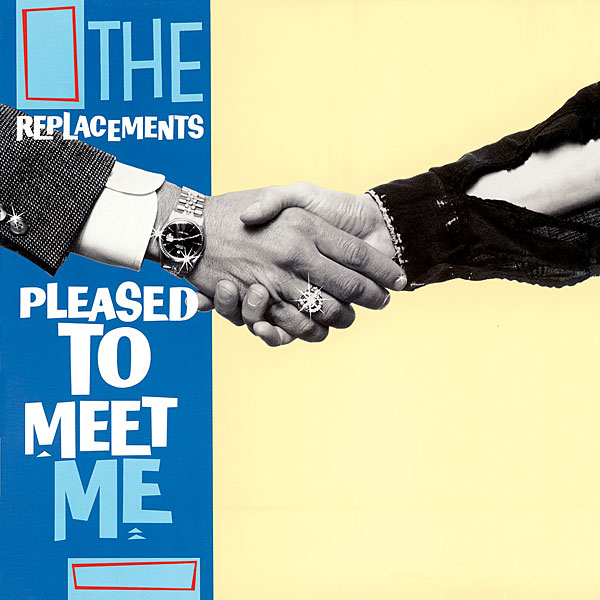 But now, I get to revisit Pleased anew, as the Rhino family have undertaken a finely detailed refresh of The Replacements catalog, having started in September 2019 by revamping, remixing, and greatly adding to February 1989's Don't Tell a Soul by way of a 3CD/1LP deluxe box set redubbed as Dead Man's Pop. As of October 9, Pleased to Meet Me gets its own deluxe treatment via a 3CD/1LP box set that includes B-sides, outtakes, and band demos galore—55 different tracks but 68 all told, given that 13 of them are replicated on the lone LP.
As I've said before, albums like Pleased to Meet Me are the kinds of historical releases that deserve such proper deluxe treatment, and Rhino have taken to addressing the content-presentation game accordingly by going with the 12x12 hardcover book form for artists like The 'Mats and The Doors while going deeper, both literally and figuratively, with mondo-block size box sets for the likes of Prince and Led Zeppelin. These are all smart packaging choices that reflect the depth and amount of what's found inside the collection at hand.
I'm beyond, well, pleased that Pleased to Meet Me—whose empty-suit-meets-upstart-artist handshake album cover design also boasts a sly nod to the typeface and color scheme of the cover adorning Elvis Presley's October 1960 soundtrack for G.I. Blues—made the box set grade. Honestly, it's downright refreshing to re-engage with the 33-minute core album produced by Memphis maestro Jim Dickinson on Disc 1, which is supplemented with six gnarly 'n' snarly bonus tracks. Recording as a trio—erstwhile 'Mats lead guitarist Bob Stinson left the band early on during the album's initial 1986 recording sessions—guitarist/vocalist/lyricist Paul Westerberg, bassist Tommy Stinson, and drummer Chris Mars soldiered on like the ragamuffins they were, building an album for the ages in the process.
Track 2, "Alex Chilton," is probably the best-known cut on Pleased, and it holds up as a loving ode to the namechecked Memphis power-pop icon who passed away in 2010. (Chilton himself happened to turn in some tasty guitar fills on the core album's final track, "Can't Hardly Wait"—more on that one in a bit.) "Chilton" is a fitting earwig confection of the highest order, with a cool echo/delay on Westerberg's lead vocal, well-placed handclaps, not-too-subtle cowbell on the choruses, and even a keen Spanish guitar accent close to the song's end.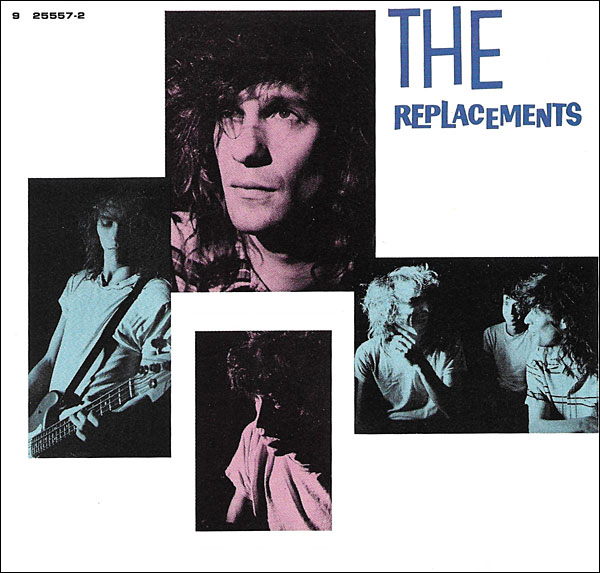 "I never travel far / without a little Big Star," Westerberg determinedly oohs from 1:40 to 1:48 in "Chilton" before taking a brief, careening guitar solo—and it's a couplet that continues to resonate with me to this very day. Though it only takes about a millisecond and a half to call up the entire Big Star catalog via just about any streaming service of choice nowadays, it wasn't all that easy to actually travel with Big Star music back in the day. Me, I had a second-gen dupe cassette of Big Star's first two albums, August 1972's #1 Record and February 1974's Radio City, which I had dubbed from a tape a collegiate newspaper colleague of mine would play like clockwork during our Sunday night print deadline shifts. That cassette subsequently served me quite well on a number of my own travels hither and yon before I was able to find both albums on a 1987 import two-fer CD via Big Beat Records (each have long since been upgraded individually)—but I digress.
Following "Chilton," Pleased carries on in full breakneck breakdown fashion, with its unabashed M.O. of having "One foot in the door / The other foot in the gutter," as Westerberg outlines early on in the Stonesy call-and-response shrug-off of "I Don't Know" (also be sure to dig those continually tasty baritone sax stabs courtesy Teenage Steve Douglas). The 'Mats subsequently embrace smoky jazz tones on "Nightclub Jitters," tackle the perils of suicidal thoughts on the turgid "The Ledge," accept the semi-deflated resignation of "Never Mind" (perhaps foreshadowing a Nirvana album title/mantra to come four years later, methinks), bask in the sunny acoustic majesty of "Skyway" (buttressed by Mars' foot taps and East Memphis Slim's sleek vibes playing), and then close out the proceedings via the plaintively hopeful wrap-up of "Can't Hardly Wait" (with a fine blend of Memphis Horns accents and strings by Max Huls to carry it all home).
Following the mix of B-sides, tattered covers, and, frankly, a less-than-thrilling remix of "Can't Hardly Wait" as done by Jimmy Iovine to end Disc 1, it's time for even more bonus material. Full-band demos rule the roost on Disc 2, eleven of them previously unreleased. The first seven demos feature the original four-piece 'Mats lineup with aforementioned guitarist Bob Stinson still in tow, and these almost-there near-misses aurally explain why he and the band had to part ways before the recording of Pleased truly got underway. For most bands, these demos would be just-good-enough budding song nuggets to build upon, but The 'Mats were clearly on a different trajectory. The remaining, Bob-less demos are more like what Pleased would ultimately become. In fact, the first line Westerberg sings in the held-back snarler "Even If It's Cheap" was earmarked as the name of the album it was trimmed from, but that's how it goes in Demoland sometimes.
Meanwhile, Disc 3 first presents a baker's dozen of unreleased rough mixes that also appear on this collection's single 180-gram LP. (I'm still not quite sure why the core Pleased album didn't appear on 180g wax here as well.) Hearing these roughs is a good lesson in how you just know certain tracks need something else to get them to the finish line—see especially "Alex Chilton" (not yet raucous enough) and "The Ledge" (needs that last iota of drama) for further evidence of so-closeness.
Disc 3 rounds things out with ten outtakes and other alternate tracks, including Westerberg's unreleased dreamy reflection "Learn How to Fail" and Tommy Stinson's jangly "Trouble on the Way."
Considering the level of love and care the Rhino family have given to both Dead Man's Popand Pleased to Meet Me, I can't hardly wait to see what they and The 'Mats will release in box set form next. All Shook Down Some More, anyone?
CD/LP
Label: Sire/Rhino
Audio Formats: 16-bit/44.1kHz PCM Stereo (CD); 180-gram vinyl (LP)
Number of Tracks: 68 (55 on 3 CDs, 13 on 1 LP)
Length: 3:34:33 (2:50:58 on 3 CDs, 43:35 on 1 LP)
Producers: Bob Mehr, Jason Jones (box set); Jim Dickinson (original album)
Engineers: Justin Perkins (box set remastering); John Hampton, Joe Hardy (original recording and mixing)
"The Replacements are self-destructing right in front of me."