New Product News: Early Fall Edition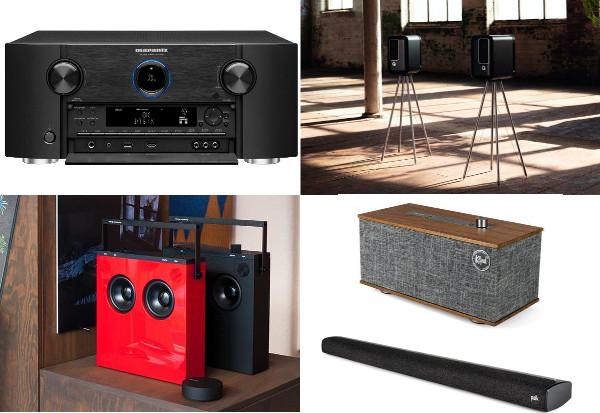 With Halloween just weeks away A/V makers have dropped some scary good gear in recent weeks, including a high-performance surround processor from a stalwart audio company and a unique audio product that practically defies description. We have no doubt that at least one of the products featured here will capture your imagination.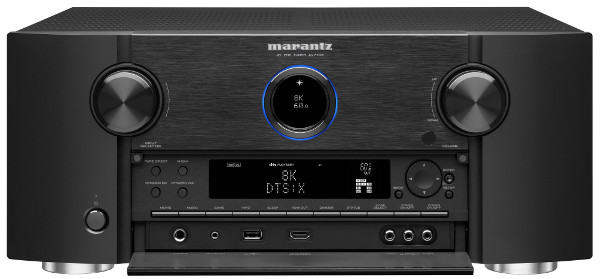 Marantz Spotlights 8K with New Surround Preamp
The next-generation 8K format with its ability to display an astounding 33 million pixels is front and center in the AV7706 A/V preamp/processor Marantz introduced today with a retail price of $2,499.
Featuring RCA and balanced XLR pre-outs, the 11.2-channel pre/pro has onboard processing for all of the major surround formats — including Dolby Atmos, DTS:X, IMAX Enhanced, and Auro-3D — and boasts eight HDCP 2.3-compatible HDMI inputs, one of which supports 8K/60Hz and 4K/120Hz pass-through with 4:4:4 sub-sampling. High dynamic range (HDR) formats Dolby Vision, HDR10, HDR10+, HLG, and Dynamic HDR, as defined under the HDMI 2.1 standard, are also supported across the board.
The processor is further equipped to improve gaming with auto low latency mode (ALLM), variable refresh rate (VRR), and quick frame transport (QFT), an HDMI 2.1 feature designed to reduce latency for smoother gameplay. Enhanced Audio Return Channel (eARC) capability is also onboard for sending high-bandwidth object-based audio over HDMI.
In addition to supporting voice control via Amazon Alexa, Google Assistant, and Apple Siri, the AV7706 brings music into the fold in a big way with HEOS, the wireless mulitiroom platform developed by Denon, and a number of onboard streaming options, including Tidal, Spotify Connect, Pandora, Amazon Music HD, Deezer, SiriusXM, and internet radio. Streaming via Bluetooth and AirPlay 2 are supported as well.
Technology at the core of the pre/pro includes 32-bit AKM digital-to-analog (D/A) converters on all channels and Marantz's proprietary low-noise HDAM (hyper dynamic amplifier module) circuitry, which is designed to improve signal-to-noise ratio and maximize dynamic range. Visit us.marantz.com for more information.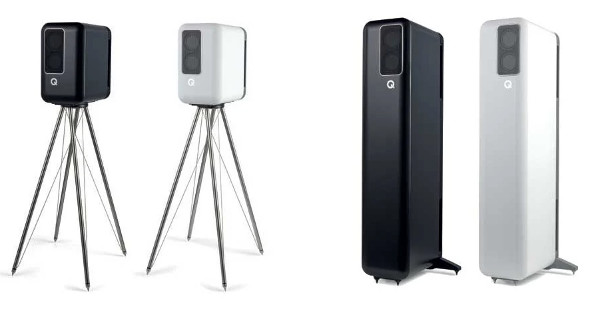 Q Acoustics Debuts Powered Speakers
British audio specialist Q Acoustics has announced its entry into the powered-speaker space with two models: the Q Active 200 bookshelf/stand-mount speaker, available this month for $1,999/pair, and the Q Active 400 floorstanding model, slated to ship in early 2021 at a price to be determined.
Each pair of speakers comes with a control hub configured for wireless multiroom connectivity via Google "Chromecast built-in" or Amazon "Works with Alexa" (in early 2021). Wireless streaming is also possible via Bluetooth, Apple AirPlay 2, Roon, and Spotify Connect and the hub can function as a UPnP media player, which enables streaming from a PC or NAS drive. The system also supports the most popular music streaming services — including Tidal, Qobuz, Spotify, Amazon Music, Apple Music, and Deezer — with control handled by each platform's native app rather than requiring the user to download a separate app. Voice control via Apple Siri, Google Assistant, and Amazon Alexa is also supported.

For hard-wire sources — including a turntable — the hub provides an ARC-enabled HDMI input, optical digital input, analog RCA inputs that can be switched between line-level and phono, which engages a built-in moving-magnet phono stage. The hub also has an Ethernet connection for hard-wire internet access and a subwoofer output. System resolution tops out at 24 bit/96 kHz, the resolution to which all incoming digital signals are converted.
In both speaker models, wide-dispersion balanced mode radiator (BMR) drivers are powered by compact Class D amplifiers and a three-position toggle switch on the rear panel compensates for placement in a corner, close to a wall, or out in the room. The Q Active 200 mates two 2.25-inch drivers with a rear-firing 4.5-inch woofer in a compact cabinet with six discrete amplifiers delivering a total of 280 watts. The Q Active 400 tower speaker adds a second woofer and two additional amplifiers for a total of 440 watts. The woofers are located at the top and bottom of the cabinet in an effort to "neutralize internal standing waves."
The four-legged stands shown in the photo (Q FS75) are designed to eliminate vibration and available for $499/pair. Both speakers are offered with a matte white or matte black finish. Visit qacoustics.com for more information.
Teenage Engineering Reimagines Radio
Since it was founded in 2007, Stockholm-based Teenage Engineering (TE) has built a reputation for designing innovative products like the unique OP-1 portable synthesizer. It continues that tradition with the OB-4 Magic Radio ($599), which transcends what most of us think of as a radio.
The OB-4 combines an FM tuner with a smart antenna and Bluetooth streaming in a portable system that is utterly unique in form and function: the music you're listening to is recorded on a rolling two-hour loop so you can replay and remix it on the fly — sort of like TiVo for radio. And when you're not listening to the radio or streaming to the OB-4, you can tap into one of three "disk modes" that produce an ambient drone, the rock-steady click of a metronome, or a selection of "spiritual" sounds; they call that last mode Karma and, judging from the sample on the company website, it's, uh, bizarre). TE says it plans to develop new experimental features for this unconventional and unexpected sound mode.
TE is particularly proud of the room-filling "natural sound" created by the OB-4's custom drivers — dual tweeters and woofers — powered by a 2 x 38-watt Class D amplifier and able to hit volumes upwards of 100 dB. The system has a motorized volume control that doubles as an interface for interacting with the sound; when you adjust the sound level on a connected Bluetooth device, the dial moves in sync as the volume increases and decreases.
The OB-4 has a folding handle that doubles as a stand and loads its woofer into what TE calls a flow-optimized bass-reflex duct to achieve bass down to 52 Hz. Battery life is rated for up to 72 hours at normal volume or 8 hours while streaming via Bluetooth at high volume.
The OB-4 is offered in matte black ($599) or gloss red ($649) along with two accessories: a leather bag with strap custom made for the radio ($400) and the Ortho wireless remote ($89), a 2.5-inch knob that lets you adjust volume and skip/play/pause tracks from up to 65 feet away; the back of the knob is magnetic so it can be attached to any metal surface. For more information, check out this video and visit teenage.engineering.