Pink Floyd: P.U.L.S.E Restored & Re-Edited - Deluxe Edition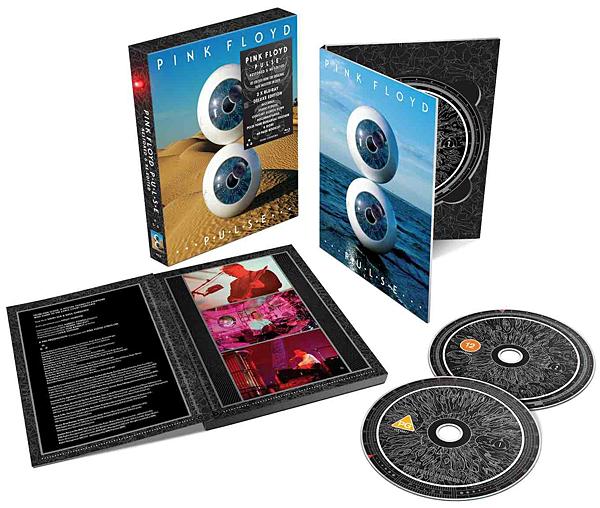 way
up near the top of the back of the stadium, I quite enjoyed the band's overall visual spectacle and the live quad sound system to their intended effects.
Naturally, I made sure to obtain an audience recording of that show just to have a permanent audio talisman of such a hallowed occasion. I was happier still to snap up the final tour's official June 1995 2CD release P.U.L.S.E, which infamously featured a pulsing, AA-battery-powered red LED on its spine. (Mine blinked for about 6 months, perhaps even longer, but I lost track after I turned it around on my shelf to face the wall once the novelty of seeing it every day wore off.) P.U.L.S.E VHS and Laserdisc companions duly arrived in July 1995, while the slimline DVD emerged in July 2006 and the 180-gram 4LP vinyl box set eventually arrived in May 2018.
Following recent Floydian protocol of culling self-contained, updated, and repackaged reissues from their initial digipak perches in the megadisc December 2019 box set The Later Years 1987-2019, P.U.L.S.E—and please note, there's no period after that final E, a la M*A*S*H and N.W.A naming nomenclature—now sees its own singular release in double-Blu-ray Deluxe Edition form, rightly accompanied with the deliberately qualifying Restored & Re-Edited subtitle. P.U.L.S.E, which was filmed at Earls Court in London on October 20, 1994, is also available in a 2DVD set—for completist purposes only, imo.
The physical footprint of P.U.L.S.E is in proper shelving alignment with a nice pair of other Pink Floyd releases also liberated from The Later Years box set, both of which adhere to a 5½ x 5¾-inch dimensionality. The softbound Delicate Sound of Thunder is the skinniest at just ⅜-inch deep, while the sturdier A Momentary Lapse of Reason: Remixed & Updated box is a full 1-inch deep. The P.U.L.S.E box is wider than both and comes in at 6¼-inch deep to accommodate the revived pulsing LED nestled near the top of the left-side spine. (Said LED takes two AA batteries, if you're interested in firing it up.)
Let's talk visuals first. Since P.U.L.S.E wasn't shot on film, by definition—or rather, by the lack thereof—the David Mallet-directed concert performance on Disc 1 (viewable at 1.33:1 only) simply can't compare to our now-ingrained 4K UHD viewing expectations. You'll just have to contend with less-than-ideal recurrences like the constant white-light washouts. That said, you should be able to discern certain fine details, such as the smile-curved stitching pattern around the left front pocket on guitarist/vocalist David Gilmour's blue jeans. Me, I'm willing to put aside my visual displeasure in favor of taking the historical longview of having some level of video representation of this final tour.
Since we're really here for the audio, I'm happy to report James Guthrie's powerhouse DTS-HD Master Audio 5.1 mix is something to relish. Get ready to embark on Mission: Immersion, especially during muscular songs like "High Hopes" where Gilmour's lap-steel and Spanish guitar work enhance a track that also springs into more than one all-out volume swell, none of which push the distortion meter. Meanwhile, the darkly brooding "Sorrow" finds Gilmour putting on a guitar solo clinic of the highest order, thanks to his absolute mastery of the whammy bar on his red 1957 Stratocaster reissue. That solo, coupled with the full-band, full-bore instrumental section, makes "Sorrow" my favorite 5.1 P.U.L.S.E showcase.
After the briefest of intermissions, the mighty Floyd's complete runthrough of March 1973's seminal The Dark Side of the Moon is an unabashed treat, but you'll instantly notice how Dark Side's arrangement details pale somewhat in comparison to the complexity of the instrumental depth on display in the mix of the concert's first 70 minutes. Even so, drummer Nick Mason's workout on the toms at the outset of "Time," Richard Wright's piano support and all three female backing vocalists taking their respective wordless wailing turns on "The Great Gig in the Sky," and the multiple gearshifts in "Money"—replete with a funky-jazz improv section—all serve to remind us why this album remains a forever high fidelity, first class favorite. Finally, the encore denouement of the upwardly soaring "Comfortably Numb" and the balls-out "Run Like Hell" cement the surround-benefits deal.
Disc 2 is filled with over 2.6 hours' worth of high-caliber extras, including three music videos, rehearsal footage, Gilmour and Wright performing "Wish You Were Here" with Billy Corgan of Smashing Pumpkins on acoustic guitar, and an audio-only assault on "Astronomy Domine" from a 1994 Miami tour stop that is, quite literally, out of this world.
If you still wish you were there, P.U.L.S.E gives you a proper ringside seat to Pink Floyd's final touring hurrah—yet another great brick in the wall of their impeccable legacy.
Label: Pink Floyd Records/Sony Music Entertainment
Audio Formats: 24-bit/48kHz PCM Stereo; 24-bit/96kHz DTS-HD Master Audio HD 5.1
Number of Tracks: 45 (on 2 BDs)
Length: 5:09:47 (on 2 BDs; 2:27:47 on Disc 1, 2:42:00 on Disc 2)
Producers: James Guthrie, David Gilmour
Engineers: Joel Plante (concert film, Disc 1); Andy Jackson, David Gilmour, Damon Iddins (mixing, Disc 2)
I continue to feel blessed I was able to see Pink Floyd's Division Bell Tour, their last jaunt around the world, at Giants Stadium in East Rutherford, New Jersey on July 17, 1994. Even though I was in the nosebleeds,