Pink Floyd: The Division Bell--20th Anniversary Edition Box Set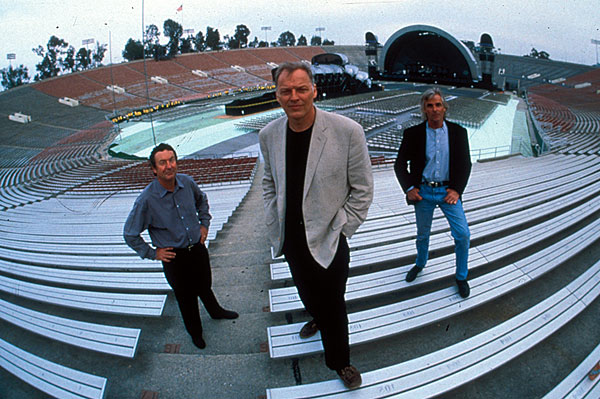 The Division Bell box set contains seven discs: Two 180-gram LPs cut from the original masters (the hard-to-find '94 edition was a single, OK-sounding one-sided etched blue-vinyl LP); a Blu-ray with a surround mix by longtime Floyd live and studio engineer Andy Jackson; a CD with James Guthrie and Joel Plante's lively 2011 remaster; one blue vinyl 12-inch with three tracks, including a live version of the always propulsively cacophonous "One of These Days," culled from an August 1994 tour stop in Hanover, Germany; and two 7-inch singles with a trio of radio edits and a live, psychedelically soaring "Astronomy Domine" recorded at Joe Robbie Stadium in Miami on March 30, 1994. You also get a card for a high-resolution 96/24 download, but, unlike with the Immersion series box sets for The Dark Side of the Moon, Wish You Were Here, and The Wall released in 2011 and 2012, there are no collector's marbles, coasters, or scarves in sight. The Division Bell 20th is a great collection, but without question, Andy Jackson's 5.1 mix in 96/24 on Blu-ray is its crown jewel.
Because of his long-term hands-on Floydian mixing and recording roles, Jackson understands best how to bring the enveloping ambiance of the band's live dynamic to a studio setting without having it feel forced or gimmicky. Many surround mixes suffer from overloading the rear channels with artificial and strained instrumentation placements, but Jackson has a knack for cultivating natural delays that instead put the listener in the midst of both performance and arrangement.
The tone is set with the scope of the opener, "Cluster One." Nature sounds and flowing water cascade into the surround channels before pouring out into the fronts, the repeating bird calls recalling the almost incessant channel-panned loop of skylark chirps in Waters' "Grantchester Meadows," from 1969's Ummagumma. Wright's keyboard flourishes begin to move clockwise through each channel, sending the track further into orbit as Gilmour's guitar enters in the front left, shimmies to the right, and burrows into the surround channels.
The sense of literal space continues in "What Do You Want From Me," with Gilmour and bassist Guy Pratt anchoring the center while the female-centric background chorus testifies in the surrounds. Water and fowl reprise in "Marooned," the trilly gull squeals serving as a callback to Gilmour's backwards-guitar wah-wah effect that infused the 23minute cavernous epic "Echoes," from 1971's Meddle. Gilmour's killer slide licks cut like a Katana from the surround right to the center channel, while Mason's drums enter in full before anchoring the front stage as Wright's keyboard washes rule the surround left, forming a perfectly pivotal aural triangle akin to the omnipresent Dark Side prism.
The crux of the album's back half crests with the final track, "High Hopes." The actual, fabled division bell chimes with deeply fervent intensity far behind you in the rear right quadrant, putting you in a prime pew in a vast cathedral. And if it doesn't put you there, you need to upgrade your system stat, because this is a new benchmark surround element for all future 5.1 demos I'm conducting. Michael Kamen's orchestral arrangements unfurl to suit the song's shifting movements, swelling in support of the main theme in the surrounds before transitioning to carry the melody once Gilmour's gutting slide solo commences up front.
In October, we'll have further Bell wringing with The Endless River, a "new" Pink Floyd album consisting mainly of instrumental, ambient tracks cut during the Division Bell sessions. For now, The Division Bell 20th in 5.1 should bring together many ears divided over this contentious latter-era chapter of the Floydian legacy. With it, our long-held high hopes have duly been fulfilled.
Blu-ray, CD & LP
Label: Parlophone
Audio Formats: 96-kHz/24-bit DTS-HD Master Audio 5.1 and 96-kHz/24-bit PCM Stereo (Blu-ray); 44.1-kHz/16-bit PCM Stereo (CD)
Number of Tracks: 12 on 1 Blu-ray; 11 on 1 CD and 2 LPs
Length: 71:54 (Blu-ray); 66:29 (CD & LP)
Producers: Bob Ezrin, David Gilmour (original album); James Guthrie, Joel Plante (LP and CD); Andy Jackson, Damon Iddins (Blu-ray)
Engineer: Andy Jackson
Which one's Pink? It's a debate that's polarized fans ever since Pink Floyd principals David Gilmour and Roger Waters split up their creative partnership in the mid-'80s. Waters went on to build an unprecedented solo live Wall of epic visual and auditory proportions, while Gilmour retained the rights to the band name and constructed two diverse, divergent studio albums and subsequent tours with his other two Floydmates in tow, keyboardist Richard Wright and drummer Nick Mason. The latter of those two LPs, 1994's admittedly divisive The Division Bell, now comes back to life with a 20th anniversary deluxe celebration in box set form, and thanks to a brilliantly stunning surround sound mix, material initially perceived as B-level reveals itself to have been A all the way.