Peter Gabriel: Back to Front – Live in London, Deluxe Limited Edition Blu-ray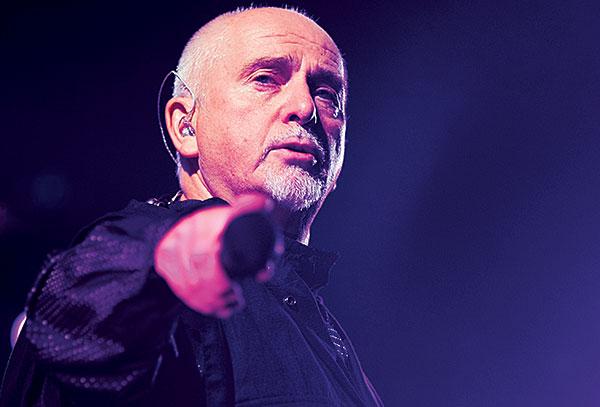 On the occasions he's chosen to revisit his vast and varied post- Genesis catalog, Gabriel takes exacting care to reinterpret and rearrange that material while leaving the melodic building blocks intact as touchpoints. When I saw the Back to Front tour in Philadelphia in September 2012, I was struck not only by how much he and his band had updated each one of his catalog staples, but how sharp and nuanced they sounded in the oft-challenging arena setting. While I did purchase the board-mix CDs approved by Gabriel's longtime front-of-house engineer Ben Findlay, I wished I could also own such an unforgettable show in high-res A/V form.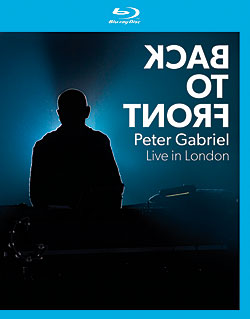 The chameleon's golden ears (and eyes) must have been burning, because that tour's special magic has since been captured on Back to Front: Live in London, and the best way to experience it all is via the Deluxe Limited Edition, which contains two Blu-rays with full concert footage shot in glorious 4K on one disc and a shorter theatrical version on the other, plus the full show on two CDs. There's also an included code for a 24-bit download via the Bowers & Wilkins Society of Sound.
Back to Front commemorates the 25th anniversary of the groundbreaking So album (give or take a year, that is), and it reunites the original touring band: guitarist David Rhodes, bassist Tony Levin, drummer Manu Katché, and keyboardist/accordionist David Sancious. (Newer additions Jennie Abrahamson and Linnea Olsson handle the background vocals.) For comparison, the core group can be seen in its full, of-era calf-length- raincoated glory on the Live in Athens 1987 Blu-ray—a telling family snapshot of how much So has evolved over the subsequent years, thanks to the intuitive interplay of these top-drawer, improv-savvy musicians.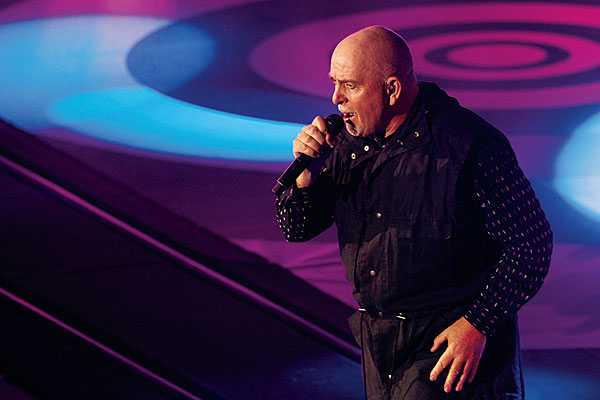 The set consists of three segments: Acoustic (four songs stripped down, and mostly with the house lights on), Retro (six favorites), and So (the album played in full, in essentially the original running order), plus two encores. In the Acoustic segment, the early-'80s MTV fixture "Shock the Monkey" evolves into postmodern piano-driven funk swing, thanks to the minimalist intro and jazzy flourishes from Sancious and the way Katché carries and controls the revised tempo with his top-of-cymbal drumstick taps and intense hi-hat percussion before the emphatic "Shock!" breaks ensue.
When the So set commences, make sure your system is ready for a low-end assault, because the drivingly intense "Red Rain" is a pure subwoofer challenger— especially during the choruses, due in no small part to Levin's deployment of his dexterously deep-reaching Funk Fingers on the bass strings. The track also delivers a fine mesh of male and female harmonies, and there's a sweet wash of echo when Gabriel's "rain" wail extends into the rear channels.
Abrahamson gamely tackles the soothing Kate Bush vocal counters on "Don't Give Up," but her proper yet "girly" tone somewhat diminishes the song's overall emotional impact, the only stumble in an otherwise stellar presentation. "Mercy Street" is something to watch as well as hear, as Gabriel lies down in a target circle centerstage—one leg splayed out, one foot up—singing resigned but resolved, with his vocals shadowed by both harmonies and keyboards. Robotic cameras converge downward and pan over him while Rhodes' guitar stabs and the "looking for mercy" refrain burble and repeat in the rears. The cameras in the white, puck-like fixture above Gabriel zero in and pan over the singer's body as if looking for clues to find (to borrow a line) the places he got hurt.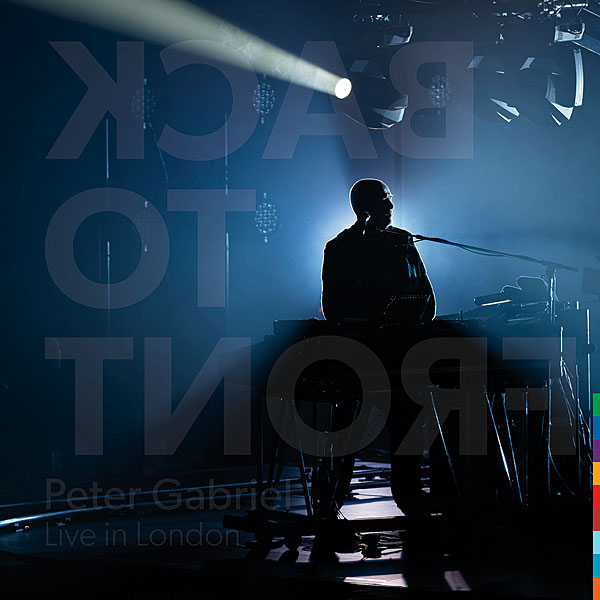 The encore is truly ethereal, with Gabriel fully enveloped by a giant white spiral for the climax of the full-channel ferocity of the oh-so-aptly-named "The Tower That Ate People" and the audience being completely engaged and quite vocal in all channels while singing along with the solemn, heartfelt, and deeply impactful closer, "Biko." Gabriel wants to be your sledgehammer, so why don't you call his name? The man hits on all cylinders with massive force on Back to Front from, well, front to back.
Blu-ray & CD
Label: Eagle Rock/Real World
Audio Formats: 96-kHz/24-bit DTS-HD Master Audio (Blu-ray); 44.1-kHz/16-bit PCM Stereo (CD); 44.1-kHz/24-bit (via download card)
Number of Tracks: 18 (Blu-ray 1); 18 (Blu-ray 2); 21 (two CDs)
Length: 2:21:19 (Blu-ray 1 concert and documentary); 1:54:00 (Blu-ray 2 theatrical release and bonus material); 2:05:24 (two CDs)
Producer: Peter Gabriel
Engineers: Ben Findlay, Richard Chappell, Matt Glasbey
Peter Gabriel has made a career out of being a restless chameleon, a man perpetually interested in pushing sonic boundaries rather than remaining in stasis. The roles he's chosen to inhabit over the last five decades are as varied and forward-thinking as they come: art school rocker. Progressive pundit. Alternative icon. Video vanguard. Electronic interpreter. World music leader. If there are new musical frontiers to discover and master, Gabriel is consistently among the first to dig into the aural dirt.