Paul McCartney: Flowers in the Dirt Super Deluxe Edition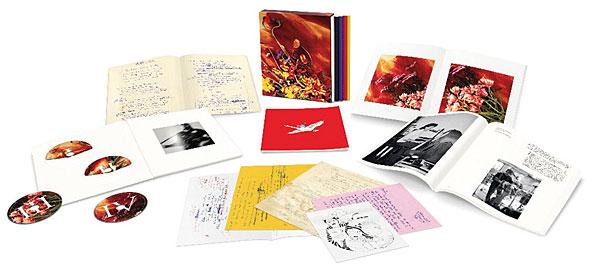 II was followed by 1982's vibrant Tug of War, Sir Paul's toppermost post-Beatles effort to that point since his seminal 1973 Wings project, Band on the Run. However, treacly collaborations with Stevie Wonder ("Ebony and Ivory") and Michael Jackson ("Say Say Say" and "The Girl Is Mine," from MJ's Thriller), not to mention uneven Tug-lite meanderings (1983's Pipes of Peace), a lush misfire (1984's Give My Regards to Broad Street), and an uneven of-era experiment (1986's Press to Play) collectively served to derail the good vibes and goodwill set forth in the grooves of both II and Tug. As the decade approached its close, following 1988's promising all-covers placeholder СHOBA B CССР (a.k.a. The Russian Album and/or Back in the USSR), our man Macca clearly needed to hit the creative reset button.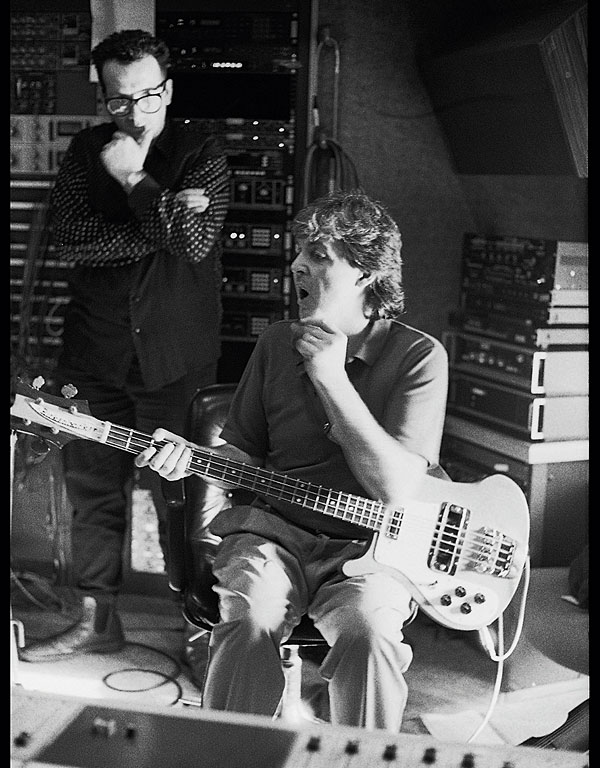 And thus bloomed Flowers in the Dirt, McCartney's triumphant 1989 release that heralded a return to recorded form and sparked his re-emergence on the live stage after a decade-long absence— a reinvigorated touring muscle the man continues to flex to this day. Without a doubt, the Flowers Super Deluxe Edition is clearly the way to go here. In addition to a wealth of audio/video content, exclusive Super Deluxe features include a 32-page notebook of Paul's handwritten lyrics and notes, a catalog for the late Linda McCartney's 1989 Flowers in the Dirt photo exhibition, and a 112-page book chronicling the album's creation through exclusive in-depth interviews with Paul, Elvis Costello, and other key contributors.
Two of the Super Deluxe CDs focus on the various incarnations of 17 McCartney/Costello songwriting demos, while the DVD shows the two working together in the studio as well as housing the informative hour-long Put It There documentary. Downloads exclusive to this package include 13 B-sides, remixes, and single edits, plus three cassette demos—including the actually revelatory "I Don't Want to Confess"—which all retain/reinforce the main album's overall sense of joy.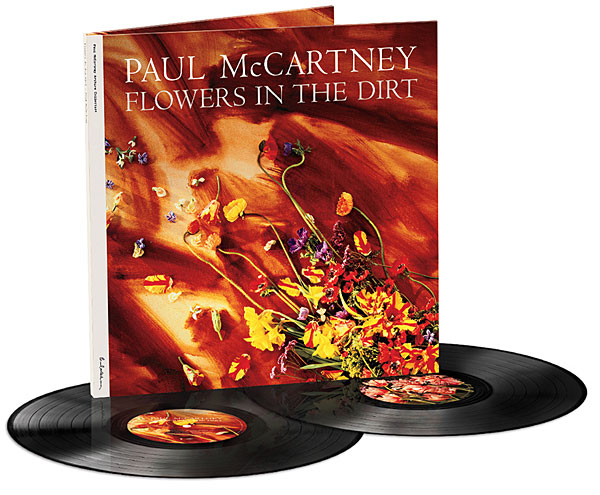 Sessions for Flowers began in 1987, and the majority of it was recorded at Paul's Hog Hill Mill studio in East Sussex, England. During those sessions, Costello convinced Paul to pull out his iconic Höfner bass for the first time in years, and that decision affected the album's sound in only the most positive of ways. Right out of the Flowers box, Macca's signature loping low-end style can be heard driving the rhythm of the opening track and initial Macca/MacManus collaboration, "My Brave Face."
Is Costello McCartney's best push-pull collaborator/foil since his heyday co-writing the bulk of the impeccable Beatles canon with John Lennon? The 17 demos that comprise Discs 2 and 3 make a damn good case for it. "You Want Her Too" is rife with that certain playful "Two of Us" charm, while the fresh acoustic guitars and vocal harmonies wrapped around the clever wordplay on display throughout "Twenty Fine Fingers," "So Like Candy," and "Playboy to a Man" all feel so divine (to borrow a line).
Incidentally, more polished versions of the latter two tracks appear on Costello's fine 1991 album, Mighty Like a Rose. For further collaborative enjoyment, I suggest you also (re)visit "Veronica" and "Pads, Paws and Claws," a pair of top-shelf tracks the two gents teamed up on that appear on Costello's 1989 release, Spike. "Veronica" is most especially indicative of the kind of social-commentary story song McCartney long ago mastered with "Eleanor Rigby" and "Penny Lane."
Besides all the Costello-centric cuts, other Flowers tracks blossom quite nicely all on their own. Among those highlights are the jaunty travelogue "We Got Married," the effortless sing-along template of "Figure of Eight," and the of-era thrust 'n' shuffle of "Où Est Le Soleil?"
Flowers in the Dirt is quite worthy of its Super Deluxe treatment, having helped propel McCartney out of those '80s doldrums and squarely into his more freely experimental '90s and new-millennium phases. But in order to plant that new seed with Flowers, McCartney had to swallow his pride and put on his brave creative face to stamp most of his detractors into the Dirt in the process. Put it there, Sir Paul.
CD & DVD
Label: MPL/Capitol/UMe
Audio Formats: 44.1-kHz/16-bit PCM Stereo (CD), 44.1-kHz/24-bit PCM Stereo (download)
Number of Tracks: 61 (45 on 4 discs [31 on 3 CDs, 14 on 1 DVD], plus 16 more via download only)
Length: 5:45:01 (2:57:36 on 3 CDs, 2:22:26 on 1 DVD, 1:24:59 downloads)
Producers: Paul McCartney (executive producer, box set); Paul McCartney, Elvis Costello (unreleased demos and bonus audio disc); Paul McCartney, Mitchell Froom, Neil Dorfsman, Elvis Costello, Trevor Horn, Steve Lipson, David Foster, Chris Hughes, Ross Cullum (original album)
Engineers: Alex Wharton, Sam Okell (remastering); Simon Gibson (audio restoration); Eddie Klein, Geoff Emerick, Neil Dorfsman, Peter Henderson, Noel Harris, 12 others (original album)
Paul McCartney was on quite the rollercoaster ride as an artist in the 1980s. He started the decade strong with the mostly one-man effort McCartney II and its on-the-mark hits like the pure pop perfection of "Coming Up" and the still influential electronica of "Temporary Secretary." (I can also confirm firsthand that the latter track has been an early-set highlight of Sir Paul's recent 2015-16 Out There! and One on One tour outings.)