Paradigm Special Edition SE 1 Speaker System Page 2
When I first tried the program, it aborted repeatedly. I upgraded to the latest software, and that solved the problem. The only other snag was that my Manhattan listening room's high level of ambient noise threw off the program. It repeatedly ordered me to raise the sub's volume control. I raised the sub volume from 50 percent to 75 percent, then to 100 percent.
After that, the process was over quickly, and I had a sub that transcended my room's usual standing wave. I could summarize the result as less output; but it was higher-quality output, without the usual overlay of bloat. This required me to run the sub at a higher level than I'd used before equalization. But it had enough gain, running at 75 to 100 percent of its volume control's range, with the surround processor's LFE level set between 0 and +4 decibels. I usually tweaked it for each piece of demo material, since I've found that living with well balanced bass is more challenging, in a good way, than tuning my system to minimize bloat.
Associated gear included the Rotel RSX-1550 A/V receiver, Panasonic DMP-BD35 Blu-ray player, Integra DPS-10.5 universal player, Luxman PD-289 turntable, Shure V97xE cartridge, and Bellari VP530 tube phono preamp. All movies were on Blu-ray Disc. None of the music, I'm glad to add, was on CD.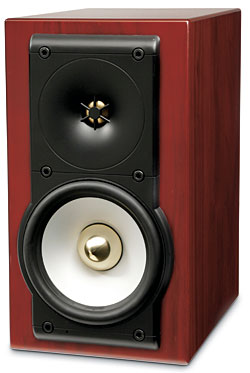 Barcelona Bound
Simply put, these speakers mastered the frequency spectrum, from top to bottom. This allowed the source material to express itself to the maximum extent. In retrospect, my notes indicate how readily I forgot about the speakers and hungrily absorbed information about movies and music.
Vicky Cristina Barcelona, in high-resolution PCM, represents a breakthrough for Woody Allen. To the best of my knowledge, it's his first multichannel soundtrack—as long as you define multichannel as three-channel. The opening music and a brief scene set aboard a plane filled the front three channels. The remainder of the movie reverts to Allen's longtime preference of mono, even when two characters speak to each other on opposite sides of the frame. The challenge for the Paradigms was to reproduce believable dialogue in this warm and unpredictable story of romantic entanglements among three women and one man. Mission accomplished. I felt as if I were listening to people, not speakers. Working in Britain and Europe has rejuvenated this quintessential New York filmmaker, and I'm glad to note that his next three projects will be filmed overseas. Woody, please try 5.1.
Without a Paddle, in Dolby TrueHD, got my personal seal of approval for the appropriate choice of dynamic range in a comedy/adventure movie. The story concerns three buddies who live the dream of a departed friend by searching for treasure in a Northwestern wilderness (actually shot in New Zealand). It starts out with a relatively narrow range, but it steps up the volume when the action starts. The music popped from the soundtrack to good effect and includes some of my favorite songs, including Joey Ramone's cover of "What a Wonderful World" and "Ooh La La" by the Faces (with vocal by Ronnie Wood, not Rod Stewart).
No Way Back is a 1996 Russell Crowe vehicle. He's a tough cop whose young son gets caught up in a web of kidnapping and murder. There's plenty of high-volume excitement, but the Dolby TrueHD soundtrack was inhibited, the strings were hard, explosions didn't have much bass—and none of this was the fault of the speakers. As sometimes happens in my potluck demos, the source material wasn't worthy of the equipment.
At no point during any of the demos did the SE 1 prompt my trigger finger to make a major master volume adjustment. I spent the first three minutes of each movie getting the right level, then I left it alone. This was a rare event in my reviewing career, and it indicated the comfort level that these speakers achieved.
Lossless Red
King Crimson's Red, the 1974 progressive rock landmark, has received a re-release that sets new standards in both questing and quality. Inside the two-disc set are both a ripping-friendly CD and a DVD-Audio disc that contains the original five-track album, four bonus tracks, and a four-track video that was originally filmed for French television. The main audio content is provided in MLP lossless 5.1 at 48 kilohertz and 24 bits; MLP lossless 2.0 at 96/24; DTS 5.1 at 48/24; and LPCM at 48/24. I've sampled all of the content informally, but the main attraction was the original masterpiece in lossless surround. The mixing engineer was Steven Wilson, the prime mover in Porcupine Tree and an impressive musician in his own right.
As the title track demonstrated, Wilson has used the surround medium in a fearless and probing manner. The ascending lead-guitar figure that opens "Red" appeared only in the surrounds. As the instrumental piece moved into its first verse, the pile-driving rhythm-guitar part shifted to both the center and the surrounds, generating an immersive triangular soundfield. Throughout the album, Wilson judiciously distributes elements in various locations throughout the soundfield. His choices aren't always predictable, but once I let go of the idea that surrounds are only for ambience, there was a rightness to all of his decisions. He gently unpeeled parts that were formerly buried, which offered fresh insights to this well-loved album. I won't throw out my Atlantic vinyl, but it may be shelf-bound for a long time.
Oh, yes—the speakers. They supported high-volume prog-metal listening without breaking a sweat. Robert Fripp's multitracked Gibson Les Paul churned out an array of gorgeous fuzztones. Bill Bruford's chattering drum kit benefited from the unpeeling process, and the high-resolution medium did justice to the exquisite high frequencies of the bells he used in quieter moments. At the center of it all was John Wetton, whose perpetually creative and powerful bass lines traveled through the floor right into the soles of my feet. This isn't a sensation I would normally get, when a sub is turned down in level in an attempt to tame my room's resonant bass bloat would starve the system of truly deep low-frequency response. Bass lines emerged refreshingly well proportioned. However, listening to them was a more cerebral experience than I'd expected, even with elevated volume settings in both the sub and the surround processor. I wondered what Paradigm's Perfect Bass Kit might do for a 12- or 15-inch sub. Forgive the verbiage, but the new Red is a major milestone in my listening life.
I moved on to PentaTone's multichannel SACD of Schubert's Symphonies No. 4 (Tragic) and No. 5 by the Netherlands Chamber Orchestra, led from the violin chair by Gordan Nikolic. Freshly made DSD recordings always make me feel like a thin scrim of noise has been lifted from the signal. This one offered a remarkable sense of ease and relaxation at the top end of the string section. It was well defined but sweet, not acerbic, and I could more easily hear the violas and the cellos layered in between the violins and basses. Lucid, elegant sonorities hinted at hidden emotional depths. This is how Schubert must have intended this music to be heard.
Jean-Pierre Rampal Plays Scott Joplin: I trust the title explains itself. The flutist was joined by drums, tuba, and a keyboardist who switched between bland-textured piano and funkier harpsichord. With both the flute and the harpsichord competing for high-frequency space, I was glad to be listening to vinyl through a tubed phono preamp, which caressed the instruments with a golden glow. Paradigm's gold-anodized aluminum-domed tweeters made their contribution by balancing this tubey subjectivity with tight imaging. As I switched between stereo and the Dolby Pro Logic II Music mode, the main benefit of going from 2.1 to 5.1 channels was that the soundfield lifted slightly from the speakers, whereas stereo was always speaker-bound and therefore somehow earthbound. Rampal earned his pay by injecting the familiar "Maple Leaf Rag," in a flute/piano duet, with the kind of rumbato only a virtuoso can muster.
How does Paradigm produce such well-rounded performance at $329 per speaker? It's partly an earnest company policy to produce products that perform well on and off axis, and it's partly a trickle-down process that enables modestly priced products to use drivers developed for far more costly products. What the Perfect Bass Kit can do for your system is well worth the $329 asking price. But what surprised me was the beauty of the Rosenut veneer cabinetry. The SE 1 and SE SUB don't just sound like far more expensive products—they also look like 'em. The Special Edition belongs on anyone's short list of affordable yet high-performing speakers.