Paradigm Special Edition SE 1 Speaker System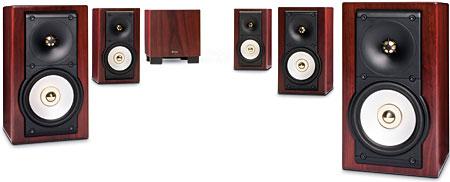 Price
: $2,344
At A Glance
: Between Studio and Monitor Series • PBK-1 Perfect Bass Kit fine-tunes sub's low-frequency response • Five stand-mounts plus subwoofer
Seeing Red in a New Way
I first became interested in Paradigm speakers on the recommendation of a working musician. He was a trumpeter, and he owned a pair of Paradigm Titans. This was 20 years ago, but even today, the Titan is one of the best budget speakers in captivity. Like all Paradigm speakers, it's gone through one generation after another, acquiring better drivers and improved parts along the way. I completed the circle by donating my pair of vintage Titans to another musician, who loved them.
I've since stepped up to the Studio Series, which in one form or another has been my reference speaker system for almost a decade. They provide an unimpeachable foundation for reviews of A/V receivers. When people ask me to tout a speaker, I don't want to have a long and intricate conversation about my ever-expanding frame of reference. I just tell people what I use: the Studio 20. On the rare occasions when I hear back from such people, they're happy campers.
Whenever Paradigm announces a new speaker line, I pay attention. I know it will continue a long train of thought that I share with the company. I inspect it the way some people search the faces of their infant grandchildren for the nose or cheekbones of other loved ones. The SE 1 is certainly a beautiful and well-behaved child. It didn't make a mess of the place, and it spoke in a pleasing and somehow familiar voice.
Plain Old Paradigm
Paradigm breaks its model lines into two distinct families. The Paradigm Reference family includes the flat-panel-friendly Millenia Series, the high-end Studio Series, and the bleeding-edge Signature Series. The plain old Paradigm line includes the satellite- and slimline-oriented Cinema Series, the more conventionally shaped budget champion Monitor Series, and the new Special Edition Series. My reference speakers hail from the Studio Series, but the subject of this review is the slightly less costly Special Edition Series. This review system uses a set of five identical SE 1 monitors with an SE SUB.
Special Edition is an elite club with only four members. It includes the SE 1, a two-way monitor ($329); the SE CENTER, a three-way horizontal center ($549); the SE 3, a 2.5-way floorstanding speaker; and the SE SUB. All are clad in Rosenut veneer or a Black Gloss finish. I was struck by the beauty of the Rosenut—no matter how house-proud you are, you'd be pleased to have these speakers in your home. The rounded edges made them seem not only pretty, but somehow less prepossessing than their 11-inch height and 6.5-inch width would suggest. There was a tactile component to my pleasure, too. I felt like I was touching something refined.
Beneath the SE 1's magnetic grille is a 1-inch tweeter made of ferrofluid-cooled G-PAL or gold-anodized pure aluminum. Compared with conventional aluminum, G-PAL claims to have improved rigidity and damping, and this tweeter has a reduced curvature radius for better dispersion. The 5.5-inch back-ported woofer is made of satin-anodized pure aluminum (S-PAL), which also claims improved rigidity. It's topped with a gold-anodized phase plug, which controls driver response. (According to my company contact, Paradigm made these driver choices late in the design cycle, so you may see conflicting information in printed or online literature—including the manual.) The terminals are plastic-nut, gold-plated binding posts.
The SE SUB is a simple 11-inch sealed cube that contains a 10-inch down-firing plastic-coned woofer powered by 300 watts RMS. Connectivity is minimal, with just a pair of stereo line-level inputs. Far more potentially revolutionary is the back panel's mini-USB input, which functions with Paradigm's PBK-1 Perfect Bass Kit ($299). This is Paradigm's solution for the problem of room-induced unevenness in bass response.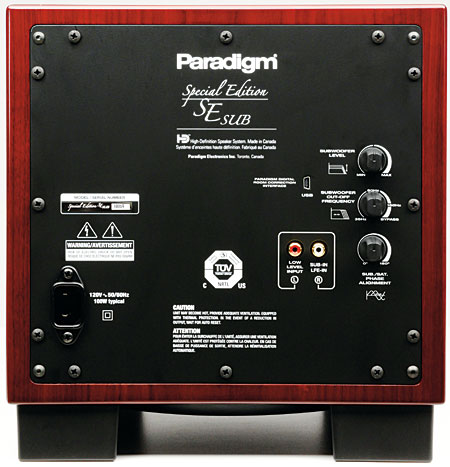 Nearly all rooms have an unfortunate tendency to either bloat or understate bass—and they often have both, in different areas. Bloating is the most annoying symptom, and it's most noticeable at the room's resonant frequency. Square rooms, and those whose dimensions are multiples of one another, tend to have an exceptionally noticeable resonant frequency. The PBK-1 measures this frequency hump and corrects it with equalization. If it's done right, the EQ should even out bass response in a way that's impossible with simple sub-volume or crossover adjustments (although getting those settings right is also important). Adjusting the volume on a bloat-prone sub is like using an ax; equalizing the sub is like using a scalpel.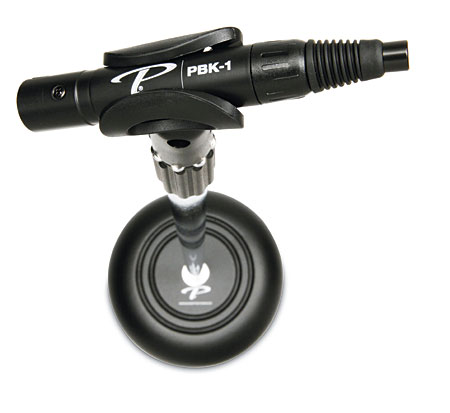 The Perfect Bass Kit includes a microphone, a heavy-duty stand, two long USB cables, and a software disc. Ignore the disc and download the latest software from paradigm.com/pbk; at press time, the newest version was 1.04. The program runs in Windows XP, Vista, 7 (in emulator mode), or Mac (through Boot Camp running XP). Set up the microphone on its stand, install the software, set the sub's volume control at the 50-percent mark, then run one USB cable from the sub to your PC, and the other from your PC to the microphone. The program runs quickly; it issues test tones from the sub, measures them with the microphone, shows the results as a graph on your PC, and then makes the appropriate adjustments. It measures at least five, and up to ten listening positions.