Neil Young: Archives Vol. II: 1972-1976 (Deluxe Edition)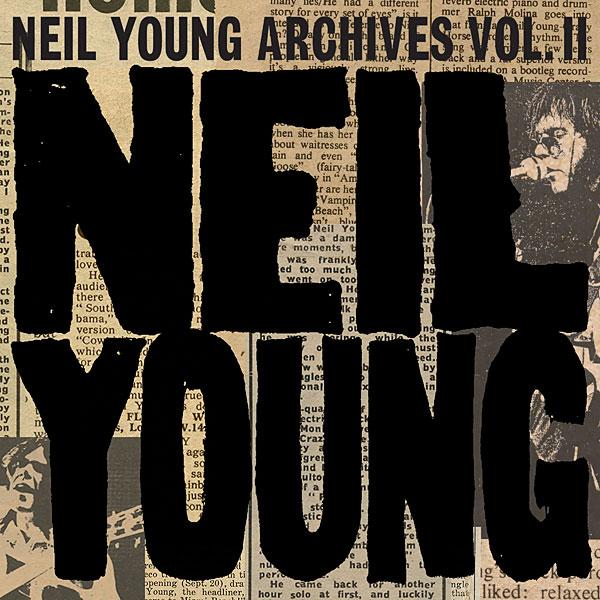 And that brings us to the long-awaited Archives Vol. II 1972-1976, a truly towering box set of epic proportions, both physically and aurally speaking. The first sequel to 2009's five-star Archives Vol. I: 1963-1972 collection, Vol. II—available on CD and hi-res digital and not via a Blu-ray or DVD option, as with Vol. I—illuminates one of Neil's most fertile creative periods, and it raises the stars 'n bars standard in terms of documentation, thoroughness, and overall listening enjoyment. In short, Vol. II is the visceral pinnacle of archival presentation that every artist and label should follow if they want to preserve, protect, and proffer our collective audio history to the nth degree.
I wasn't kidding when I said this box towers. The 12x7-inch pillar-size Deluxe Edition of this collection is without a doubt the one you need. (Note that this is a second pressing, as the initial 3,000-box limited run sold out instantly in late 2020.) Besides spreading a generous 131 tracks across 10 discs, the other holy grail ensconced within the tower itself is a 252-page hardback that painstakingly details five years of blood, sweat, and recorded tears rarely seen in such detail. That said, if you can't afford the big-box freight right now, a somewhat more economical 10-disc, cube-sized slipcase box is also available. At least it'll give you access to all the top-shelf audio goods—alas, accompanied only by a significantly truncated 24-page booklet.
Beside page after page of unreleased photos and hardscrabble handwritten lyrics, the 1972-1976 hardback shows off some of Neil's primo vintage audio gear, such as his TEAC and Sony reel-to-reel tape player/recorders—in one full-page shot, a TEAC A-6100 sits atop a foreboding stack of Fender amps onstage—along with multiple views of a Marantz 6150 direct-drive turntable spinning various of-era LPs from his deep catalog. The book's most fascinating contents appear on pages 204-231—namely, a beyond-exhaustive tape library cataloging which takes Neil chose to include in Vol. II as highlighted in yellow amidst literally hundreds of other track options that instead remain nestled in the man's vaults (for now, at least).
Purchasing any version of Vol. II gets you a full year of unlimited access to the Neil Young Archives (NYA) site, which in itself is a treasure trove of fully interactive Neilese manna. For example, once you delve into the digital filing cabinet, you'll find every track in Vol. II (albeit in a folder labeled with the numeral 2, and not with the Roman II that emblazons the physical collection) is available in 24-bit/192-kHz—no surprise, really, given Neil's hi-res track record. At 24/192, you get the full clarity of each song's relative instrumentation whether it's unaccompanied acoustic or balls-out electric, and you can also marvel at the ever-shifting character of Neil's distinctive vocal warble and how it often changes in inflection from line to line, and even syllable to syllable. Unearthing these nuances is the crux of what hi-res enables us, folks.
Of Vol. II's aforementioned 131 tracks, 62 of them are either unreleased, appear via alternate mixes, and/or surface through live options. I'd need five (maybe even 10!) more pages just to describe the heart of all the pure audio gold that's embedded here, so the following highlight reel will have to suffice as a select smattering of the proceedings. To wit: I can't get enough of tracks like the raw, diamond-in-the-rough promise of "The Bridge" (Disc 1), the ramble tamble chug of "Time Fades Away" (Disc 2), the tape-speed swoops that permeate the loping "Speakin' Out Jam" (Disc 3), Joni Mitchell joining in to float through a truly majestic "Raised on Robbery" (also Disc 3), the boozy alt-country groove of "The Losing End (When You're On)" (Disc 4), the surefire pedal-steel-kissed heartbreak of "Bad Fog of Loneliness" (Disc 5), the acoustically self-aware resolve of "Homefires" (Disc 6), Robbie Robertson's tasteful right-channel guitar accents on "White Line" (Disc 7), the unmistakable Crazy Horse gallop fueling "Ride My Llama" (Disc 8), the stark piano-driven lament of "Stringman" (Disc 9), and the full-on live fury of "Drive Back" (Disc 10). Now apply this scale of appreciation to the remaining 120 Vol. II tracks I couldn't cover in detail here, and you get the fundamental idea regarding their sonic virtues.
What else can I say about the merits of Archives Vol. II? Everybody knows this is Neil Young at his artistic apex. Long may he—and this truly vital Archives series—run.
CD
Label: Reprise/Warner Records
Audio Formats: 16-bit/44-Hz PCM Stereo (CDs); 24-bit/192kHz PCM Stereo (digital NYA files)
Number of Tracks: 131 (on 10 CDs)
Length: 7:58:56 (on 10 CDs)

Producers: Neil Young, L.A. Johnson, John Hanlon (box set); Neil Young, Henry Lewy, Elliot Mazer, David Briggs, Al Schmitt, Tim Mulligan, Ben Keith, six others (original album tracks, live material, and outtakes)
Engineers: Tim Mulligan (mastering and digital editing); Andrew Mendelson, Chris Bellman (additional mastering); Will Mitchell (audio production assistance); Jeff Pinn (additional mixing); John Hausmann (assistant engineer, analog & digital librarian); John Nowland, John Hanlon, seven others (original album tracks, live material, and outtakes)

Neil Young is an international treasure. Perhaps he should adopt Frank Sinatra's signature mantra "I did it my way" as his own, because his artistic vision is, frankly, unparalleled in the history of popular music. Neil always does what he wants, releases new and archival material whenever he wants, and often chooses to lay it all down in whatever genre strikes his fancy. Even better, he takes great pains to ensure we the listeners get to hear all of it in the highest resolution possible.