Moondance Deluxe Edition
Following the ethereal Dadaist dreams of his 1968 shooting star Astral Weeks, Morrison cemented his mass appeal on Moondance by fusing a love of rhythm & blues with soul, jazz, and an inherent sense of melody to create a hybrid signature sound that invited everyone along for the ride. The fascinating structural permutations found on Discs 2 through 4 are audio talismans on par with the scores of in-progress treasures amassed on the Beach Boys' Smile Sessions and Pet Sounds Sessions box sets. Instead of writing out charts, Morrison gave one simple instruction at the outset of Disc 2 before the players commence the live-in-studio take 1 of a song: "Just get it under control, and then do it." You'll be amazed at how accomplished and intuitive these early takes are, like you're sitting in with a seasoned jazz band improvising to find just the right nuances that transform great songs into transcendent songs. Prime example: The six tracks culled from 13 takes of the heretofore unheard "I Shall Sing" (later covered by Art Garfunkel), which burble and swing with verve—and also suggest a lineage with Morrison's next album, His Band and the Street Choir.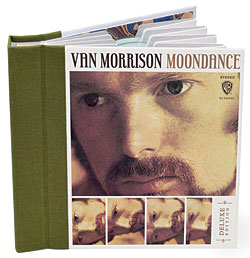 As great as three discs of not-so-rough gems are, Disc 5 is the crown jewel: Moondance engineer Elliot Scheiner's 5.1 mix, shelved for over a decade. Scheiner, noted surround alchemist for the likes of R.E.M., Steely Dan, and Porcupine Tree, takes a consistent approach by having most of the bed tracks reside in the front channels and the supporting instrumentation and vocals providing each song's additional character and flavor in the surrounds. Jeff Labes' lively 6/8 clavinette intro to "Everyone" dances in both the front left and surround left, while Collin Tilton's spritely flute punctuates the back stage. John Klingberg's bass line anchors "Glad Tidings" up front as three-beat handclaps rotate through most channels and saxophone lines and harmony vocals run counter in the surrounds. And though that's but the tip of the 5.1 iceberg, this stellar collection opens up many new and exciting avenues into the heart of the mystic.
CD & Blu-ray Audio
Label: Warner Bros.
Audio Formats: 48-kHz/24-bit PCM Stereo (CDs), DTS-HD Master Audio 5.1 48-kHz/24-bit (Blu-ray Audio)
Number of Tracks: 60 on four CDs, 10 on one Blu-ray Audio disc
Length: 4:37:31
Producers: Van Morrison (original album), Steve Woolard (reissue)
Engineers: Tony May, Elliot Scheiner, Shelly Yakus, Steve Friedberg, Neil Schwartz
How do you make a perfect album even more perfect? In the case of Van Morrison's seminal 1970 neo-rock Caledonian masterpiece Moondance, you compile a 70-track deluxe edition that includes three discs of sessions, outtakes, and alternate mixes, in addition to a separate Blu-ray Audio disc with a long-lost surround sound mix done by one of the album's original engineers. Yes, as any good Van the Man fan knows, it's too late to stop now.