Marillion: Sounds that Can't Be Made — Special Edition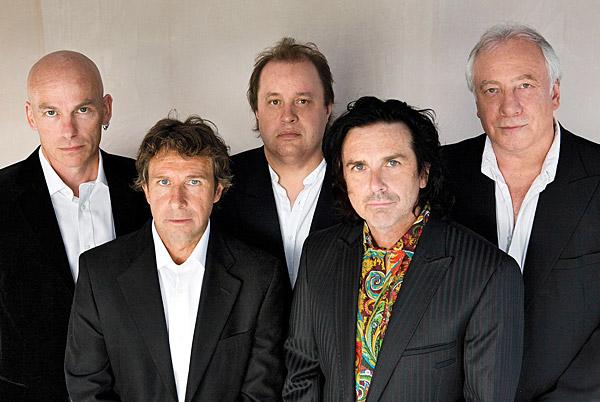 Sounds That Can't Be Made
. Originally released in 2012, this new Special Edition adds a disc with six additional cuts (radio sessions, live tracks, and a demo) that serve to enhance the core content of the main album.
The 17-minute opening track, "Gaza," is an ambitious look at the ongoing Israeli-Palestinian conflict. Regardless of anyone's personal politics, there's no denying the song's sonic impact as a soundtrack for an imprisoned city. A foreboding electronic fade-in and a sharp, insistent triangle rings back and forth in each channel, while Ian Mosley's skittery industrial drums and Mark Kelly's swooping keyboard washes dispense further tension. Tempo changes and volume-level shifts follow as guitarist Steve Rothery's feedback squalls splinter across the soundstage from right to left, and Pete Trewavas' chunky bass lines anchor the churning rhythmic flow. "Everyone deserves a chance to feel the future," intones an impassioned Hogarth during the song's super-intense back half. Whew! "Gaza" is about as epic and heartfelt as its gets in the post-progressive age.
"Montréal" is a 14-minute lettre d'amour to one of the band's (and its fans) favorite cities, comprising sections that rise and then part like the Red Sea to let a forceful audio wave slam its way through. "Lucky Man" features a husky vocal, more muscular and metallic riffing, and keyboard stabs that recall the pinging effect at the outset of Pink Floyd's herculean "Echoes." The final track, "The Sky Above the Rain," sports a piano intro that wafts from left to right and vocals set down the middle, supported by a razor-sharp guitar line just a bit back in the mix. At the uplifting denouement, the group jam zone subsides and a lone piano takes the album to fadeout.
If Marillion has flown under your radar, Sounds is a good place to start catching up. Their magically mysterious dream theater proves certain sounds can be made to further upgrade your listening horizons. To borrow a line from the title track, "you'll hear it happen inside you."
CD
Label: Ear Music/Eagle
Audio Format: 44.1-kHz/16-bit PCM Stereo
Number of Tracks: 14 (8 on CD 1, 6 on CD 2)
Length: 1:47:11
Producers: Marillion, Michael Hunter
Engineer: Michael Hunter
Some bands sputter and wither after major personnel changes, and then there's Marillion. The British neo-progressive collective's first incarnation crested with 1985's concept-driven Misplaced Childhood, which featured original mercurial lead singer Fish and the hit guitar-driven lament, "Kayleigh." Act II commenced with 1989's transitional Seasons End, featuring new vocalist Steve Hogarth (a.k.a. "h"), who has since helped fuel the band to greater compositional heights over the last two decades. Such prog prowess is perhaps best represented by their wide-ranging 17th studio album,