Marillion: Misplaced Childhood: Deluxe Edition
Thankfully, I had the fortitude to not write off Marillion entirely at that point. Because of how I connected with "Kayleigh," I gave Misplaced Childhood another chance via some extended listening sessions—and I'm so glad I did. (Perhaps that's a philosophy to take to heart in this instant-grat, lone-track, shuffle-at-will era, but I digress.) Upon further LP review, I was able to unlock what I had missed during that live gig, ultimately finding Misplaced Childhood to be the essential link between the majestic sprawl of Peter Gabriel–era Genesis and the sound-design transition many a prog band experienced during the aural upheavals of the MTV Decade.
And now, the Marillion circle turns 'round yet again, as Misplaced Childhood finally gets the full-on deluxe treatment it oh-so-richly deserves with Parlophone's five-disc box set. In addition to a proper remaster on Disc 1 and three other discs filled with tentpole-setting, of-era live performances, singles, and demos, there's a stunning surround sound mix on Blu-ray that, once again, proves beyond a shadow of a doubt why Steven Wilson is the undisputed top-tier hi-res 5.1 maestro of his (or any) generation.
Naturally, "Kayleigh" is the 5.1 litmus test, and it passes with flying colors. Fish's near-delicate vocals, sometimes overwhelmed by instrumental accompaniment in previous mixes, are now more at the forefront and just to the right of center in what I call "Goldilocks positioning"—as in, they're literally "just right." The seamless piano-and-bass instrumental transition into "Lavender" reflects the moment's required gravitas, leading up to guitarist Steve Rothery's sustained wide-panned solo sequence, a masterful combination of measured restraint and uncoiled fury. Meanwhile, the all-channel intro to "Bitter Suite" could be a long-lost cousin of Rush's "Xanadu"—with special kudos to drummer Ian Mosley's all-channel, around-the-kit accents—while Wilson once again proves just how to support, rather than supplant, a song's main thrust with the rear-channel placements of Mark Kelly's tasteful keyboard fills on "Blind Curve" and "Childhoods End?"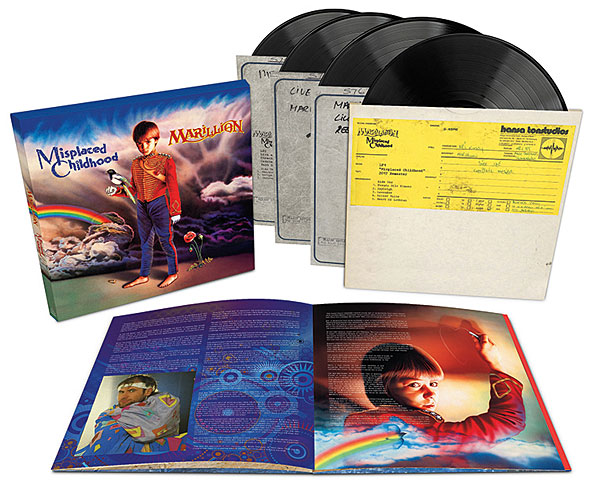 In addition to Wilson's 5.1 mix-masterworks and four promo videos, the Blu-ray also features Childhood Memories, a 73-minute documentary that should serve as a textbook inclusion for other multidisc box sets claiming to be "super deluxe" and/or "complete." In this doc, the Misplaced Childhood–era group—including Fish, who left the band before the end of the decade and was replaced by the gauntlet-grabbing and lyrically expansive Steve Hogarth (a.k.a. "h")—sits down with original producer Chris Kimsey in the band's studio. There, they reminisce about the recording process as undertaken in Berlin during the height of the Cold War, the album's virtually instant impact on the upwards trajectory of their career, and a dissection of their compositional choices. It's nice to see the continuing camaraderie amongst all six of them (including Kimsey) during the playback and individual track isolations that reveal vocal and percussive elements suitably buried in the final mix in an essentially Easter-egglike fashion. At one point, Fish jokes, "We didn't mention the 'C' word," and you know you're a tried-and-true prog-head when your first instinct is to fill in that blank with the phrase "concept album," since that's exactly what he meant there anyway.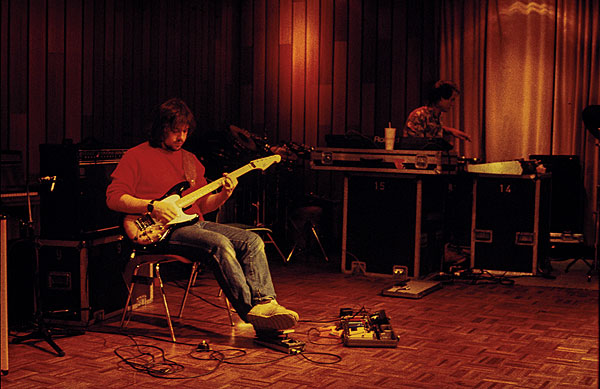 A penny for my thoughts here, my dear? First, I'm pleased I had a full-circle live Reassessment 2.0 experience 30½ years in the making when I saw the "h"-led Marillion perform with an elegiac yet eerie tenor in New York on the very night of the presidential election on November 8, 2016. Second, the Misplaced Childhood deluxe edition serves as Reassessment 3.0, and I'm beyond thrilled to report the album continues to reveal its deep-seated charms upon each subsequent listen, especially in its 5.1 form. My initially misplaced misgivings about Marillion's merits have since been displaced by these most meaningful sonic collisions.
CD & Blu-ray
Label: Parlophone
Audio Formats: 44.1-kHz/16-bit PCM Stereo (CD), 96-kHz/24-bit LPCM Stereo (Blu-ray & download), 96-kHz/24-bit DTS-HD Master Audio 5.1 (Blu-ray)
Number of Tracks: 74 on 5 discs (46 on 4 CDs, 28 on 1 Blu-ray)
Length: 5:40:28 (3:26:03 on 4 CDs, 2:14:25 on 1 Blu-ray)
Producers: Chris Kimsey (original album), Steven Wilson (surround sound mix, original stereo remaster & stereo remixes), Michael Hunter (live material), Alex Wharton (singles, outtakes & demos)
Engineers: Chris Kimsey, Mark Freegard (original studio album); Mark Freegard, Michiel Hoogenboezm, Henk Horden (live recordings); Ray Shulman (Blu-ray authoring)
I hate to admit it, but I didn't "get" Marillion when I saw them open for Rush at the Rosemont Horizon just outside of Chicago on March 21, 1986, playing their 1985 breakthrough album Misplaced Childhood in its entirety. While I was properly enamored with the uplifting performance of their touchingly seductive FM hit "Kayleigh," I just wasn't able to connect with the rest of the set for some reason. Apparently, I wasn't alone in that feeling, since I also heard a good bit of the crowd boo/catcall Marillion throughout their performance, the first time I had heard such a thing occur at a live show. Upon reflection, I think that polarized reaction was due to a) the over-the-top überexaggerated stage antics of Marillion frontman Fish, coupled with b) a fierce collective hunger to see Rush and not be distracted by anything else that night, regardless of how much Marillion was probably the best-aligned opener for the Canadian trio during their more keyboard-centric mid-'80s phase.