John Lennon: Imagine - The Ultimate Edition
Of course, the album is more than the sum of its formidable parts, and the six-disc Imagine: The Ultimate Edition purports to do just what its title promises. It's about as complete an auditory document as one could desire. Comprising four CDs and two Blu-rays, this truly ultimate collection contains many previously unheard in-the-studio raw mixes, outtakes, isolated track elements, and hi-res surround sound mixes in 24/96. As overseen by Yoko Ono, Abbey Road engineering marvel Paul Hicks, and frequent Ono collaborator Rob Stevens, this version of Imagine handily continues the top-shelf box-set paradigm the Universal Music Group is known for. See also 2017's five-star 50th anniversary box set for The Beatles' seminal Sgt. Pepper's Lonely Hearts Club Band, as well as the recently released 50th anniversary box set for The Beatles, a.k.a. The White Album (which, spoiler alert, contains another mind-expandingly stellar 5.1 mix by Giles Martin).
The remastered album proper on Disc 1 is the best stereo version yet—even more engaging than the 2010 remaster—while a trove of singles and album outtakes encompass Disc 2 alongside a quartet of Elements Mixes, including strings-only versions of "Imagine" and "How?" and the piano, bass, and drums for "Jealous Guy." Here, Hicks accentuates levels of clarity and detail in the master-mix sources that were previously buried or summed to mono.
Raw Studio Mixes rule the roost on Disc 3, as helmed by Rob Stevens. John and The Plastic Ono Band recorded each song loose and live on the soundstage located at the center of Ascot Sound Studios at Tittenhurst Park, John & Yoko's Georgian country home in Berkshire, England. The ferocious 7-minute Take 4 run at the painfully pleading "I Don't Wanna Be a Soldier Mama I Don't Wanna Die" (occasionally abbreviated throughout the box as "IDWBASMIDWD") is an indisputable gem, highlighting Lennon's deeply entrenched live chops and his penchant for bending and elongating vowels.
Disc 4 presents the mono version of The Evolution Documentary, which tells the full story of each Imagine song from demo to master take by way of instructions, rehearsals, and studio chatter—in short, it's song-structure etymology at its best.
Even better is what's in store on the pair of Blu-ray discs. On BD1, Hicks remastered the original Phil Spector/Lennon/Ono Quadrasonic mix of Imagine, the first time that particular quad mix has really been broached since 1971—and it's a fascinating aural curio unto itself. The 4.0 version of "Crippled Inside" essentially tells the tale—it's bright and eager to please. Hicks does his level best to stay true to the original quad intent, just as he should. It's a talisman bookend to Hicks' much fuller 24/96 5.1 album mix, which shows the actual depth of field lurking within these recordings. In the all-channels-seething mix of "How Do You Sleep?" and the yearning "Gimme Some Truth," Hicks delivers not only the undeniable emotional weight and individual character Lennon lent to each of the album's ten core tracks—one of his truly inherent gifts as a songwriter sympathetic to conveying individuality in a universally uniform way—but puts us in the cramped room with Lennon and the band at hand as each track unfolds.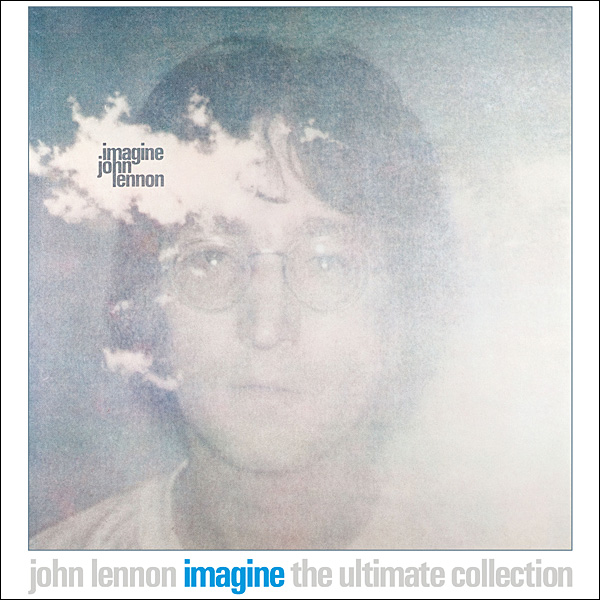 The mere existence of BD2, subtitled In the Studio and Deeper Listening, does my audiophile heart proud, because it reinforces to a T (or should that be to an L?) what a comprehensive box set should be all about—providing a complete picture of the artist at work in all phases of construction. And all of it's in 5.1, no less! Me, I'm fascinated with the character of Lennon's breath control and enunciation choices that evolve during the multiple takes of the aforementioned "How Do You Sleep?"
Let there be no doubt whatsoever—Imagine: The Ultimate Collection provides countless hours of fruitful exploration inside the not-so-crippled mind of one of the 20th century's most prolifically impactful pop culture artists. In fact, it's the you-are-there aural mirror reflection of a man who's working at the pinnacle of his creative powers. Now imagine there's no end to the enhancement of and further deep dives into the balance of John Lennon's solo catalog. It's easy if you try.
CD & BLU-RAY
Label: UMG
Audio Formats: 16-bit/44.1kHz PCM Stereo, 16-bit/44.1kHz Mono (CD); 24-bit/96kHz DTS-HD Master Audio 5.1, 24-bit/96kHz Quadrasonic 4.0, 24-bit/96kHz PCM Stereo (Blu-ray)
Number of Tracks: 160 (71 on 4 CDs, 89 on 2 BDs)
Producers: John Lennon, Yoko Ono, Phil Spector (original recordings and Quadrasonic Album mix); Yoko Ono, Simon Hilton (Ultimate remixes and remasters); Paul Hicks (Elements 5.1 mix); Rob Stevens (Raw Studio mixes)
Engineers: Phil McDonald, Eddie Klein, Eddy Offord, Roy Cicala, Shelly Yakus, Jack Douglas (original recordings and additional recordings); Ken Scott, Dan Richter, Claude Harper, Eddie Veale (additional recordings); Paul Hicks, Gavin Lurssen, Reuben Cohen (Ultimate remixes and remasters); Paul Hicks (Elements 5.1 mixes); Rob Stevens (Raw Studio mixes)

"Imagine there's no heaven. It's easy if you try." That profound statement set the table for the visceral round of revelations John Lennon had in store for us on his second proper solo album following his departure from The Beatles, September 1971's Imagine. Whereas "God," the critical denouement on Lennon's galvanizing December 1970 solo debut Plastic Ono Band, served as a gasp-inducing, barrier-breaking declarative manifesto, "Imagine" proffered more of a "what if" scenario that embodied an inclusively universal yet concurrently subversive scope. (The song's lyrics were actually inspired by what were known as "event scores" in Yoko Ono's 1964 book Grapefruit, and she was rightly credited as its co-writer in June 2017.)