The Jimi Hendrix Experience: Ladyland Deluxe Edition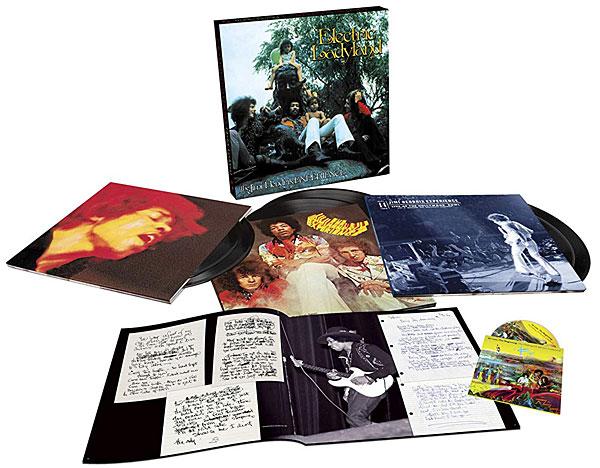 Hendrix would find no better in-simpatico partner to explore those burning desires with than South African-born producer/engineer Eddie Kramer, who also had significant engineering roles on the first two Jimi Hendrix Experience albums, May 1967's Are You Experienced and December 1967's Axis: Bold as Love. And while it may have taken 50 years to get there, their rainy-day dreams have finally come to pass on the masterpiece de resistance Electric Ladyland deluxe box set. As multidisc collections go, this one covers all the right bases, with a Kramer remaster of the core 75-minute double album on Disc 1, numerous early takes and outtakes on Disc 2, and a live concert from September 14, 1968 at The Hollywood Bowl in California on Disc 3 (highlight: the one-two gut-punch of "Sunshine of Your Love" and "I Don't Live Today").
But the crux of the creative apex can be found on the Blu-ray, which contains not only an insightful, in-depth making-of documentary but also one of the most fully realized and all-encompassing 24-bit/96kHz surround mixes I've heard to date. In fact, this duo's mutual multichannel wishes for EL were confirmed to me directly by Kramer himself, back when I sat in on a mixing session he was doing for Sting's cover of "The Wind Cries Mary" for the 1995 Hendrix tribute album In From the Storm at Jimi's own Electric Lady Studios in Greenwich Village, New York. "Electric Ladyland is the one studio album of Jimi's best suited for 5.1," Kramer told me at the time, citing the phase-challenging content all throughout the album. And there's also the fact that it was rife for multichannel (re)visitation anyway, thanks to it being cut on 1-inch 12-track tape mainly at the Record Plant in New York—in contrast to the first two JHE albums, which had both been cut on ½-inch 4-track tape.
From the literal get-go, the wild and widespread all-channel-clockwise sonic swirling on the album opener, ". . .And the Gods Made Love," lets you know instantly Hendrix and Kramer have come to challenge what your speakers can (and can't) handle. Like a centrifugal-force machine gone haywire, "Gods" unfolds at breakneck speed all around you, a spindrift panorama revisited here and there all along the way, like when it serves as an especially poignant callback during the not-so-gentle denouement of "Moon Turn the Tides. . .gently gently away."
That, of course, is not all. The expansive sci-fi epic "1983. . . (a Merman I Should Turn to be)" would be the perfect soundtrack for a 3D Aquaman movie, the aural equivalent of taking a sonic voyage 20,000 leagues (or should that be Hz?) under the sea. "1983" is a breathtaking 13-minute journey depicting the artist's concurrent ascent and descent into a future lived underwater, accented by his lightning-quick ping-ponging guitar-riff depth charges and drummer Mitch Mitchell's ever-intuitive jazz-influenced stick, snare, and cymbal work.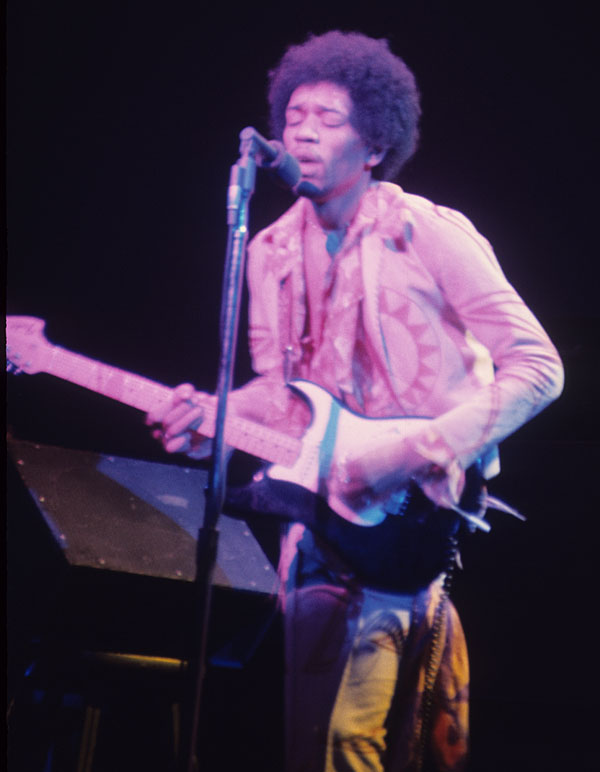 All the jaw-dropping moments on display here are almost too numerous to mention, but I nonetheless marvel at the abject fluidity of Jimi's rhythm and lead work during "Come On (Let the Good Times Roll)," his Curtis Mayfield-inspired falsetto on "Have You Ever Been (to Electric Ladyland)," and the biting, soundstage-destroying flamethrower riffage dominating the conclusion to "House Burning Down."
Finally, the album closer, the proto metal-melting, mountain-chopping "Voodoo Child (Slight Return)," showcases Jimi's utter mastery of the wah-wah pedal. Kramer's 5.1 mix makes you feel like Hendrix is simultaneously coming at you from every direction all at once, yet it is still tethered to the basic tenets of song structure and presentation—a true mixmaster's feat unto itself.
Had Jimi Hendrix lived on into the audio playback and recording industry boom of the '70s and beyond, I have no doubt he would have been at the forefront of exploring the outer limits of quad and surround mixing of his own original material—in essence, becoming the Steven Wilson of the original classic rock era, if you will. Have you ever been to Electric Ladyland? Just cue up this A+ surround sound mix, and I'll meet you in the next world of all-channel aural excellence—but don't be late.
CD & Blu-ray
Label: Experience Hendrix/Legacy
Audio Formats: 16-bit/44.1kHz PCM Stereo (CD); 24-bit/96kHz DTS-HD Master Audio 5.1, 24-bit/96kHz LPCM Stereo (Blu-ray)
Number of Tracks: 84 (48 on 3 CDs, 36 on 1 Blu-ray)
Length: 6:16:36 (3:42:28 on 3 CDs, 2:34:08 on 1 Blu-ray)
Producers: Jimi Hendrix (original recordings); Janie Hendrix, Eddie Kramer, John McDermott (Deluxe edition); Eddie Kramer (5.1 mix, stereo remixes and remasters)
Engineers: Eddie Kramer (original recordings and additional recordings); Gary Kellgren, Vincent J. Gagliano, Tom Muccio, Angel Sandoval, Lenny Stea (additional recordings); Scott Sedillo (5.1 mastering)

The nomenclature of the key line that appears within the credits of the original October 1968 double-vinyl release of Electric Ladyland tells quite the prescient tale: "Produced And Directed By Jimi Hendrix." The most crucial word in that phraseology, of course, is Directed, as the ace guitar slinger spent a good bit of his in-studio time in 1968 thinking in purely cinematic terms. Though his indisputable fretboard prowess was universally acknowledged by that point in his all-too-short career—something forever overshadowing his other, underrated top-shelf talents as a soulful, thoughtful, versatile vocalist and insightful, confessional, cosmic songwriter—Jimi the artist was always yearning to broaden his creative palette and expand the scope of the stereo listening experience to the fullest extent the technology of the day would allow.