Toy Story 10th Anniversary Edition—Pixar
Video: 5
Audio: 5
Extras: 4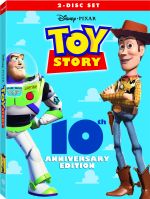 Completely unpretentious in its musings on the innocence of youth, Toy Story remains as captivating today as it was a decade ago. For all of its technical innovation, which was a true watershed, the movie put the characters and story first, resonating with emotion and humanity, despite the trappings of virtual plastic and wood.
Disney/Pixar's Toy Story 10th Anniversary Edition benefits from new audio mixes by original sound designer Gary Rydstrom. Both the Dolby EX track and a slightly unusual DTS ES track, which forgoes the typical discrete rear center for a matrixed channel instead, sound great. All of the key scenes sound better than ever: The subwoofer is active well before the arrival of the enormous truck at the gas station in chapter 12, for example, and, when it parks on top of us, the idling of the engines fills the very active surrounds. In general, this rebalanced Toy Story is now more in-your-face, akin to many modern mixes.
Although the sophistication of digital animation has continued to improve over the ensuing years, this was a landmark in its day, and all of that exquisite craftsmanship is better preserved with an all-time-high video bit rate, again direct from the digital source. Artifacting was only ever slight on the previous edition, but it is now gone from the 1.77:1 anamorphic image, and the hyperreal colors are almost hypnotic.
Not all of the extras from the out-of-print Ultimate Toy Box three-disc set have carried over, but, when combined with the new two-disc Toy Story 2, that's four discs total adorned with bonus materials. The commentary tracks might sound familiar, but fresh featurettes put the impact of this beloved, influential movie into focus, with input from Tom Hanks, Tim Allen, and John Lasseter...plus George Lucas, Peter Jackson, and even Buzz Aldrin. Apparently everyone still enjoys playing with toys.
LATEST VIDEO