Hereditary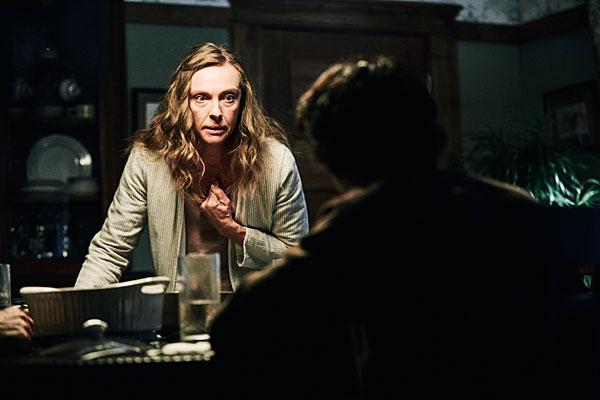 The Shining, The Exorcist, Night of the Living Dead, Psycho, Rosemary's Baby, Halloween
, and
Carrie
. There are other titles such as
The Orphanage
and
Let the Right One In
that edge close to being classics, but these tend to get lumped in with the cult category—perhaps deservedly so.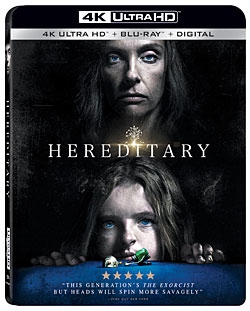 What qualities elevate a horror film to classic status? A highly compelling story, of course, but also inspired direction, music, and visual style. And it must be authentically frightening, not just a routine exercise in gore-splatter and jump-scares that the genre seems to have settled into over the past decade.
Hereditary is a film with all the makings of horror classic. I was unimpressed with it during my first viewing in a theater, but since its release on video—on Ultra HD Blu-ray with Dolby Vision HDR, no less—I've found myself re-watching it over and over again. Like a true classic, it holds up to repeat viewings, revealing new details, connections, and interpretive possibilities each time.
The family at the center of Hereditary revolves around Annie, an artist who makes diorama-type miniatures that depict events from her life. After her mother, with whom she had a difficult relationship, dies, Annie discovers a letter in a book called Notes on Spiritualism tucked away among her things. The letter is addressed to Annie and says, "Please don't hate me and try not to despair your losses…Our sacrifice will pale next to the rewards." Annie shrugs off the letter—at her peril, it turns out, since the mild-looking matriarch shown in a blown-up photo at her funeral had set in motion an elaborate plan for the family before checking out.
Shot digitally in 3.4K format, Hereditary arrives on Ultra HD Blu-ray sourced from a 2K digital intermediate. Visual differences between the regular Blu-ray and the upconverted UHD version are mostly subtle. Textures on the 4K disc have weightier, more fleshed-out quality. The denser color palette lends richness to green trees surrounding the family's isolated house, and to the orange jacket that odd duck younger child Charlie wears like a uniform. HDR is used subtly for the most part, though it helps to highlight certain objects—a few with significance to the plot. Shadows have a certain flatness in some scenes, but in others look highly detailed. (Hereditary turns out to be a good disc for tweaking black level: Apparitions lurk in the shadows, and if your TV or projector's brightness or gamma adjustments are off, you won't see them.)
I was surprised to note that the disc only has a DTS-HD Master Audio soundtrack, not Dolby Atmos. Even so, it's a solid 5.1 mix, with ultra-clear dialogue and consistent, but not flashy, use of surround channels. Low-frequency effects rise to the occasion when called for, such as one scene where a bird smashes suddenly into a window, and another where the sleepwalking-prone Annie knocks her head repeatedly against an attic door. Colin Stetson's downtempo, post-rock score sets a suitably grim tone for most of the proceedings but shifts into a strangely uplifting processional march during the film's startling final sequence.
Extras get short shrift on Lionsgate's Ultra HD BD release. There are numerous deleted scenes plus a fairly standard behind-the-scenes doc called Cursed: The True Nature of Hereditary that features interviews with cast members and first-time director Ari Aster. (I found it interesting that, when asked about his film influences that led to the making of Hereditary, he cited both Brian De Palma's Carrie and Peter Greenaway's The Cook, the Thief, His Wife, and Her Lover.) A still image gallery of Annie's intricate miniatures, created by Toronto-based Applied Arts FX Studio, is also included.
Ultra HD Blu-ray
Studio: Lionsgate, 2018
Aspect Ratio: 2.00:1
HDR Format: Dolby Vision
Audio Format: DTS-HD Master Audio 5.1
Length: 127 min.
Director: Ari Aster
Starring: Toni Collette, Milly Shapiro, Alex Wolff, Gabriel Byrne, Ann Dowd
Like its sci-fi counterpart, the horror film genre is packed with "cult classics." But there are only a few horror titles that can lay claim to "classic" film status. Universal Monsters films from the 1920s through the 1950s notwithstanding, my list is limited to