Fleetwood Mac: Tusk Deluxe Edition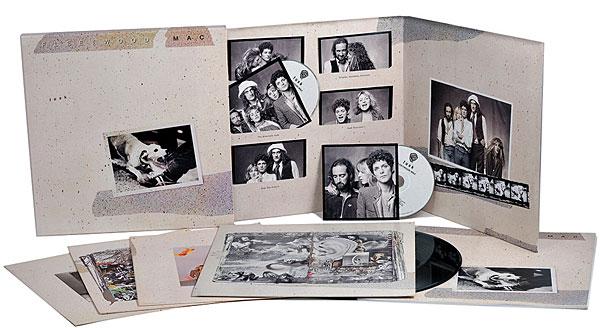 And thus we find our audio crosshairs directly focused on Tusk, the double album Fleetwood Mac released in October 1979 as the follow-up to 1977's multizillion-selling—and undeniably stellar-sounding—juggernaut, Rumours. Thing is, Tusk was instantly decried by many as, well, a grand disappointment. That said, those of us who ignored the condescending cognoscenti viewpoint instead found the four sides and 75 minutes of Tusk to be a bold, iconoclastic, aurally challenging career statement, one that cemented Mac guitarist/singer/songwriter/studio shaman Lindsey Buckingham as a forward-thinking, chance-taking creative force to be reckoned with for decades to come, having honed a sound that bridged the gap between '70s excess and '80s minimalism.
Tusk soldiered on to sell over 4 million copies and become an acknowledged influence on a subsequent generation of indie rockers including the likes of Bonnie Prince Billy, Tame Impala, and The New Pornographers. Warner Bros. is duly celebrating the album's ongoing impact by offering up Tusk in multiple formats, including a single-disc reissue of the remastered original album, a three-CD Expanded Edition with two discs of outtakes and alternate album mixes, and a mondo Deluxe Edition including five CDs (two of them containing 22 unreleased live tracks culled from the 1979-80 Tusk Tour), two 180-gram LPs, and one DVD with a 5.1 mix done by veteran Mac production cohort and longtime surround-sound proponent Ken Caillat.
Naturally, the version to get is the Deluxe Edition. Back in December 2003, Caillat told me he had completed 5.1 mixes of Tusk tracks the Mac collective wholeheartedly approved—"the band went crazy when they heard them," he said—so it's quite likely this is indeed that very same mix we've been so patiently awaiting for almost a decade and a half.
The other bonus Tusk discs have their own merits, of course. It's beyond fascinating to hear Buckingham work his way through six alchemical cracks at "I Know I'm Not Wrong" as well as follow five evolutionary walkabouts through Tusk's tribal title track. The two live discs are nice complements to the official 1980 double album Live, including Buckingham's ever-intensifying stomp through "Not That Funny" and the deep reading of Stevie Nicks' magically moody "Sisters of the Moon."
But the crux of Tusk's ascendant reign can be found in the 5.1 mix. "The Ledge" portends things to come—it's essentially a man-alone tune that foreshadows Buckingham's quirky mad-genius 1984 Go Insane solo album, powered by way of a front-right-embedded detuned guitar riff riddled with much punkish intent. His vocals are essentially centered in a vacuum until he's encompassed by the band's all-in yet off-kilter "You're never gonna make it baby" refrain. Right after that, the patented Mac harmonies are in full 5.1 bloom to uplift the choruses of Christine McVie's perfect pure-pop confection, "Think About Me."
Meanwhile, Nicks' enduring "Sara" continues to seduce, as she wafts in and out of the mix like an ethereal gypsy fog while the band plays on, anchored at the outset front and center by Mick Fleetwood's delicate brush drums and John McVie's burbling bass line, which soon lends its full throb to the subwoofer channel. And Buckingham's subtle dobro nestles in the rear left before sauntering over to the rear right. As vexing as Nicks is on "Sara," her best Tusk performance comes during the tender and touching "Beautiful Child," with her gold dust dreams again buttressed by the band's instinctively sympathetic accompaniment in all quadrants.
The tour de force comes with "Tusk," a signature piece that has more highlights than any given Sunday sports machine roundup. Some of that is due to the way Caillat utilizes the sweet 'n' swinging horns of the 112-piece USC Trojan Marching Band in the track's back half. He moderates their support level and volume swells amidst much raucous band activity, as the ferocious all-channel clockwise percussive tornado of a drum break clears the decks while Buckingham's increasingly paranoid whispers, groans, whoops, and multiple bursts of "aiii-eee" pepper each channel at will.
Tusk Deluxe thrills from every corner, balancing Buckingham's real savage-like abandon with his angular studio precision. Fate takes time, but every little bit is there to see and hear just how Tusk truly transcends the rumors of its nonexistent flaws.
CD, LP & DVD
Label: Warner Bros.
Audio Format: 96-kHz/24-bit DTS-HD Master Audio 5.1, 96-kHz/24-bit PCM Stereo (DVD); 44.1-kHz/16-bit PCM Stereo (CD); 96-kHz/24-bit PCM Stereo (download)
Number of Tracks: 124 (84 on 5 CDs, 20 on 2 LPs, 20 on 1 DVD)
Length: 5:55:39 (CDs), 1:15:06 (LP & DVD)
Producers: Bill Inglot, Steve Woolard, Brian Kehew (reissue, outtakes, and live material); Lindsey Buckingham, Ken Caillat, Richard Dashut, Fleetwood Mac (original album); Ken Caillat (5.1 mix)
Engineers: Ken Caillat, Richard Dashut, Hernan Rojas (original album); Brian Kehew (live material); Rich Fowler, James Stone (DVD); Claus Trelby, Steve Hall (5.1 mix and master)

Revisionist history is just as much a part of rock & roll as guitars, cars, and odes to love and lust are. Some albums initially looked upon as noble but failed experiments more often than not semi-mysteriously improve with age and hindsight when viewed through the prism of time, wherein listeners finally catch up to the scope of the artists' originally over-their-heads intentions.