Die Hard: 30th Anniversary Edition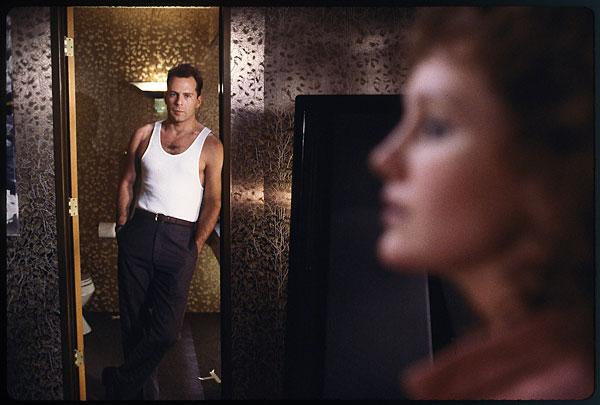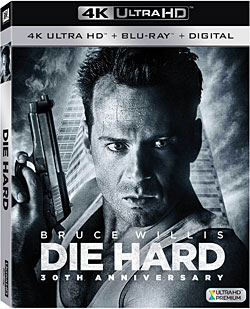 With modern perspective, it can be acknowledged that there is some bad dialogue here, along with a couple of hinky plot devices. But ultimately this violent game of cat-and-mouse set in an elaborate brick, steel, and glass playground still works brilliantly. The script's smart details yield genuine suspense, and its twists are inspired.
I've always loved cinematographer Jan De Bont's use of light and color in this movie, which hasn't looked this good since it appeared on the big screen in 1988. The clarity of focus within the 2.35:1 anamorphic frame (with special effects captured on large-format 65mm film) has been refreshed with readily visible details, even in the frequent scenes of wafting steam and smoke. The new 4K remaster maintains a pleasing level of vintage
film grain, while the high dynamic range adds urgency to highlights, which now look really bright against the nighttime sky. Blacks are mostly inky, sometimes mildly oppressive, and there's occasional strobing in parallel lines during fast action, but this release is an undeniable visual improvement over the regular Blu-ray.
Despite the video upgrade, the audio appears to be the same DTS-HD Master Audio 5.1 soundtrack from the Blu-ray. It's a fine track, though, with heavy LFE adding menace to machine gun fire. You can guess the two scenes that will be most engaging: the chair-drop down the elevator shaft, and the helicopter attack, both of which feature beefy explosions and generous surround activity.
Archival director commentary, special effects commentary, plus a subtitle commentary from cast and crew have all been ported to the 4K platter.
Ultra HD Blu-ray
STUDIO: Fox, 1988
ASPECT RATIO: 2.35:1
HDR FORMAT: Dolby Vision and HDR10
AUDIO FORMAT: DTS-HD Master Audio 5.1
LENGTH: 132 mins.
DIRECTOR: John McTiernan
STARRING: Bruce Willis, Alan Rickman, Alexander Godunov, Bonnie Bedelia, Reginald VelJohnson, William Atherton
In the 30 years since its debut, Die Hard has been riffed on and ripped off beyond count, and been sequelized no less than four times. This crown jewel of the Fox catalog, unleashed upon audiences with a ferocity, personality, and originality that we never saw coming, will likely never be topped. A very 1980s interpretation of Dickens' A Christmas Carol, it finds grouchy New York City police detective John McClane (Bruce Willis) stuck in an under-construction Los Angeles skyscraper on December 24th. During the evening, he faces his demons, a band of slick "terrorists," and tough truths about his failings as a husband. If he can somehow survive, he might just be able to make everything right.