Def Leppard: Hysteria: 30th Anniversary Super Deluxe Edition
When the time came for the band to follow up their 1983 multiplatinum monster Pyromania, everyone involved felt "going bigger" just wasn't big enough. While discussing their game plan with Pyromania producer/co-mastermind Robert John "Mutt" Lange (AC/DC, The Cars), an infamous mantra soon emerged: "Let's do the rock version of Michael Jackson's Thriller." The intention was to craft the songs as if they could each be singles while utilizing every tool available in the then-modern recording technology toolbox, all in pursuit of creating the hard-rock equivalent of a Sgt. Pepper/Pet Sounds mashup for the MTV generation. In short, as Def Lep's lead guitarist Phil Collen recounted to me last year, "The goal was to make all the songs on Hysteria sound great, no matter how far we had to go to do it." If ever there was a poster child for Be Careful What You Wish For 101, Hysteria was clearly it.
But the proof is in the recorded pudding, as they say, and the five-CD/two-DVD Hysteria 30th Anniversary Super Deluxe Edition box set leaves virtually no stone unturned in chronicling the album's—and the band's—trajectory into the superstar stratosphere.
Indeed, this mondo box set has it all—well, almost all. (More on that in a bit.) While you could pick up Hysteria in its single-disc and two-disc incarnations, this box is your better bet. Besides five CDs with the remastered album, B-sides, remixes, and live performances and two DVDs with of-era videos and historical analysis courtesy Classic Albums, also included are four quite thorough booklets filled with extensive liner notes, photos, and discography details—a prototype other multidisc box sets should follow.
Listening to Hysteria now, one is struck by the sheer audacity and willpower behind stacking so many tracks per song in the pre–Pro Tools era. For example, the guitar chords on the chorus of the title track were recorded one note at a time, rather than being strummed together. Four guitar tracks are responsible for the iconic intro to "Pour Some Sugar on Me" as played through the Rockman amplifier, a device created and engineered by Tom Scholz, of Boston fame. And the orchestration of each vocal layer, with Lange himself also singing and manipulating the harmonic blends seemingly at will, is simply staggering.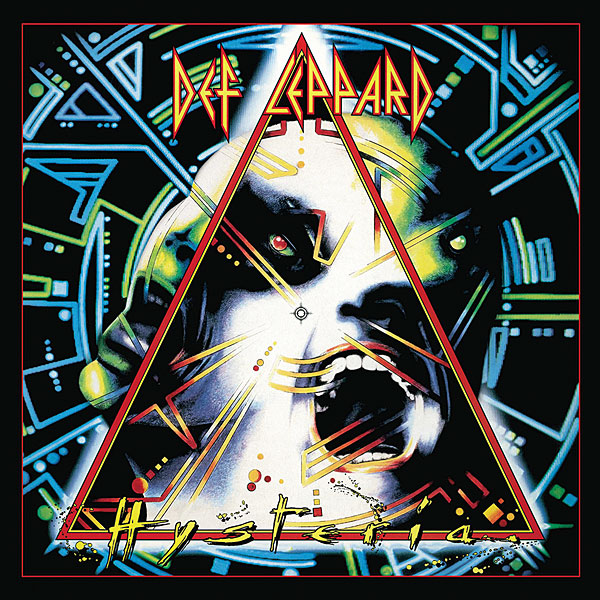 Rick Allen's unique Simmons drum kit—an ingenious, electronics-driven creative solution to compensate for the loss of his left arm in a car accident that also kept him a functioning member of the band—was tracked last to keep the signal paths and Joe Elliott's vocal trails clean. This approach also gave Def Leppard an overall sound different from any other mega-metal acts of the time period. Lange's keen ear for detail and arrangement—like how he left the gaps in the main "Sugar" riffs for the snare-drum attack to seep through for emphasis—is the secret sauce that catapulted it into becoming the band's most popular song to this day.
The only thing missing in this box set, of course, is a proper surround mix— a wish certainly not out of the question, given the multitude of multitrack recordings on hand. Lange is on record as saying he wanted to create a "third dimension" in stereo with Hysteria—mission accomplished, without a doubt. But you also have to wonder, how much further out would a 5.1, 7.1, or even a Dolby Atmos mix take Hysteria? Maybe that's something to be considered for the 40th anniversary.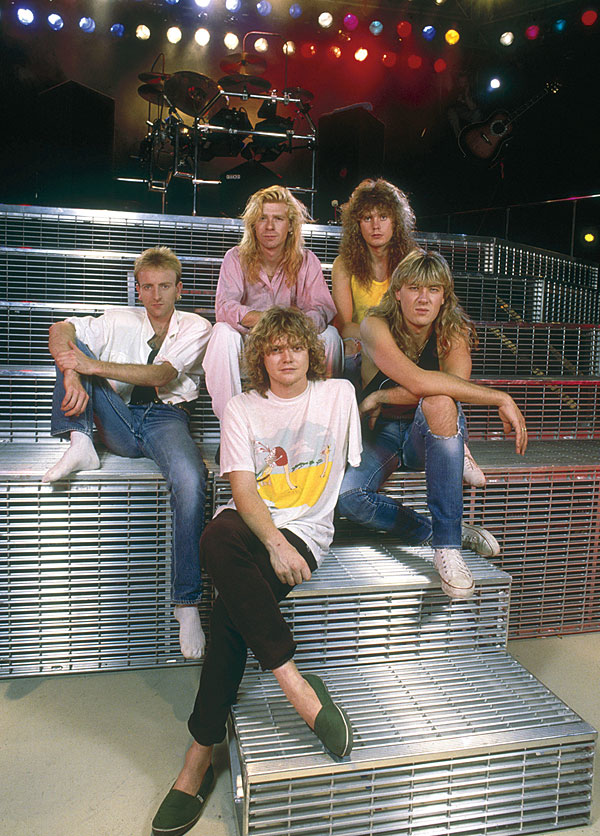 Regardless, Hysteria defined an era of multifaceted recording taken to the nth degree. And the more you listen, the more you find the album's roots go well beyond the metal genre, whether via a country-influenced melody ("Love Bites") or a crazy cavalcade of vocal samples, chants, and out-of-sync drum machines ("Rocket"). Like pioneers embarking on an audio-centric archaeological dig, listeners can unpack Hysteria and its bonus material one layer at a time. Whether you take one lump or two, Hysteria is a sweet sonic confection that continues to reward each and every aural bite.
CD & DVD
Label: Mercury/Eagle Vision/UMC
Audio Formats: 44.1-kHz/16-bit PCM stereo (CD), 44.1-kHz/24-bit LPCM stereo (DVD & download)
Number of Tracks: 77 on 7 discs (48 on 5 CDs, 29 on 2 DVDs)
Length: 6:39:18 (4:29:17 on 5 CDs, 2:10:01 on 2 DVDs)
Producers: Robert John "Mutt" Lange (original album, B-sides, remixes), Joe Elliott (box set executive producer)
Engineers: Nigel Green, Mike Shipley, 6 others (original album, B-sides, remixes, live material); Bob Ludwig, Howie Weinberg (original mastering); Ronan McHugh (box set mastering); Ray Shulman (DVD authoring)
When the phrase "beast mode" entered the vernacular, it was intended mainly as a descriptor for a singularly focused level of energy and drive as exhibited by certain football players. But it just as easily could have been used to describe the laser focus Def Leppard displayed in the face of innumerable odds while recording the 1987 juggernaut known as Hysteria. It may have taken them 34 months of on/off studio time and a hefty price tag of 2 million pounds to get to the finish line, but the ensuing album sold over 25 million copies worldwide and became the defining sonic template for the scores of pop-metal crossover hybrids that followed.