Déjà vu: 50th Anniversary Deluxe Edition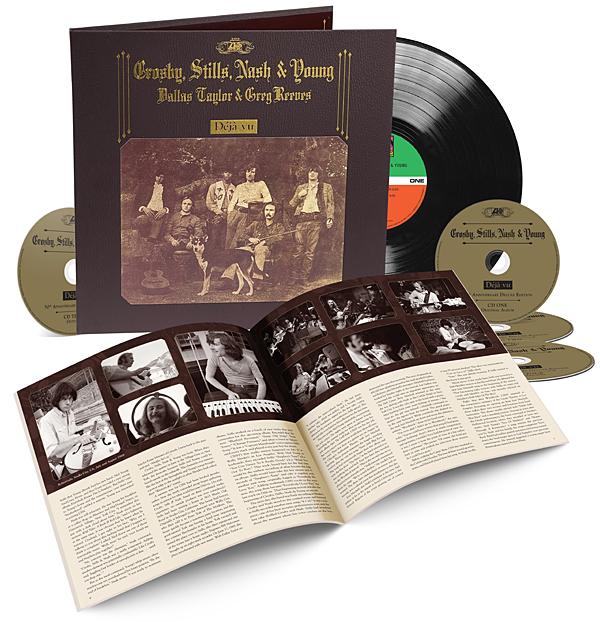 Déjà vu
is, it somewhat helplessly plays perpetual second fiddle to the sea change garnered by the stacked-harmonic conver- gences in evidence on 1969's
Crosby, Stills & Nash
, which preceded it by 10 months. Granted, CSN was a breath of fresh vocal-arrangement air and instinctual instrumental accompaniment, but
Déjà vu
fostered the initial intersection of the volatile four-way street of headstrong artistic personalities with the addition of Neil Young into the fold.
Déjà vu
purported to prove the maxim "the sum is greater than its parts"—but in the quite specific case of CSNY, the corollary is the individual parts remain A-level creators on their own.
Current artistic and personal estrangements may preclude this fantastic four from ever recording and/or performing together again as a quartet (or even as a trio), but thankfully, we now have the expanded majesty of this multidisc Déjà vu deluxe edition to re-light the fire of our sonic relationship with this perennial classic.
A half-century-plus on, Déjà vu sounds as fresh today as it did in 1970. Rhino has been relatively smart about including high-grade vinyl offerings in their box sets of late, and upgraded wax may indeed be the best way to hear things like the seductive mysteries of the truly haunting title track and the heavenly blend of the character of each distinctive voice in the idealistic uplift of "Everybody I Love You." If you wanna take the wax route all the way, then I suggest you spring for the 5LP box set to get all 48 tracks on 180-gram vinyl. Hi-res audio adherents can access 24-bit/192kHz versions via the Neil Young Archives website (neilyoungarchives.com), while those direct-ordering the box set from the CSNY50 and Rhino e-commerce sites respectively will also receive hi-res file down- load options.
As for the 4CD/1 LP Déjà vu collection, it's presented in the 12.75 x 12.75-inch hardback format, and those of us who own the 1970 LP will positively relish the box's faithful replication of the original album's textured surfaces and gold-embossed titles. My only presentation lament—no identifying artist/ album nomenclature appears on the sturdy, 0.5-inch spine. Sure, I get the design team's aesthetic reasoning here, but considering how we audiophile collectors shelve hundreds, if not thousands, of box sets of varying sizes and widths, blank spines don't make spot IDs easy—just more mnemonically color-centric.
The relatively economical 20-page booklet gets the historical context job done the right way, thanks to film director and journalist Cameron Crowe's insider-baseball essay (with an assist from Joel Bernstein). Photographer Henry Diltz's myriad of sessions shots, both posed and candid, further shape the artists' creative framework. Also, kudos must be given to the durable CD tray design, as there's finally enough vertical clearance for two-fingered disc extraction from each slot without much fear of bending or ripping the respective moorings.
And now, let's dive into the music. Both Disc 1 and the LP contain the remastered 10-track mothership. If CSN's "Suite: Judy Blue Eyes" is the template for everything three of these gentlemen are capable of together, then Déjà vu's exhilarating opening track, "Carry On," is next-level harmonizing and multi-movement arranging prowess. David Crosby's "Almost Cut My Hair" remains defiantly relevant to this day, while "Woodstock," penned by Joni Mitchell and sung by Stephen Stills, puts an observational pin in the free-love movement.
Demos carry the day on Disc 2, its contents reflecting four great songwriters in the prime
of exploring their muse—but also showing how well they ultimately deferred to their collective top-shelf material for the official release. "Triad," a rejected Crosby chronicle of a theoretical tryst, derives drama from its take- your-time acoustic unfolding. Stills' "So Begins the Task/Hold on Tight" is a multi-style-infused masterclass for the storytelling push-pull between lament and elevation, while Graham Nash's "Question Why" is a fine British folkie jangler. Young's acoustically soaring "Birds" shares a beautiful supplemental vocal from Nash, still the most instinctually spot-on harmonizer of the rock era.
On Disc 3, dubbed Outtakes, Stills' previously unreleased mid-tempo "Ivory Tower" sounds like it was just a few more solid takes away from finding that final necessary overdrive gear— though the response harmonies and left- and right-channel guitar solos here are pure gold. Crosby's loping, percussive "Laughing" is a keeper as is—and soon enough realized in full on his February 1971 solo album, If I Could Only Remember My Name.
Finally, Disc 4 serves up a fine batch of Alternates. The harmonica version of Young's "Helpless" gives added texture to an instrumentally overstuffed mix, while the early, acoustic version of Nash's "Teach Your Children" proves its anthemic positivity is already on the chalkboard.
"How's it sounding?" Nash queries hopefully after that just-noted "Teach Your Children" early take—and I'm more than happy to tell you, my friend. This finely expanded box set presents the full-bodied splendor of Crosby, Stills, Nash & Young's Déjà vu all over again for the first time, taking us all back to the garden of a very, very, very fine audio house.
CD&LP
Label: Atlantic/Rhino
Audio Format: 16-bit/44.1-Hz PCM Stereo (CDs); 180-gram Stereo vinyl (LP); 24-bit/192kHz PCM Stereo (digital downloads)
Number of Tracks: 58 (48 on 4 CDs, 10on1LP)
Length: 3:47:54 (3:11:31 on 4 CDs, 36:23 on1LP)
Producers: Patrick Milligan, Joel Bernstein (deluxe edition); David Crosby, Stephen Stills, Graham Nash, Neil Young (original album)
Engineers: Bill Halverson, Russ Gary, Stephen Barncard (original album); Chris Bellman (remastering); Stanley Tajima Johnston, 4 others (demos mixing); Bruce Botnick,
10 others (outtakes & alternates mixing)
As acclaimed as Crosby, Stills, Nash & Young's 1970 magnum opus