Al Stewart: Year of the Cat: 45th Anniversary Deluxe Edition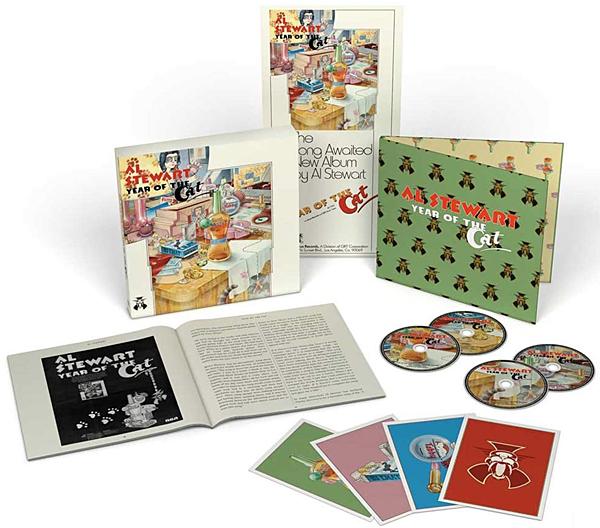 Bed Sitter Images
, and it took the burgeoning singer/songwriter five more albums and another eight years until he truly hit his stride with March 1975's
Modern Times
. By then, Stewart had not only honed his historical storytelling mien to a T, but he had also expanded his compositional palate by commencing the first of three fruitful collaborations with uber-producer/engineer Alan Parsons. The duo's second winning release, October 1976's million-selling
Year of the Cat
, was the perfect mesh of Stewart's vivid imagery with the emergence of Parsons' progressive-leaning production style. (September 1978's
Time Passages
, headlined by its ever-ethereal title track, triumphantly closed out the Stewart/Parsons cooperative troika.)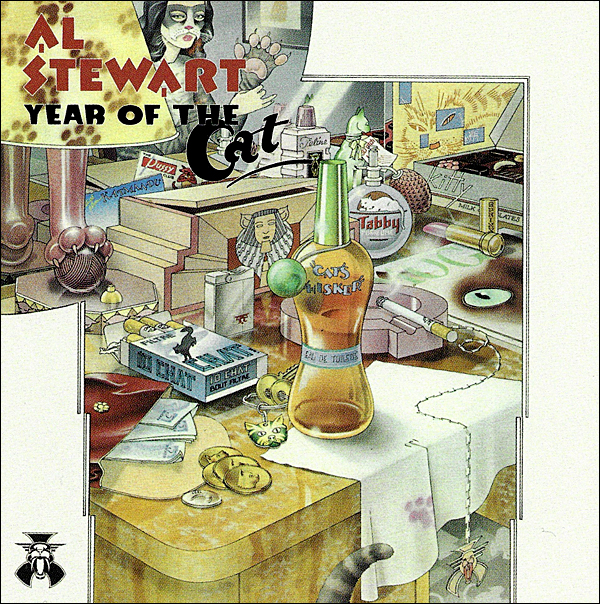 And now, we have an expanded Year of the Cat box set that catapults an always excellent-sounding, longtime audiophile-catnip release into the next sonic stratosphere thanks to Esoterica Recordings, a discerning label within the reissue-centric division of U.K. stalwarts Cherry Red Records. Esoteric Recordings have been at the forefront of rightfully respectful yet lavish box-set packaging in recent years. Their 3CD/1 region-free NTSC DVD Year of the Cat collection is housed within a 10.2 x 9.9-inch slipcase, and the 68-page booklet contains most everything discerning collectors like yours truly want in box sets. The lengthy liner notes interview with Stewart, conducted by executive producer and Esoteric major domo Mark Powell, gleans thoughtful firsthand takes on the writing origins and instrumentation implementations for each of the album's nine songs, interspersed with multiple of-era photos of Stewart and the covers of all his albums prior to Cat. After that, we get separate sections delineating the full lyrics, master tape boxes, and scores of international singles sleeves and 45 labels dubbed "A to Z," many of which I've never even seen until now.
Each of the set's four discs nestle in slim, individual slots in a separate gatefold cardboard sleeve. Four postcards and a glossy shop poster, all featuring the cat-themed Hipgnosis album-concept design, round out the included goodies. Whenever you're looking to shell out big bucks for box sets like this, the collective contents of Cat should be considered the standard-bearer for the kind of elements that will keep you engaged well beyond your initial ritualistic listening sessions and liner-notes read-alongs.
But there's also nine lives, er, songs to tackle from the core album, so let's get to 'em! Disc 1 contains the remastered stereo Cat plus a bonus track, "Belsize Blues," which was recorded at Abbey Road Studios ahead of the other tracks in late 1975. The honky-tonk ramble-tamble groove that dominates "Belsize" was deemed somewhat out of sync with the vibe of the album's main milieu, hence its being held back. That was a wise executive artistic decision for Cat's original purposes, imo, but it's a vital inclusion here as a righteous extra.
Discs 2 and 3, both dubbed Live at the Paramount Theatre, Seattle and recorded on October 29, 1976, essentially split Stewart's 15-song set that night right down the middle. Stewart and his tight five-piece band add sinew and depth to more vintage tracks like "Soho (Needless to Say)," "Roads to Moscow," and "Nostradamus," as well as flesh out six Cat songs, the latter of which had only just come out that month.
Disc 4 is where all the surround magic happens in either DTS-HD Master Audio 5.1 or Dolby AC3 5.1 realm, both at 24-bit/96kHz. Parsons' deft surround touch brings out the best of what has always been a clean, well-layered recording, enhancing Stewart's visceral tales greatly in the process. Stewart's narrative singing voice—perhaps his most direct stylistic descendent is Neil Tennant of Pet Shop Boys—stays mostly in the middle as previously burrowed piano and guitar accents are relegated to various quadrants in mostly supportive, but more clearly identifiable, ways. Highlights include Peter White's upfront Spanish guitar accents in "On the Border" and Bobby Bruce's rear-right violin solo and ongoing accompaniment populating "Broadway Hotel."
The crux of the 5.1 mix is found in, of course, the expansive and perpetually mysterious title track via all-channel piano playing and highlighted by a stunning, two-part solo section. Here, White's tasteful acoustic guitar solo nestles in the front right followed by Tim Renwick's fiery electric guitar response in the front left, with the feline tale's own tail brought home in all corners by Phil Kenzie's pair of impassioned alto sax solos.
Considering all the aural rewards that permeate this Year of the Cat collection, we can only hope the aforementioned Time Passages is next on the clock to get the full-bore deluxe expansion and surround sound treatment from both Parsons and Esoteric. Until then, feel free to curl up with the all-channel purr of the Cat in the rhythm of the new-born day, until your sense of direction completely disappears into 5.1 bliss.
CD&DVD
Label: Esoteric Recordings
Audio Format: 16-bit/44.1-Hz PCM Stereo (CDs); 24-bit/96-Hz LPCM Stereo (DVD); 24-bit/96kHz DTS-HD Master Audio 5.1, 24-bit/96kHz Dolby AC3 5.1 (DVD)
Number of Tracks: 34 (25 on 3 CDs, 9 on 1 DVD)
Length: 2:43:20 (2:04:25 on 3 CDs, 38:55 on 1 DVD)
Producers: Mark Powell (deluxe edition); Alan Parsons (original album, bonus track, and 5.1 mixes)
Engineers: Alan Parsons (original album, bonus track, and 5.1 mixes); Noah Bruskin (bonus track and 5.1 mixes); Paschal Byrne (live material); Dave Donnelly (CD, DVD 5.1 mastering, and DVD Stereo remastering); Ray Shulman (DVD authoring)
Al Stewart is the kind of seasoned artist known for being well worth the wait. The Scottish-born and London-bred Stewart initially focused on mining a folk-driven vein when he made his debut with October 1967's orchestrally buttressed