The Wizard of Oz – 70th Anniversary Edition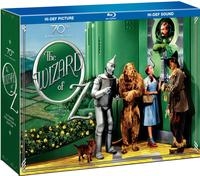 The American Film Institute's #10 film of all time makes its glorious debut on Blu-ray. Warner has done a marvelous restoration job, as
UAV
Editor Scott Wilkinson explains in
this report
. Here, I'll highlight a couple of jaw-dropping scenes that illustrate how this work translates to the finished project. The Dolby TrueHD 5.1 audio track won't shake the foundation, but given its age, it sounds remarkably good, especially when Judy Garland belts out a tune.
Over the Rainbow

Chapter 4, 0:05:50
Detail, audio dynamics
While Dorothy sings "Over the Rainbow," relish the detail in her checkerboard-patterned dress, each blade of hay, and the chickens scratching around in the background.
With an audio source over 70 years old, one would expect to hear some hiss and lack of clarity in the track, but in this case, it's nonexistent. Listen to Garland's soothing voice as she sings of traveling "Over the Rainbow."
Not in Kansas anymore

Chapter 11, 0:21:36
Detail, color saturation
The Land of Oz comes alive in 1080p! When Dorothy meets the good witch of the north, notice the freckles on the young girl's face and some acne on her forehead and chin. But don't let her teenage beauty marks distract you from the amazing colors of Oz.
A man made of tin

Chapter 25, 0:41:38
Detail
I've seen this film countless times over the years, and I always thought the oil can was an empty prop. For the first time, you can see oil shooting from the tip of the can and the liquid gold can be seen dripping down the Tinman's face and jaw!
LATEST VIDEO