A Streetcar Named Desire: 60th Anniversary Edition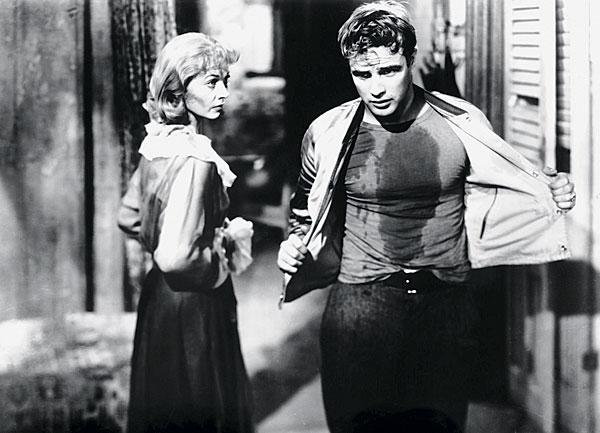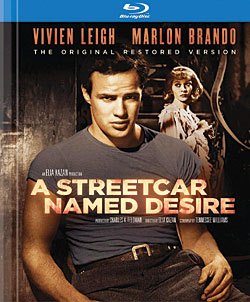 Do we need a plot summary? Vivien Leigh (the film's only box-office star at the time and its only major cast member who hadn't been in the Broadway production) plays Blanche DuBois, an off-kilter, flirtatious wanderer who comes to New Orleans for mysterious reasons and stays with her sister, Stella (Kim Hunter), who lives in a lust-soaked dump with her wild-animal husband, Stanley Kowalski (Brando). Things get tense; Blanche goes nuts; secrets are extracted, mendacities revealed, sins committed. And the stanky heat waves of Naw'lins shimmer palpably to Alex North's brooding score.
The Blu-ray transfer is much better than an earlier DVD. Shadows are darker but also clearer and deeper. Textures are more sensual. But the focus sometimes softens, details blur, the fine film grain turns a bit gritty. The shortcomings are no doubt due to the condition of the source. Warner Home Video's technicians have done their usual masterly restoration, but there are limits. The flaws aren't distracting, and the film's still worth watching—but be forewarned: It's not the eye candy of Casablanca or The Maltese Falcon.
The soundtrack is quite crisp. Extra features are worth checking out, especially Karl Malden's engaging commentary track and a fascinating documentary on the script changes the studio censors forced (many of which were changed back in the first video release 20 years ago and are preserved, and noted, here).
Blu-Ray
Studio: Warner Bros., 1951
Aspect Ratio: 1.37:1
Audio Format: DTS-HD Master Audio Mono
Length: 122 mins.
MPAA Rating: PG
Director: Elia Kazan
Starring: Marlon Brando, Vivien Leigh, Kim Hunter
There are few more enduring classics of American theater than Tennessee Williams' A Streetcar Named Desire, an over-the-top, sweaty steam bath of a play that straddles Greek tragedy and Gothic camp yet still commands attention, even astonishes, 65 years after its creation. The show ran on Broadway for two years; the film adaptation was shot two years after that; both were directed by Elia Kazan and starred Marlon Brando. This was only Brando's second film. He was 27 years old. And despite all the subsequent parodies of his sultry pout and his mumblecore rage ("Stella! Stel-l-l-laaa!"), he was a blazing-hot actor. It's a natural heat that he radiates, and he modulates it seamlessly, from simmer to boil and all shades in between. Brando's amazing to watch: The acting is all there on the surface, yet he's so immersed in his character, it seems completely uncontrived. You see the moves and attitude that countless actors later copied, but none of them ever matched this. (That said, his performance in Kazan's On the Waterfront three years later was even better, subtler.)