Spinning in Style: Pro-Ject Special-Edition Turntables
I've been a hard-core Beatles fan for…well, let's just say a very long time. So I was more than a little intrigued when I saw Pro-Ject's Fab Four turntables (my name, not theirs) at the May press event unveiling Giles Martin's stereo remix of Sgt. Pepper's Lonely Hearts Club Band. The thought of a "new" Beatles record being played on a table that pays homage to the greatest band ever was compelling. Maybe it's time to revisit my long-dormant vinyl collection...
What about you? Beatles fan or not, what will it take for you to climb into the attic to retrieve that ancient BSR turntable you always meant to upgrade but never did? To rekindle your relationship with albums you haven't listened to in…a very long time. Or m-a-y-b-e you should just skip the contortionist routine and buy a new turntable. Now there's an idea.
Of course, with the holidays fast approaching, this is far bigger than you and me, my friend. Soon you'll be racking your brains to come up with clever gift ideas for those special people on your list. You can thank me later for jump-starting your shopping, but what would be cooler than giving a Beatles fanatic a Sgt. Pepper– themed turntable? (OK, I suppose a signed copy of the album might be pretty cool...)
And if not Sgt. Pepper, how about a turntable commemorating the 1964 U.S. tour forever ingrained in our collective consciousness? Not to worry, the turntable gurus at Austria's ProJect have come up with four Beatles-themed special-edition models to choose from.
Sgt. Pepper's Drum – Essential III ($499)
Created to commemorate the 50th anniversary of the Beatles' most iconic album, signature artwork from the kick drum graces the platter of this gussied-up Essential III turntable, offsetting its bright blue base. As to the origin of the repeating design, or its connection to the album, I'm going to need a little help from my friends. (The plain yet striking version of this turntable is $299 and comes in high-gloss red, black, or white.)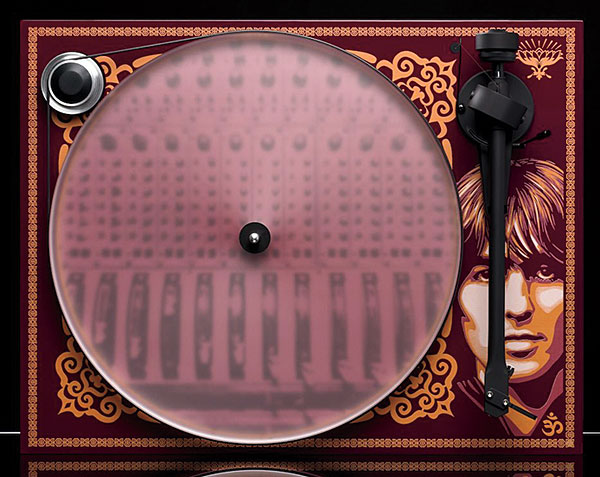 George Harrison Essential III ($499)
I confess to being partial to George Harrison, guitar player and the soul of The Beatles, who developed an utterly unique style of slide playing that wasn't heard until he released his first magnum opus, All Things Must Pass, in 1970. Fun fact: A rendering of George's personal recording console shows through the acrylic platter of this Essential III turntable ($299 in plain high-gloss red, black, or white).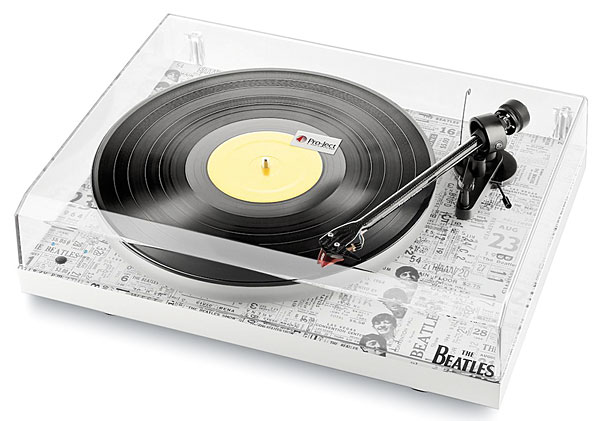 The Beatles 1964 – Debut Carbon Esprit SB ($650)
Read all about it: The clever newsprint design of this Debut Carbon Esprit SB turntable ($599 in plain high-gloss white, black, or red) commemorates the 1964 U.S. tour that solidified such classics as "She Loves You," "All My Loving," "Can't Buy Me Love," and "A Hard Day's Night." Yeah, yeah, yeah.
2Xperience SB Sgt. Pepper Limited Edition ($1,499)
Understated yet elegant, the gorgeous walnut-veneered MDF base is rock steady and stamped with the famous Sgt. Pepper drum logo in one corner and "The Beatles" in the other. This one is fitted with Pro-Ject's 9cc Evolution carbon-fiber tonearm and a high-performance Ortofon 2M Silver cartridge featuring silver voice coils. Maxwell would love them.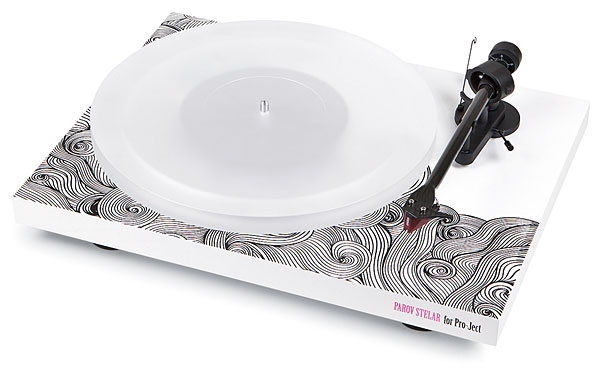 If you like the idea of a distinctive turntable but prefer to skip the Beatles imagery, don't despair. Pro-Ject is the master of cool turntables, offering three more special-edition models—the 2Xperience Primary Acryl ($999 in translucent orange, blue, or green), the Debut Carbon DC Wave ($649), and the Debut Carbon DC Frida ($649)—and seven series from which to choose, including the Vertical Turntable line. Yep, turntables that sit upright in a stand or mount on the wall.
Visit pro-jectusa.com and explore.