Pinocchio: 70th Anniversary Platinum Edition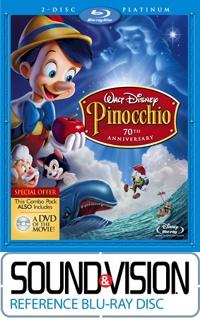 Disney
---
Movie ••••• Picture ••••• Sound •••• Extras ••••
I watched the Blu-ray Disc of my favorite animated film of all time right after viewing
Bolt
out of the Blu. The latter is state-of-the-art for today's computer animation. Next to it, however,
Pinocchio
more than holds up. You could easily think that, except for its period characters and music, this classic had been made last year. It's simply mind-blowing to remind yourself that the movie's fluid animation was achieved 70 years ago - without any computer assist whatsoever.
Almost 70 years ago, that is, since Disney has jumped the gun by a year for its 70th Anniversary Platinum Edition. Pinocchio premiered in February 1940 as the studio's second animated feature, following the December 1937 debut of Snow White and the Seven Dwarfs. Seen today, the main characters are as appealing as ever, from the wooden puppet who wants to be a real boy (voiced by Dickie Jones) to his creator, Geppetto (Christian Rub), and his "conscience," Jiminy Cricket (Cliff Edwards). And the villains remain impressive, too, from the unscrupulous showman Stromboli (Charles Judels) to the conniving con men Honest John and Gideon (Walter Catlett and, in hiccups only, Mel Blanc, who originally provided dialogue for this ultimately mute role).
Disney's Blu-ray transfer is worthy of this landmark in animation. The film has been fully scrubbed and restored, such that the color is far more pleasing and natural than in past home-video editions. There are no artifacts to distract, and the images are clean and sharp without being overly enhanced. In the Pleasure Island scenes where errant boys are turned into donkeys, the exceptional shadow detail and the dead-on contrast help make those genuinely scary sequences really count.
The image is in the original 1.33:1 aspect ratio, which results in pillarboxes at left and right on a widescreen monitor. There's a Disney View option, wherein a professional painter has created extended designs to replace the black bands. I found this option pleasant enough but, in the long run, distracting and not preferable to the pillarboxing.
I was amazed by the quality of the soundtrack, which has been restored and remixed for 7.1 channels in DTS-HD Master Audio. There's more accurate bass than I would have thought possible, and the sound overall is robust and full, with creative use of the surround channels as well as the rest of the 360º field.
Customarily for one of Disney's Platinum Editions, there are a lot of mostly excellent extras. Disc 1 includes a fun- and fact-filled commentary, available with or without PIP (I recommend the latter), by Leonard Maltin, Eric Goldberg, and J. B. Kaufman. Also here: a well-crafted pop-up trivia track that has been more thoughtfully executed than the norm, a karaoke feature that adds onscreen lyrics for all of the songs, and, alas, an awful music video.
Disc 2 is crammed with an hour-long making-of documentary, an alternate ending, deleted scenes, several interactive games, stills galleries, and interesting (if short) featurettes. One of these is called The Sweat Box and discusses the Disney daily screening-room process where animators went head-to-head with Walt himself. The second featurette is a fine little piece on toymakers throughout the years.
The third disc offers the movie on DVD, which, though excellent in its own right, must play second fiddle to the Blu-ray. The intention, though, is for DVD-only consumers to buy the set and therefore be ready when they go Blu-ray.
Profile 2.0 Blu-ray players can access various BD-Live features, but I find that this simply takes too much time for what you get. If you care, you can participate in an online trivia challenge, type in your own commentary (that is, chat with your friends), create video messages for superimposing on selected scenes, and accumulate Disney Movie Rewards Points.
Much more important, of course, is the fact that Pinocchio has been given a transfer that shows off the movie in the best possible picture and sound quality that today's technology can muster.
LATEST VIDEO