LG Special Edition Time Machine TVs
Complete details are sketchy at the moment, but LG is launching four new TVs in celebration of the 2008 Beijing Olympics. Called "Smart Time Machines," these all contain hard disc recorders, built right into the TV set. Not sure if we're moving back away from super-thin models, but it is an interesting addition to the usual assortment of features.
What details do we know?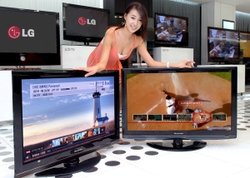 There are two LCD models and two plasmas, all with 160GB hard drives. The LCD are "Sunshine" models 47LG50ED (47-inch) and the 42-inch 42LG50ED. The plasma displays are the Topaz 50PG31RD and 42PG31RD, which are 50-inch and 42-inch models.
Prices are expected to range from $1,600 for the 42-inch plasma up to $2,910 for the 47-inch LCD version. -Leslie Shapiro
LATEST VIDEO
WHERE TECHNOLOGY BECOMES ENTERTAINMENT