The French Connection: La Boite Cube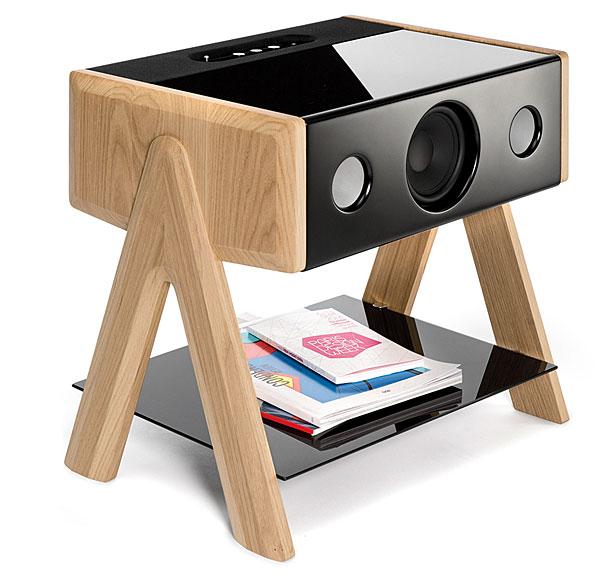 If you're French, you don't just build a speaker, you build a French speaker—one that takes design seriously. So seriously that you might end up with a speaker that looks nothing at all like a traditional (boring) speaker. La Boite Concept made a name for itself in Europe with the imaginative High-Fidelity Laptop Dock, a small desk featuring an integral sound system and high-quality USB DAC. The Cube is an extension of that concept that would seem to be ideally suited for small living spaces.
Developed in collaboration with Paris-based designer Samuel Accoceberry, the Cube is essentially a small coffee table that doubles as a wireless speaker system. It's a highly compact affair, standing only 18.5 inches tall and measuring 19 inches across, equipped with a glass shelf sturdy enough to support a turntable or CD player for those who prefer classic hookups. Otherwise, you can use it for books, flowers, or whatever.
You can't miss the 5-inch woofer and dual aluminum ports on its face, and if you stand over the Cube and look down, you'll find a control panel centered along the back edge with a 3-inch full-range driver on either side; each driver is mounted on an angle and fires upward, making use of deflected sound to create a widened soundstage that La Boite calls Wide Stereo Sound 2.0. The system is actually a patented 2.1 speaker configuration powered by an internal Class D amplifier that delivers 50 watts to the woofer and 2 x 25 watts to the main speakers.
The Cube supports wireless streaming via Bluetooth/aptX and AirPlay but also has RCA inputs and a 3.5mm minijack input for direct hardwire hookups as well as an optical input for connecting a TV. Fans of vintage gear will love its toggle power switch and old-school volume, bass, and treble control knobs— all mounted on an elegant brushed- aluminum plate. The Cube costs $1,100 and is available in a black lacquer or light oak finish.