West Side Story: Special Edition
Natalie Wood, Richard Beymer, Rita Moreno, George Chakiris, Russ Tamblyn. Directed by Robert Wise and Jerome Robbins. Aspect ratio: 2.20: 1 (anamorphic). Dolby Digital 5.1 (English), 1.0 (Spanish), 1.0 (French). Two discs. 152 minutes. 1961. MGM 1004353. NR. $39.98.
Making a movie of a stage musical is no easy matter. Filming more or less the stage version is a safe approach but doesn't make good use of the differences between the media. On the other hand, "opening up" the stage work too much, with extensive rewrites and changes in songs, can result in the loss of what made the piece special in the first instance.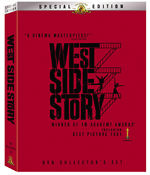 The movie of West Side Story attains an almost ideal balance, staying true to the spirit of the original concept, and can provide an experience that's heart-wrenching as well as transcendent. Winner of 10 Oscars, this re-telling of Romeo and Juliet has a brilliant score by Leonard Bernstein and Stephen Sondheim, and was directed by Robert Wise and Jerome Robbins, the latter fired partway through the filming but whose choreography was still used. The difficult business of translating theatrical into cinematic style is handled exceptionally well, with fights that combine realism and balletic choreography in a way that somehow works. (And if you say that you can't accept the idea of members of street gangs dancing, then I suggest you take a course in Willing Suspension of Disbelief.)
The casting of Natalie Wood as Maria and Richard Beymer as Tony has been criticized—Wood for not looking even remotely Puerto Rican, Beymer for being insufficiently tough-looking and generally weak in his acting. I suppose it would have helped to have a Maria who looked the part more and whose accent was not so patently phony, but Wood is true in her emotions, and she's so breathtakingly beautiful that you have no trouble believing that Tony instantly falls in love with her. Beymer is on the bland side, but the role is a difficult one, and he's not that bad. The best performances are by Rita Moreno as Anita (totally committed, full of energy), George Chakiris as Bernardo (intense, panther-like, a great dancer), both awarded Oscars, and Russ Tamblyn as Riff.
The singing of all the leads except Chakiris was dubbed, at least in part. In the West Side Story Memories documentary that's part of this Special Edition DVD, Moreno and Tamblyn complain about this, and, being familiar with their singing voices, I agree that dubbing them was not necessary and has to some extent sabotaged the honesty of their performances. Wood was dubbed by Marni Nixon, famous for having done the same duty for Deborah Kerr in The King and I and for Audrey Hepburn in My Fair Lady. She sings sweetly and does an amazing job of matching Wood's lip movements. What I didn't know until seeing West Side Story Memories was that Wood was initially led to believe that her own singing would be used, and actually recorded all the songs. The excerpt of her singing included here suggests that, while her voice would have been acceptable in a college production, it was not really up to a professional level. (But did I mention that she looks gorgeous?) Jim Bryant sounds generally fine as the singing voice of Tony, but I've always wondered why they didn't get someone who was able to sing the sustained high A in "Maria," and instead chose to rewrite this part of the song.
The picture quality of the DVD is very good, preserving the vibrant colors and sometimes deliberately grainy quality of the original. Sound quality is even better, the new 5.1-channel remix adding a good sense of ambience without being gimmicky. An unusual part of this Special Edition is a paperback book that includes reproductions of Ernest Lehmann's actual screenplay and the original lobby brochure, as well as some memos and reviews. The extras on the discs themselves are fairly sparse, consisting mainly of West Side Story Memories. There is no commentary track. However, the documentary is quite interesting, and goes well beyond the usual it-was-so-wonderful-and-we-all-had-a-great-time. There's a surprisingly frank discussion of the circumstances that led to Jerome Robbins' firing, and some insider tidbits, including mention of the fact that Natalie Wood and Richard Beymer hardly spoke to each other offscreen.—RD