The Exorcism of Emily Rose Special Edition—Sony Pictures
Video: 4
Audio: 4
Extras: 2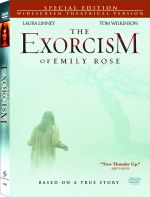 Emily Rose is dead. That is a fact. The question asked is, whose fault is it? Was it lack of medical treatment or something unexplainable, something supernatural that caused her demise? Part courtroom drama, part horror film, this movie is truly scary and delves into the question of where faith fits into a world where someone must always be held accountable. Deeply religious, the entire Rose family believes, as does Father Moore (Tom Wilkinson), that it is most definitely a demonic possession and not a mental disorder that is at the root. Moore attempts an exorcism, and Emily's subsequent death is pinned on the accused and now-jailed priest. Laura Linney as his defender Erin Bruner is a skeptic, but her involvement in this case and the events that follow show her another side.
The Dolby Digital 5.1 sound is exceptional and shocks at the appropriate times, and the 2.40:1 anamorphic picture portrays the brightly lit courtroom and the blacks, oranges, and shadows of the terror beautifully. Extras are so-so. They include a director's commentary, one deleted scene, and three featurettes, but only the one on the film's visual design was above ordinary.
The performances are fantastic all around, and, as the title character, Jennifer Carpenter lends a harrowing depiction. Knowing that it's based on a true story from the 1970s makes it even more creepy and frightening. Refreshingly restrained with regards to gore, and nonjudgmental and reverent with respect to the spiritual aspect, this is an unusual and original horror experience.
LATEST VIDEO