Scarface Platinum Edition—Universal
Video: 4
Audio: 4
Extras: 3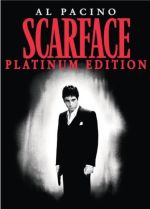 Thanks to gangsta rappers and the white suburban kids who worship them, we are blessed with yet another version of Brian De Palma's bloody, operatic masterpiece. The story hasn't changed since the last edition was released three years ago—only the sound effects have. The "all new" Platinum Edition comes complete with all new digitally remastered sound and picture that only seems like more of the same. Granted, it's a better option than going the Lucas route and adding unnecessary robots or the sound of a vacuum when Pacino snorts mountains of coke. However, if you already own Scarface, this edition is needless.
That's not to discount the sound and the picture. Scarface is looking just as fine as before. A nice clear 2.35:1 anamorphic picture, full of the vibrant color associated with Miami circa 1983, looks gorgeous. And the new sound, presented in both Dolby Digital 5.1 and DTS, really isn't as distracting as it could be, even if the casual listener can't really tell much of a difference.
The two-disc set showcases most of the features from the previous edition, including the retrospective documentaries and interviews with the creative forces. The saving grace, however, is a counter that tallies up the number of bullets fired and the number of times the F-bomb is dropped while the film plays. It is much more amusing than you would think it has any right to be.
Scarface still looks and sounds great, but this edition is not worth the double dip.
LATEST VIDEO