Punch-Drunk Love: Superbit Special Edition
Adam Sandler, Emily Watson, Philip Seymour Hoffman, Luis Guzman, Hazel Mailloux. Directed by Paul Thomas Anderson. Aspect ratio: 2.35:1 (anamorphic). Dolby Digital 5.1 EX, Dolby Digital 2.0 (French), DTS 5.1 ES. Two discs. 95 minutes. 2003. Columbia TriStar Home Video 01333. R. $25.95.
Picture *** 1/2
Sound *** 1/2
Film ****
Punch-Drunk Love is a refreshingly realistic love story in which an unconventional, unlikely relationship blossoms. Barry Egan (Adam Sandler) is the owner of a bathroom-plunger business who is plagued by a horde of overbearing sisters who incessantly persecute him about everything from his royal blue suit ("Why are you wearing that suit?") to his speech patterns, then wonder why he's so screwy. Prone to bursts of violence against inanimate objects, Barry is a self-loathing misfit. Lena Leonard (Emily Watson), an attractive businesswoman, obviously thinks there is more to him. After seeing a picture of him with his sisters, she decides to "accidentally" run into him.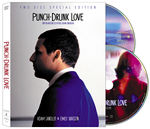 Unfortunately for both of them, Barry made a call to a phone-sex hotline before he met Lena. With his credit-card and social-security numbers in tow, Georgia the phone-sex operator begins to blackmail Barry with the help of Dean (Philip Seymour Hoffman), a slimy mattress-store owner. Fortified with his newfound love for Lena, Barry confronts Dean. "I have a love in my life. It makes me stronger than anything you can imagine," says Barry to the cowering Mattress Man in the film's most tender moment.
This movie soars. Paul Thomas Anderson, who wrote the part especially for Adam Sandler, does an excellent job directing him, and Sandler in turn gives the best performance of his career, lending a lovable vulnerability to the part. The film explores how love, though not always idyllic, is like a found treasure to be cherished and polished, like the piano Barry recovers from a car wreck.
Anderson was clearly serious about giving this picture an excellent video transfer. He even writes tips in the liner notes to help viewers get the color exactly the way he intended, advising them to "turn up the contrast," "make your blacks black," and make Sandler's suit "blue, blue, blue." Of course, if your television is properly calibrated, you should see what the director planned. The picture looks wonderfully crisp, with good shadow detail, especially in the night scenes where Barry is chased by Mattress Man's nefarious minions, aka "The Blonde Brothers." There are, sadly, a couple of flaws in the picture, including dirt and scratches, most notably in the grocery scenes, where the white fluorescent lights unabashedly reveal these imperfections. Overall, however, they don't distract from the big picture, so to speak. Jeremy Blake's ethereal, colorful artwork between frames elicits an ephemeral base-level emotional response from the audience.
The soundtrack is truly breathtaking. The "He Needs Me" track, from Popeye, gives the film a sweetness and draws a parallel between it and Punch-Drunk Love. Popeye, also an oddball, needed Olive to realize his full strength (along with a can of spinach, which can be compared with the pudding that Barry's obsessed with). The mysterious car crash at the film's beginning sounds spectacular, and dialogue is crystal clear. I didn't test the EX and ES capabilities with a rear-center speaker, but the 5.1 presentations were both flawless.
Like the film itself, the extras on this disc are on the romantic side. They go a long way toward catching the spirit of the film, but aren't very informative. You won't find documentaries about the making of the film, its development, and so on. Anderson describes the extras as a "completely random viewing experience." They include a short film called Blossoms and Blood, which incorporates scenes from the film and music by Jon Brion, 12 "Scopitones," which are short vignettes into the movie, two rough deleted scenes, and a hilarious "Mattress Man" commercial featuring Hoffman. Some viewers may be left wanting to know more about the film itself, but I was perfectly satisfied with the emotional appeal of the extras. After all, the movie is about love, and I loved it.—KR