iPod dock, Grande Luxe Edition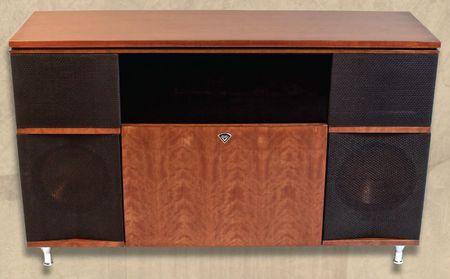 We've been patiently looking forward to the release of Klipsch's Gallery Series AirPlay-enabled dock since CES (the lineup has since been changed a bit, but more on that from us once the products get closer to market), but the company has something else in the works that really raises the bar for connected docks to come.
Prototypes of the AirPlay-enabled Heritage Console have been making the rounds of the European trade shows already, and a finished version should be at CEDIA this September. Housed in a wood-veneer enclosure reminiscent of the furniture-quality cabinets that made Klipsch's name in the first place, the unit adds modern wireless tech to the company's classic horn-loaded design.
The aim, says company president Paul Jacobs, was to build a "high performance two-channel audio system that sounds like a pair of Cornwalls with a massive powered sub, with minimal vibration even at 110 dB, that you can plug into a power outlet and go - the technology doesn't always have to be cheap, and it doesn't always have to be complex."
Available in four custom finishes to match your Danish Modern living room, pricing is expected to be around $5K. We'll keep you posted.
- Michael Berk
LATEST VIDEO
WHERE TECHNOLOGY BECOMES ENTERTAINMENT