Gravity Diamond Luxe Edition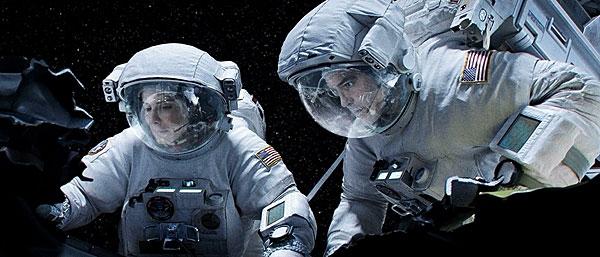 Gravity was the darling of the 2014 Academy Awards, winning seven golden statues out of its ten nominations. It pretty much swept the technical categories, winning for Cinematography, Sound Editing and Mixing, Visual Effects, Film Editing, and to top it off, Directing for Alfonso Cuarón. This is the second release of the movie on Blu-ray, and it comes from Warner with upscale Diamond Luxe packaging, which is a glossy, magnetically sealed book that folds out with pictures of pivotal scenes from the movie. Inside there are two discs, the main feature and one with bonus features.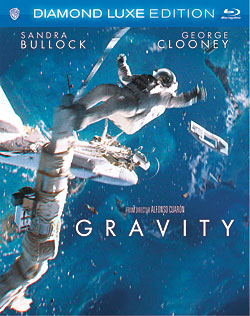 Sadly, this upscale release of the movie does not include a 3D copy of the film, but we finally get to hear the film how it's supposed to be heard with an Atmos soundtrack—it would have been great if the two were paired up. Regardless, the 2D presentation is outstanding. Blacks are as inky as can be, close-ups are razor-sharp and teeming with detail, and the view down to Earth is mesmerizing.
I found the DTS-HD Master Audio 5.1 track on the original release to be nearly perfect, but the Dolby Atmos (core Dolby TrueHD 7.1) takes things up a notch. The object-based audio track is able to pinpoint sound into specific regions of the soundstage and it definitely creates a more immersive environment. As the film begins, Clooney's character is flying around the Shuttle in his jet pack, and his voice moves from speaker to speaker depending on his location—yes, even above us. As the action kicks in, this is where the track really flexes its muscles. Scenes such as the Shuttle encountering the debris field, the fire aboard the space station, and the escape back to Earth really show how effectively an Atmos track can pull us into a film.
There are four additional supplemental features included on the second disc along with all of the original ones. While not a supplement per se, there is an alternate version of the movie provided, dubbed "Gravity: Silent Space." This viewing option presents the entire movie without any music, for a different experience, although the audio here is only Dolby Digital 5.1.
Blu-Ray
Studio: Warner Bros., 2013
Aspect Ratio: 2.40:1
Audio Format: Dolby Atmos/True HD 7.1
Length: 91 mins.
MPAA Rating: PG-13
Director: Alfonso Cuarón
Starring: Sandra Bullock, George Clooney, Ed Harris
During a routine spacewalk from the Space Shuttle, disaster strikes, leaving the Shuttle destroyed and two astronauts stranded in the darkness with death lurking just over the horizon. With their oxygen running low, the two decide to make a desperate play to reach the International Space Station and secure a ride back to Earth, but the journey won't be easy or uneventful.