Editors' Choice Awards 2001 Page 1
It's that time of year again. 2000 is history. As we enter a new millennium (I know, I know, you thought you did that last year), we take the time to look back and decide on the products that most impressed us in Y2K. True to the title of the award, all of the Guide's editors were surveyed for their opinions, particularly in categories where the race was close.
A lot of the races were closer than you might expect. We reviewed numerous products in 2000, many of them very deser-ving of recognition. But choices had to be made. Human nature being what it is, you might very well disagree with some of our selections—particularly in our choices of speakers, which somehow never manage to please everyone. The products listed here might not necessarily be the best fit for your own needs and resources, but they're the goodies we would have been thrilled to find under our Christmas tree. We didn't . . . but there's always next year.
To be eligible for an Editors' Choice award, a product must have been reviewed in SGHT between February 2000 and January 2001; only products that have received full reviews are considered. Most categories have two awards: Platinum for cost-no-object, and Gold, which does take cost into account. But a Gold award doesn't necessarily mean that the winner carries a bargain-basement price; it means that the product's balance of price and performance has been carefully—and, admittedly, subjectively—considered. For example, we reviewed other CRT projectors that came close enough to the Vidikron Vision Three in performance to easily qualify for the Gold award—but all of them cost several thousand dollars more than our ultimate choice, the Sony VPL-VW10HT. While not without weaknesses, the Sony does so many things well that it was the obvious winner—even to your editor, a die-hard supporter of CRTs.
There is only one Accessory of the Year. Three other categories—Subwoofer, Video Processor, and Digital Tuner—have only one winner, simply because the field was too small to provide a secondary choice. But make no mistake: the three products that took the laurels in these categories would have been hard to beat had there been a dozen other contenders.
Okay, winners—ready for your close-ups?
DVD Player
---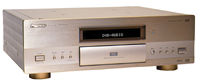 Pioneer DV-AX10
($5000; reviewed by Joel Brinkley, October 2000)

"Instant avarice" was Joel Brinkley's final conclusion about this do-it-all DVD player. Its talents include, of course, DVD-Video and CD, plus a choice of interlaced or progressive-scan outputs. But the DV-AX10 is also the first—and, so far, the only—player on the market that can also play DVD-Audio and 2-channel SACD discs.

Run-of-the-mill DVD players look like Tinker-Toys next to the Pioneer's massive, 53-lb bulk. It may not be cheap, but your money buys you excellent performance across the board. Not only is its DVD-Video performance second to none, but a highly flexible set of video controls help get the best from virtually any DVD.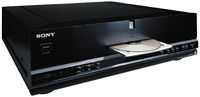 Sony DVP-S9000ES
($1500; reviewed by TJN, January 2001)
Sony's first ES DVD player scores a bullseye. Not only does it offer progressive-scan output, but 2-channel SACD replay as well. See the full review in this issue.
Surround-Sound Processor
---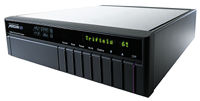 Meridian 568
($6495; reviewed by Steven Stone, December 2000)

It lacks a flexible assortment of inputs, requiring that most buyers add Meridian's matching 562V.2 multimedia controller ($2495) for full flexibility with systems of even average complexity. And even with the 562V.2, the 568 lacks component-video switching and discrete 6-channel inputs for the new multichannel sound formats. (An upcoming Meridian proprietary digital link will solve that problem, if you choose one of Meridian's new DVD players.)

So why is the Meridian a winner here? Because Steven Stone, who has reviewed more than a few top-grade surround-sound preamp-processors, has declared the Meridian 568 to be the best-sounding one he's heard to date—only by a nose, perhaps, but photo finishes are important when you're searching for those subtleties that separate the great from the merely very good. And if the Meridian's performance on soundtracks (including Dolby Digital, DTS, and THX) is first-rate, its music surround modes—capable of converting ordinary 2-channel sources into a convincing simulation of surround-sound originals without fuss or gimmickry—are in a class by themselves.
Myryad MDP 500
($2595; reviewed by Robert Deutsch, November 2000)
We reviewed a number of fine surround-sound processors this year, so choosing the Gold Award winner wasn't easy. But the Myryad made a compelling case for itself. Robert Deutsch noted that, on soundtracks, the Myryad "had clarity, openness, crisp transients, and a generally neutral tonal balance that leaned just slightly toward brightness." And while it doesn't provide THX processing, the MDP 500 does incorporate cinema equalization to help tame the brightness that afflicts many soundtracks.
The Myryad's music surround modes, like those of many surround-sound processors, didn't grab RD's fancy. But he found that the MDP 500's Dolby Pro Logic mode worked better than expected when surround simulation was desired for the replay of 2-channel music sources. The processor lacks component-video switching, a feature that has been making its way into separate surround processors far too slowly. (Myryad is far from alone here.) But the MDP500's set of 7.1-channel analog inputs provides ample future-proofing, and makes it compatible with upcoming multichannel audio sources such as DVD-Audio and SACD.
LATEST VIDEO