Dirty Harry: Ultimate Collector's Edition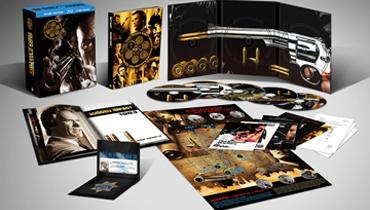 Warner
---
Dirty Harry, Magnum Force, The Enforcer, Sudden Impact, The Dead Pool
(See review for ratings)
What a long, strange trip it's been for Clint Eastwood. A guy who 35 years ago used to be mentioned routinely in the same sentence as Charles Bronson has gone on to create a body of work as both actor and director that plants him squarely in the rarefied company of Hollywood's finest auteurs.
Eastwood showed a steely charisma in the Sergio Leone "spaghetti Westerns" and in other films like The Beguiled and Play Misty for Me, but as Inspector Harry Callahan he created an American icon. Rarely was an actor so well suited for a role. All five of the resulting movies are included in Warner's Dirty Harry: Ultimate Collector's Edition, compiled with Eastwood's help. It respects the movies, but not in a self-important way - and it serves up an excellent batch of extras for the geeky among us. Start by opening up the 5-disc boxed set to reveal a message from Clint, where you learn, among other things, that the title role was originally offered to Frank Sinatra. Then ogle the goodies: poster, production letters, art cards, 40-page hardcover book, and souvenir wallet - complete with your own Harry Callahan I.D. card and badge.
Dirty Harry (1971; Movie * * * *, Picture * * * 1/2, Sound * * 1/2, Extras * * * *), the first and by far the most serious film in the series, sports visible grain throughout and plenty of imperfections direct from the print. This will be a bit annoying to some viewers, but I found it kind of welcome after all the scrubbed and sanitized transfers I've seen over the past few years. That said, you certainly won't forget you're watching a Blu-ray Disc when you note the deep, rich blacks and superior grayscale rendition. Director Don Siegel's movie is dark, both thematically and visually, and there's more than enough crucial shadow detail to do it justice.
Directed by Ted Post, Magnum Force (1973; Movie * * *, Picture * * *, Sound * * 1/2, Extras * * * *) shares some of the cinematic style but not the character depth of its predecessor. The transfer sports a similar degree of grain, but gone are the deepest blacks - and just a soupçon of detail, in my view. I also noted at least two short instances where there was visible discoloration along the bottom of the image.
The Enforcer (1976; Movie * * 1/2, Picture * * * *, Sound * * 1/2, Extras * * * *) is little more than a shoot-'em-up with a twist: Watch out for the homegrown terrorists, and worst of all, watch out as Harry C. gets paired up with a lady cop (Tyne Daly) who gradually and predictably wins Harry's respect. James Fargo's film is the weakest entry in the series, but it may also be the best-looking. You get most of the grit and grain of the first two films, but you also get a beautifully vibrant color palette to go along with the inky blacks.
Directed by Eastwood himself, Sudden Impact (1983; Movie * * * 1/2, Picture * * * 1/2, Sound * * *, Extras * * * *) stands apart from all but the original. Here, Harry is an aging maverick sent after a hot blonde who may also be a serial killer (Sondra Locke, who was Ms. Eastwood for a while). Clint and his production designers reached back to the noir-ish feeling of the first film. Again, for the Blu-ray transfer, it's all about the grayscale and getting the blacks right. And again, the transfer has it nailed: There are lots of shadings between light and dark, no distortion or artifacts that I could see, and plenty of shadow detail and definition, even in the darkest scenes.
Buddy Van Horn, a friend of Eastwood, took over the director's chair for The Dead Pool (1988; Movie * * *, Picture * * * 1/2, Sound * * *, Extras * * * *), which is standard commercial fare with plenty of action. And look! There's a young Jim Carrey! The transfer is clean and crisp, with about average image detail for Blu-ray - which is to say that it still looks very good. The movie's color palette and grayscale are less challenging than that of the previous films, but what's here is fine.
None of the transfers is likely to win any awards for sound design. With the occasional exception of The Dead Pool, which features some stirring car-chase effects, most of the action doesn't venture much past the front speakers - and rarely do you feel immersed in a 360º sound field. You can hear dialogue and everything else perfectly, but don't expect a balls-to-the-wall surround sound experience. To be fair, veteran composer Lalo Schifrin's scores (for all but The Enforcer) are often powerful, with nice tonal balance and plenty of impact, particularly in Magnum Force.
As you might expect, the on-disc extras are generous and well put together, with one big omission. While each movie gets a commentary, none is by Eastwood. Instead, other than an Enforcer track by director Fargo, you get a collection of critics, writers, and producers weighing in - which, depending on the commentator and the movie, can be tough slogging.
Still, Eastwood is all over the rest of the extras, many of which were created expressly for this set. Ten featurettes range in length from 6 to 90 minutes, totaling more than 4 hours. Sure, some of the stuff gets redundant, but there's a treasure trove here for the true DH fan. Best of all: the 90-minute documentary Clint Eastwood: Out of the Shadows, narrated by Morgan Freeman.
In the final analysis, this Ultimate Collector's Edition makes it abundantly clear that Dirty Harry Callahan is an important, enduring piece of Americana.
LATEST VIDEO