Denon Announces 110-Year Anniversary Special Edition Products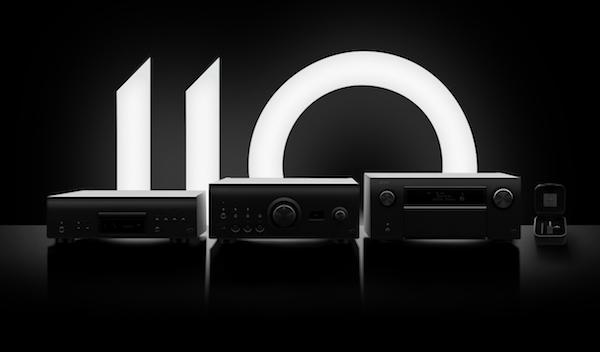 Denon has announced four new Special Edition products developed to honor the 110-year anniversary of the brand. The quartet consists of the AVR-A110 8K AV receiver, PMA-A110 integrated amplifier, DCD-A110 SACD player, and DL-A110 phono cartridge, with each unit featuring a distinctive silver-graphite color scheme and 110 Anniversary front panel logo. Furthermore, the new Special Edition products, which are manufactured at the company's factory in Shirakawa, Japan, have been "meticulously tuned by Denon Sound Masters to set them apart from their standard counterparts" and come with a five-year warranty.
"I want to express my most heartfelt thanks on behalf of everyone at Denon to the loyal fans that keep the excitement alive. It's your love for this industry that enables us to continue designing the future of audio to this day," said Jake Mendel, product marketing manager for Denon AVR & Hi-Fi components. "To properly celebrate the true fans out there, we're thrilled to introduce four anniversary-edition products that honor Denon's core competencies. It is almost crazy how much effort was put into the components, build and cosmetics of each new piece. Every model is specially tuned inside and out just for the 110-year anniversary and are worthy of our fans whose passion burns as bright as our own."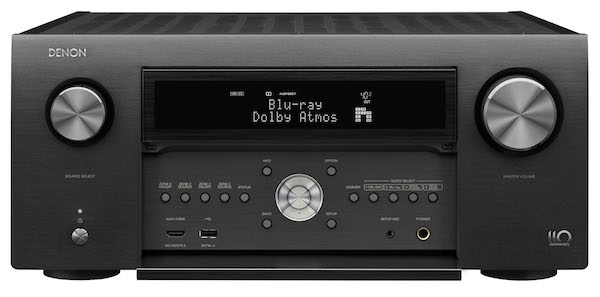 AVR-A110 8K AV Receiver ($5,499)
The 13.2-channel AVR-A110 provides Dolby Atmos, DTS:X, DTS:X Pro, IMAX Enhanced, and Auro-3D processing. HDMI 2.1 spec support includes 8K/60Hz and 4K/120Hz video pass-through plus eARC to relay uncompressed and object-based audio back from a connected TV. According to Denon, a "best-in-class monolithic amplifier design," with "hefty 18lbs high current power transformer and custom 22,000uF/80V audio capacitors" allows the Special Edition receiver to deliver 150 watts per channel (8 ohm, 20 Hz - 20 kHz, 0.05% 2-channels driven), while built-in HEOS tech lets it link up with other HEOS-supported devices for multiroom audio streaming.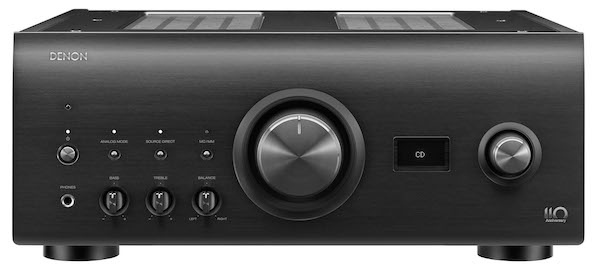 PMA-A110 Integrated Amplifier ($3,499)
As the "highest-end integrated amplifier Denon has introduced to the North American market," the new PMA-A110 features the company's 7th generation advanced Ultra High Current (UHC) power amplifier and delivers 80 Watts-per-channel at 8 ohms (20kHz-20Hz, THD: 0.07%). The PMA-A110's D/A converter uses a Burr Brown PCM1795 chip operating in a quadruple configuration, with two PCM1795 chips per channel "working in a different mode to achieve the highest accuracy and best signal to noise ratio." Digital inputs include coaxial, optical, and USB type-B for a direct computer connection, with support for up to 24-bit/384kHz PCM and DSD 11.2Mhz (DSD 256). Denon's ultimate integrated amp also features a built-in phono preamp compatible with both moving magnet (MM) and moving coil (MC) cartridges.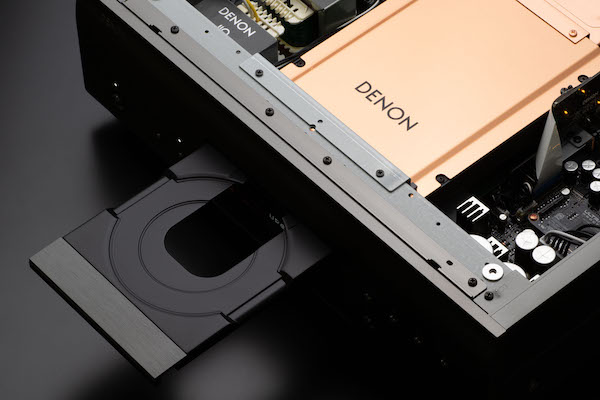 DCD-A110 SACD Player ($2,999)
Denon's limited edition player plays both SACDs and regular CDs, along with DSD (2.8-Mhz/5.6-MHz) and 24-bit/192kHz files recorded on DVD-R/RW and DVD+R/RW discs. Like the PMA-A110 integrated, the DCD-A110 uses a Quad DAC configuration that, according to Denon, "delivers superb channel separation, ultra-low noise and THD levels." The new flagship SACD player also features fully independent power supplies for digital and analog circuits, which the company says helps to further suppress interference and noise.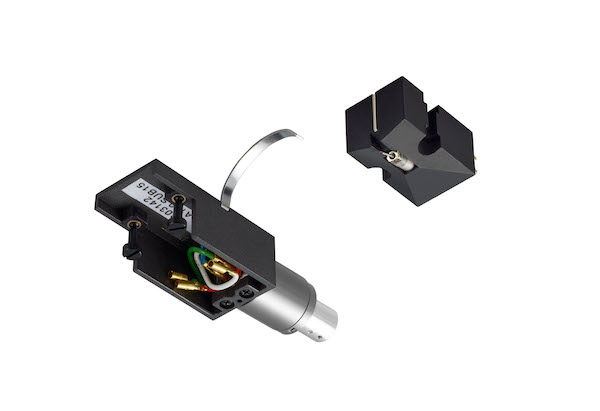 DL-A110 Phono Cartridge ($599)
Denon's 110-year anniversary phono cartridge is a moving coil design that's wound by hand at the company's Shirakawa factory just like its 1960s predecessor, the DL-103. A silver-graphite headshell on the 6-gram cartridge ensures accurate alignment, enabling it to produce "a balanced, detailed sonic signature with extended low frequency performance."
The AVR-A110, PMA-A110 and DCD-A110 will be available from authorized Denon retailers in October, and the DL-A110 phono cartridge is scheduled to ship in November. For more info on Denon's 110-year anniversary products visit the company's US website.