CEDIA Expo 2023 Editor's Picks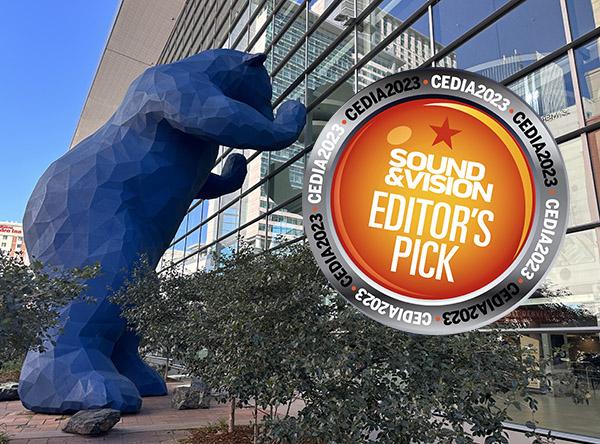 CEDIA Expo 2023 offered an opportunity to peruse a plethora of audio and AV products aimed at the CI (custom install) market. Much of what's on display is excruciatingly expensive and targeted at wealthy consumers. Case in point, one of the most popular demos involved a home theater system with a million dollars worth of gear in it. At that price point, a $12,000 video player and $16,000 video processor seem like almost trivial expenses.
While it is fun to read about billionaire baubles, CEDIA Expo also has meat-and-potatoes products worth checking out. From TV mounts to affordable amplification, there's plenty to check out.
A few caveats. As is always the case with a show this size, three days is not enough to experience everything. So that's the first caveat to Editor's Picks, it is not a reflection of everything shown. Secondly, it is not possible to fully evaluate products objectively at a trade show. So the awards should not be viewed as performance awards.
So, what are the CEDIA Editor's Picks awards? They are based on gut instinct. Some highlight value, others highlight cutting edge technology at any cost. They are a subjective decision I made on the spot to put a focus on specific products or companies, listed alphabetically (i.e. the order does not imply ranking of any sort).
Sound & Vision Editors Pick Awards - CEDIA 2023
Sound
Amp Genie
An old-school solution to automating your AVR, Amp Genie is a signal sensing remote. It is designed to simplify the audio experience. By sensing the audio signal from a single source, it activates your receiver for instant playback, practically eliminating the need for manual button-pressing. In the CEDIA demo, Amp Genie was shown turning on an AVR and setting the input upon dropping a needle on a record.
Amp Genie arrives ready-to-use and offers compatibility with receivers from Anthem, AudioControl, Denon, Marantz, Onkyo/Integra, Pioneer, Sony, and Yamaha/Aventage. MSRP is $399 and you do need one unit for each input you want to automate, but there's no network, not WiFi, no app involved, just a piece of solid-state hardware that gets the job done. Find more info here.
Bowers & Wilkins 600 S3 Speakers
It's the point of entry to the world of Bowers & Wilkins full-size speakers, but it is far from entry-level. Demonstrably superior to the S2 version, the new 600 series benefits from technical advances borrowed from the higher-tier models. For example the 603 S3 tower sports the Continuum cone FST midrange.
A new titanium dome tweeter debuts with the 600 S3 series. In the tower and bookshelf models, it is placed as close as possible to the midrange driver. With a center channel in the mix, you can do a home theater with this series. Sublime sound that hits a price/performance sweet spot for premium speakers. Click here for more info.
Definitive Technology Mythos Series
The legendary Mythos is back. The combination of slender form factor and high output is as relevant as ever. Three passive soundbars match the width of 65-, 75-, and 85-inch TVs. Three home theater speaker models offer options to add surrounds.
The Mythos Series by Definitive Technology offers high-quality on-wall sound bars and LCR speakers in a sleek, ultra-slim design. These speakers deliver robust, clear, and dynamic audio comparable to full-sized systems. Designed for versatility, they are IP66-rated, making them suitable for both indoor and covered outdoor home theaters, whole-home audio, and even light commercial settings. The cabinets are less than 2 inches deep and feature a modern anodized aluminum finish and micro-perforated metal grilles.
Internally, the Mythos speakers employ ultra-stiff anodized aluminum dome woofers and midrange drivers for broad dispersion and clear sound. The speaker array is housed in a rigid, aircraft-grade aluminum enclosure with individual acoustic chambers for multi-channel models, ensuring sound purity free from cabinet resonances. These IP66-rated models are designed to withstand dust and high-pressure water, allowing for indoor and outdoor use. The speakers are timbre-matched across the Definitive Technology range, enabling seamless integration with Dymension or Dymension CI Series speakers and Descend Series subwoofers for either a top-of-the-line or expandable starter system.
Prices range from $1199 to $2399. Click here for more info.
JBL L42ms Integrated Music System
The "little brother" of the L74ms, its size makes it an excellent option for all sorts of applications and even the price has shrunk.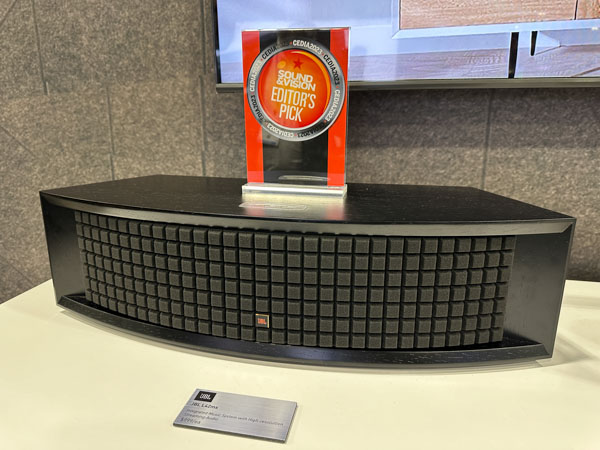 The JBL L42ms serves as a unified audio system designed to align with modern entertainment needs, encapsulating the legendary JBL audio quality in a single cabinet setup. Concealed behind the signature JBL Quadrex mesh are two sets of 4-inch woofers and 0.75-inch aluminum dome tweeters, each with waveguides. These are arranged on both sides to produce a balanced and expansive audio field.
Aesthetically, the L42ms features a contoured grille and sloping side corners, and it comes in traditional JBL wooden veneer finishes, either in Black Walnut or Natural Walnut. MSRP $999, find out more on JBL.com.
MartinLogan Motion
We know these are good speakers because we reviewed them already. Worth an award to highlight speakers that deliver a solid combination of good looks and great sound.
The revamped Motion series offers an attractive new design and a host of audio improvements, making it the most impressive iteration of the series yet. Through comprehensive testing, which included anechoic chamber measurements, blind auditory evaluations, and in-room measurements, the company sets a new standard for the Motion line.
The latest installment incorporates Gen2 Folded Motion AMT tweeters. The Folded Motion Waveguide complements the tweeters and ensures even distribution of sound across the listening space while reducing room reflections. Check out the system review here, and click here to find more info at the MartinLogan website.
Pro Audio Technology
Paul Hales makes a strong argument that his products represent a price/performance sweet spot for those seeking high performance. More clean, high-fidelity dB per dollar is the pitch.
The back story for this speaker involves an 800 million dollar super yacht that required speakers flush mount to the wall that could nonetheless be Dolby certified. The result is the SR-2408iw. Learn more by clicking here.
New OSD XD Amps, S85 MKII Speaker, SRT4 Gen2 Streamer - I'm showering OSD with awards this year. Why? Encouragement! In a show full of really expensive stuff, OSD is the opposite. Solid tech, stupendous pricing. If you are not rich, a company to look at. Read more by clicking here.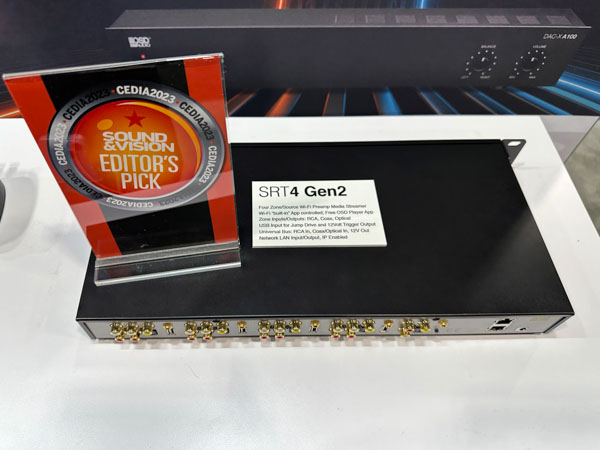 Victrola Hi-Res Carbon Turntable
Yes, the same Victrola I gave an award to last year. What's new? How about high-fidelity AptX audio directly to your headphones? I put on a pair of Bowers & Wilkins headphones for a demo and was immediately sold on wireless headphones vinyl listening. Also the $599 MSRP is a solid $200 less than the Sonos-compatible version but otherwise the same. Find more info here.
Vision
Hisense 100-Inch U8K 4K TV
The race is on to build bigger and better TVs for less. Other TVs are 100-inch "class" but either 97- or 98-inches. This premium Hisense is 100 inches, no excuses. Read the full press release here.
Kaleidescape Terra Prime Solid State Movie Server
Kaleidescape does not do streaming. Nor does it do "affordable" players. But with its new server, it does offer top-quality movie downloads in as little as four minutes, if your Internet connection is fast enough. The new SSD option ensures the local storage can keep up with today's blazing-fast Internet speeds. Click here to find out more.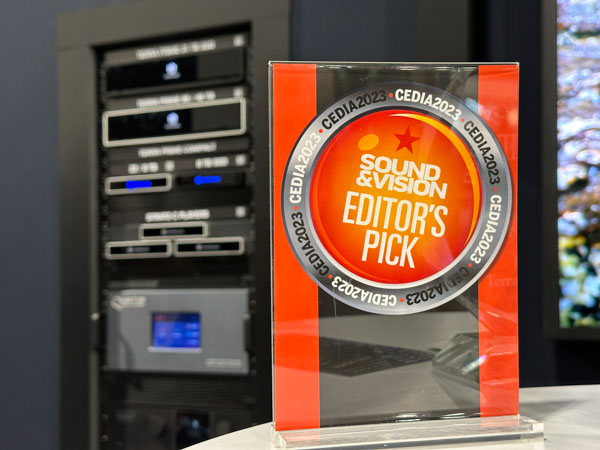 LG M3 Wireless 4K OLED
Tech shown as a prototype at CES 2023 is now real product. LG's M3 4K OLED comes in three sizes and the Zero Connect box means you can hide all the source devices out of sight and still get a signal to the TV. It's wireless, but not cordless… but a power cord is all the panel itself needs to work. To find out more click here to go to LG.com.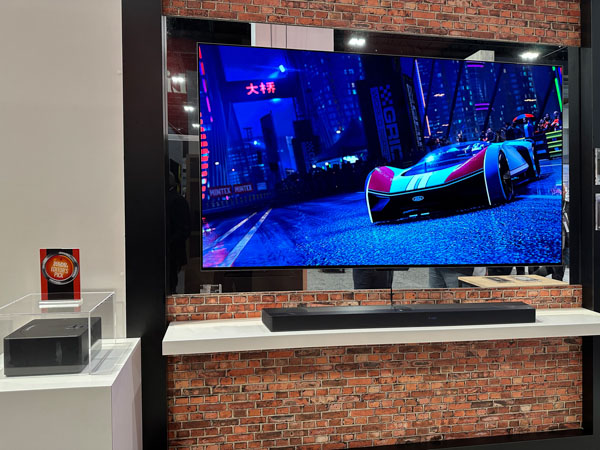 LG micro-LED 4K 118" TV
A quarter million bucks buys you one hell of a TV. Actually, it's $237,000 but who is counting? What caught my eye is what I did not see. This TV is seamless, no sign of the tiles that make up the screen. Also it is pre-assembled, it comes in two parts, so it also goes together like a TV. More info can be found here.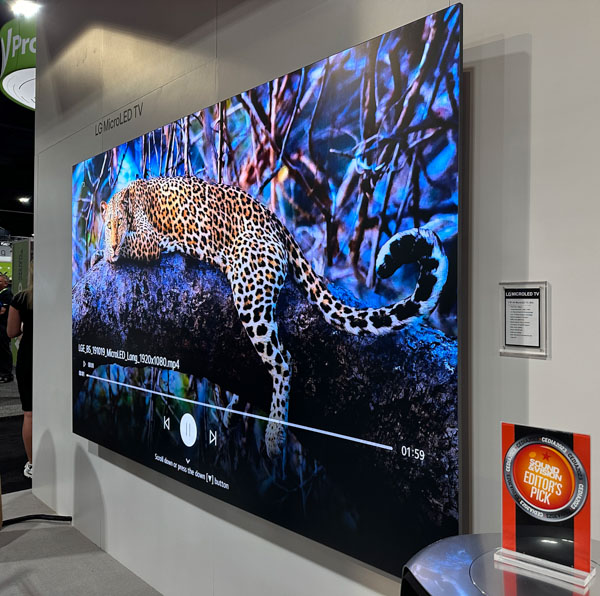 LG StanByMe
The product I felt the most skeptical about going in, but as soon as I saw it and used it, I was sold on the idea of a big touchscreen in a tough briefcase concept, which sort of harkens back to the portable computers of the 1970s. $999 seems like a fair price and it is ideal for glamping, I suspect. Check out the details on LG.com.
MadVR Envy AI Motion
Speaking of the super rich, if you want to tweak your display's motion processing to deliver as crisp an image as possible, with minimal judder but also no obvious soap opera effect, MadVR has a solution for you. Bleeding edge, and priced accordingly. But depending on the display type, the results are impressive. The only catch is the top-of-the-line MadVR Envy Extreme MK2 will set you back a cool $16K. See it at Madvrenvy.com.
Samsung QN990C 98-Inch 8K Neo-QLED
What's not to love about a monster 8K TV, aside from the $40,000 price tag? Look, critics of 8K said you need a huge screen to see the detail it offers. Samsung answered. The result is captivating, a TV with seemingly endless detail. Find out more by clicking here.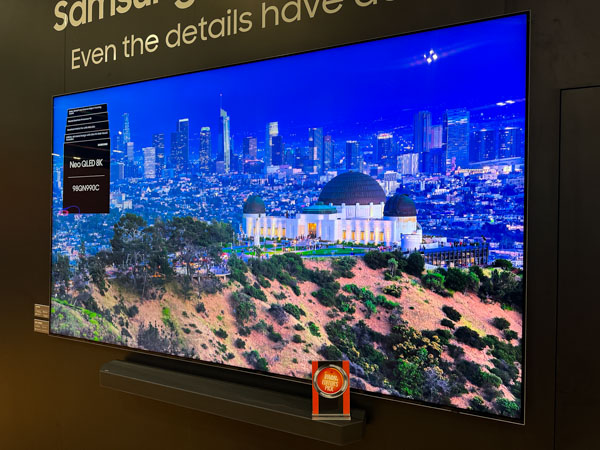 Samsung The Frame Rotating Mount
It may be an accessory, but the fact is a TV that look like a painting and rotates depending on the orientation of the artwork it is showing is extremely cool. And depending on your age, you might find other reasons to go vertical. With this wall mount, TV orientation is a choice. More info after this link.
Quantum Media Systems Video Wall
Mini-LED is super expensive. It costs as much as an exotic sports car at the minimum, and prices then quickly go into new home territory. Moreover, the tech remains difficult to manufacture at scale, so you can expect prices to stay in the stratosphere for some time to come.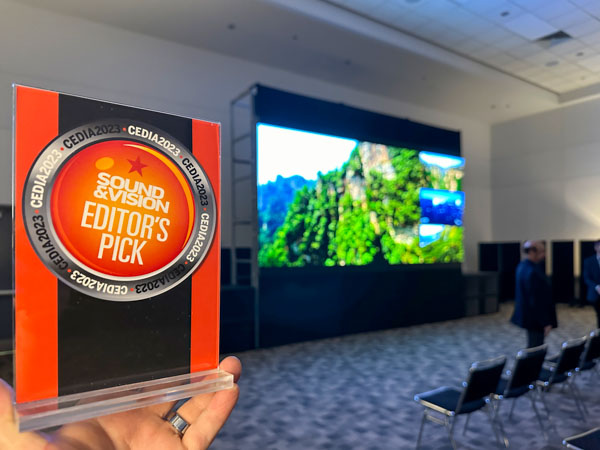 But that does not diminish the impact of a 220-inch video wall that looks seamless, perfect. It is a demonstration of what's possible if you are super rich. Read more here.