Boxed-Set Spotlight: The War, Deluxe Edition Soundtrack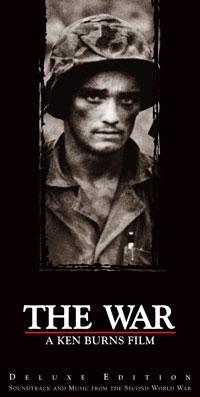 Renowned for the homespun majesty of their images and narration, the PBS documentaries by Ken Burns have also earned praise for the emotions of their music, from the folk songs of The Civil War to the jazz of . . . Jazz. Now, premiering on Sunday, September 23, comes The War, a seven-part look back at World War II from the perspectives of four American towns, involving citizens who left to fight as well as family and friends at home. And once again, says Burns and co-director Lynn Novick, "we found that music - freshly created for our film as well as true to the period - helped us immeasurably in trying to describe the indescribable and express the inexpressible."
This music has been collected in a boxed set, The War: Deluxe Edition (Legacy). Its four CDs, also available separately, are the "Hits" of Sentimental Journey, the "Dance Hits" of I'm Beginning to See the Light, the classical program Songs Without Words, and the overview that is simply called The Soundtrack. The scope of the material is remarkable, from Goodman and Sinatra to Elgar and Walton. Included in the box is a viewer's guide and a book with photos and a Burns essay.
The "freshly created" music includes tracks by Wynton Marsalis and, most movingly, Norah Jones, who covers the Gene Scheer song "American Anthem." Having seen riveting advance clips of The War, I can only say that the photos, footage, and words are - indescribable. And having heard Jones sing, "Let me know in my heart, when my days are through / America, America, I gave my best to you," I can only say that it sounds like the birth of a new standard.
more Entertainment reviews Back to Homepage What's New on S&V