Blade Runner: 30th Anniversary Edition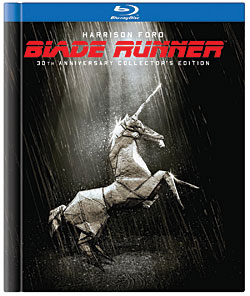 Officially, there are five versions of Blade Runner: the Original Theatrical Cut, the International Cut, the Director's Cut, the Workprint, and the Final Cut. The differences among them range from infinitesimally subtle to monumental, but the version that's unanimously hailed as the consummate version is the Final Cut. It has all the best elements from the other versions with corrected gaffe mistakes and continuity errors. It's also the version that will look and sound the best on your home theater system. Scott personally oversaw the transfer. The Final Cut has been restored to breathtaking perfection from the original negative through a state-of-the-art 4K digital intermediate process. And the original six-track sound elements have been remastered to a glorious Dolby TrueHD 5.1.
This new 30th Anniversary Edition, however, is basically a repackaged version of the 25th Anniversary Ultimate Edition from five years ago, condensed down to a three-disc Digibook release. All five versions of the film are included and have been remastered, but again, these are the same transfers from the previous edition. All the audio commentaries, trailers, and featurettes are also imported along with one of the best and most exhaustively detailed film documentaries ever made called Dangerous Days: Making Blade Runner. My only gripe is that some of the featurettes are still only rendered in standard definition. Unless you're a Digibook fanatic, acquiring this new release is redundant if you already own the previous edition.
Blade Runner is one of those rare films of which my admiration and appreciation increase with every viewing. Of all the films in my Blu-ray collection, it easily gets the most playtime. It's a masterpiece of modern cinema, and Scott's fanatical attention to detail is apparent in every frame. If you don't already own this incredible film, what are you waiting for?
Blu-Ray
Studio: Warner Bros., 1982
Aspect Ratio: 2.35:1
Audio Format: DTS-HD Master Audio 5.1
Length: 113 mins.
MPAA Rating: R
Director: Ridley Scott
Starring: Harrison Ford, Rutger Hauer, Sean Young
There's an old expression: "God is in the details." This was never truer for a film than Ridley Scott's visceral dystopian masterpiece Blade Runner. It's not uncommon for a motion picture to be released in more than one version or cut for the public's delectation. Many times, a filmmaker's original vision is compromised in favor of releasing a more commercially marketable product by the studio putting up the money. As a result, director's cuts, extended cuts, and special editions are much more prevalent now in the digital age and home video market. Few films, however, have seen as many versions or received as much scrutiny as Blade Runner.
LATEST VIDEO