40th Anniversary Edition of Deliverance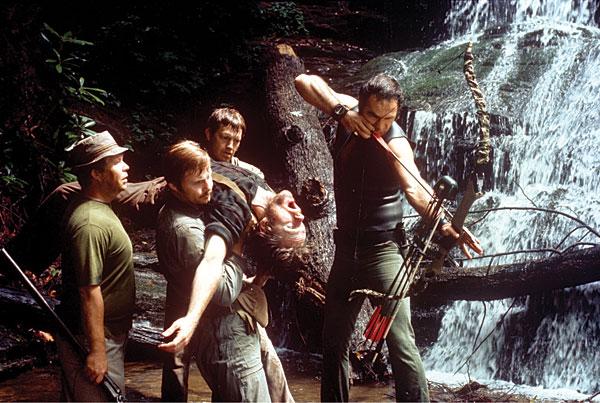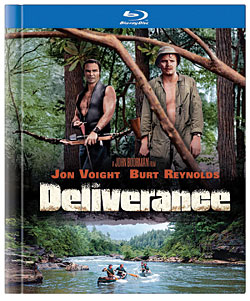 Based on the book by James Dickey, Deliverance is the type of film Hollywood doesn't seem to make these days. I love how Oscar-nominated director John Boorman keeps the camera trained on the scene, letting the viewer take everything in versus today's split-second editing and nauseating shaky-cam shots. The story is creepy as hell and keeps you on the edge of your seat from beginning to end. The film received three Oscar nominations for editing, director, and best picture, but there could have easily been three more for the performances from Jon Voight, Ned Beatty, and Burt Reynolds. When they say they don't make them like they used to, this film certainly comes to mind.
Originally released on Blu-ray in 2007, the 40th anniversary edition receives the Digibook treatment. It looks like the same VC-1 encode from five years ago was used again, but that's not necessarily a bad thing. Long and medium shots are slightly fuzzy, which is likely due to the principle photography, but close-ups are quite sharp and offer lots of detail. The river sequences are mesmerizing, and the muted color palette fits the era. Thankfully, the audio track has been updated and includes a DTS-HD Master Audio 5.1 track in lieu of the lossy Dolby Digital track from the previous release. The surround ambience is much more engaging, especially while our heroes tackle the rapids. Dialogue can sound a tad strained and thin, although given the age of the film, this is somewhat expected.
All of the supplements from the first release are included, but fans of the film will appreciate the newly produced HD featurette starring the leading men as they look back on the film that changed the direction of their acting careers. The other supplements include two vintage fea- turettes, an audio commentary from the director, and the original theatrical trailer (all in standard definition).
This isn't a feel-good movie by any stretch, but the acting and directing are top notch, and the improved audio track is definitely worth an upgrade over the previous release.
Blu-Ray
Studio: Warner Bros., 1972
Aspect Ratio: 2.20:1
Audio Format: DTS-HD Master Audio 5.1
Length: 110 mins.
MPAA Rating: R
Director: John Boorman
Starring: Burt Reynolds, Jon Voight, Ned Beatty
Four Atlanta businessmen set out in two canoes down the fictional Cahulawassee River before a dam is built to generate electricity for the growing population of Atlanta. Their adventure starts normal enough, but you get the impression that something isn't right with the inbred people of the backcountry—and their enjoyable river ride turns into a horrific life-changing experience.
LATEST VIDEO