2005 Editors' Choice Awards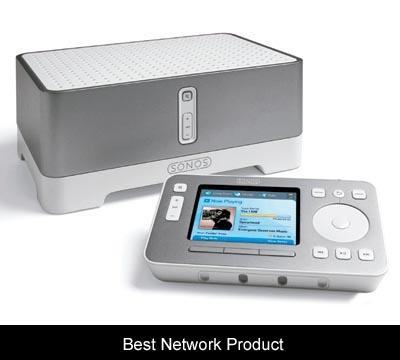 [February/March 2005] Small, white, and spiffy, the Sonos isn't the first networked-audio solution we've seen, but it may be the best.
The Sonos Digital Music System (controller and two ZonePlayers, $1,199) was clearly inspired by the iPod in both style and thinking. Of all the music networking systems we've tested, none are as elegant as the Sonos. It lets you send music throughout your home either wirelessly or via Ethernet, using a Windows or Mac computer (or a network-compatible external hard drive) as the server. You can also connect a CD or MP3 player, or even an A/V receiver, to a remote ZonePlayer and share the music with other zones.
You control everything from either your computer (using supplied software) or a cool wireless handheld controller with a scroll wheel and color LCD screen. Ingeniously, each ZonePlayer module operates independently, with its own networking gear and a built-in stereo amplifier. Just add speakers, and you can enjoy different (or the same) streams throughout your music network.
Why is the Sonos so good? For the same reason the iPod became a cultural icon: it works - exactly the way a home network would if you or I were smart enough to design one. It's as easy and intuitive to use as a light switch, yet it does everything you want a music system to do, supporting all the popular digital formats and even recognizing imported playlists. In today's high-tech world, combining simplicity and sophistication is a rare feat, but Sonos accomplishes it brilliantly. -Ken C. Pohlmann sonos.com
View Another Editors' Choice Award Winner Product of the Year and Best Video Product: Sony KDS-R50XBR1 50-inch SXRD HDTV Best Portable: Apple iPod nano portable music player Best Network Product: Sonos Digital Music System whole-house audio network Best Audio Product: Denon AVR-5805 multiroom receiver Retail Innovation Award: Best Buy Visionary Award: Mark Cuban
Creative Zen Vision portable video player Delphi MyFi XM2go satellite radio HP Pavilion MD6580n 65-inch DLP HDTV JVC Everio GZ-MG30 hard-drive camcorder Klipsch iFi iPod speaker system Pioneer PDP-4350HD 43-inch plasma HDTV Pioneer VSX-815 surround receiver Revel Concerta speaker system Sling Media Slingbox TV extender Sony Cineza VPL-HS51 LCD projector Sony HDR-HC1 high-def camcorder Yamaha YSP-1 digital sound projector
LATEST VIDEO