Control Systems Page 2
Moving beyond the keypad, we find the touchpanel, which offers the greatest flexibility because nearly every button is "soft" and typically programmable. You can take Aux, for instance, and relabel it with something more appropriate for your system, like CD Jukebox. Or you can take advantage of the graphical user interface to touch an icon of the item you want to control. But panels require a lot of programming, which is best left to a professional installer.
Panels are either wired or wireless. Wireless models typically eschew IR control, which demands a line of sight with the components, for longer-range radio-frequency (RF) control. RF panels communicate with a controller located behind the scenes that receives commands from the panel and routs them appropriately.
Touchpanels were once reserved for ultra-expensive systems, but the $1,000 Home Theater Master MX-3000 brings an amazing amount of control to the masses. Add RF receivers ($99 each), and you can control up to 96 IR devices in 16 locations from anywhere in the house.
The most popular wired panel is Elan's Via ($1,700), which can function as a standalone IR controller, or you can add serial and relay control. You can also use its 6 1/2-inch (diagonal) display to watch movies or as part of a security system.
Since a lot of us rely on the Web not just for gathering information but for entertainment as well, many panels now include Internet access. The wired iTouch panel not only offers Web browsing but lets you log in and control your house from any computer in the world. The panel's processor sits on the home network and is designed to provide control over every subsystem in the house. But at $10,700, this kind of control doesn't come cheap.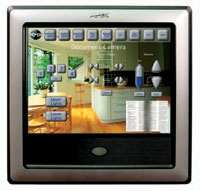 AMX Modero NXD-CA12 wall-mounted touchpanel
The names Crestron and AMX are synonymous with high-end touchpanels. Both companies offer a large range of scalable control systems designed to work with virtually any product. Crestron's Isys line offers wired panels with up to 15-inch screens and wireless panels with 6-inch screens.
Wi-Fi wireless connectivity is a driving force in home entertainment, and touchpanel manufacturers are enthusiastically embracing this functionality. AMX's Modero line offers Wi-Fi panels with 7- to 17-inch screens. Entry-level systems from either company start around $5,800, and all offer IP control, Web browsing, and system control via the Internet. Until recently, all the control-system manufacturers supported only the 802.11b Wi-Fi standard, but AMX recently announced a device supporting the faster 802.11g standard.
One of the first Wi-Fi controllers was the Philips iPronto ($1,699). You can use its 6 1/2-inch screen to surf both TV channels and the Net. Add Philips's $400 NetX device, and you can use Wi-Fi to control IR systems from anywhere in the house.
To augment its Companion line of wired controllers, CorAccess is introducing the Wi-Fi-enabled Amego (due in June for $4,000). Elan will also incorporate Wi-Fi in its 7 3/4-inch Via2 panel (due this summer for $3,500).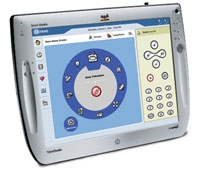 V-150p airpanel video tablet from View Sonic
ViewSonic has been looking for a "killer app" for its Wi-Fi tablet PCs, and the answer may come from two software companies - MPlus Integration, which has bundled its software with the airpanel V110p (shown on our cover) to create the $1,599 MPlus Home Entertainment Center, and Universal Electronics, whose Nevo can also be found in HP/Compaq iPAQ Pocket PCs and in Gibson's Wurlitzer Digital Jukebox (click to read review).
Net GainsHome control systems are moving away from proprietary programming toward open standards built around Ethernet and IP codes. For example, entering the IP address for any device connected to a home network into a Web browser could call up a virtual control panel that offers precise control over its functions. One product with this ability is the Kaleidescape Movie Server (click to read review).
When this level of control becomes commonplace, any Web-enabled device that can access a home network - whether it's a PC, a video tablet, a PDA, a cellphone, or a watch - will be able to act as an interface to control the system. Since most A/V equipment doesn't communicate this way now, several companies are developing solutions to bridge the gap, transmitting signals via Ethernet to the electronics. Global Caché, i-Command, and MediaSonic make relatively inexpensive IP-addressable devices, starting at $149, that sit on a network and communicate via RS-232 or IR. Software-based solutions include Lantronix's Premise Home Control Software, which can turn any PC into a house-wide controller.
As we add technology to our homes, house-wide control systems will become a common part of everyday life. Wired and wireless controllers will put all functions in the home at our fingertips. Having things like broadband Internet access on our networks will be a necessity, not a luxury. And simplifying control over mundane chores like turning up the heat, watering the plants, and adjusting the lights will free us up to do more important things - like surfing the Web and watching movies!
<!- ----------------------- Tech Center Ads ----------------------------->
<!- ---------------------336x280 ADS------------------------------->
<!- ---------------------FIXED AD------------------------------->
<!- ---------------------336x80 ADS------------------------------->
<!- --------------------Sponsored Link Ads-------------------------------->
<!- ------------------------Bottom Ads---------------------------->