Control Systems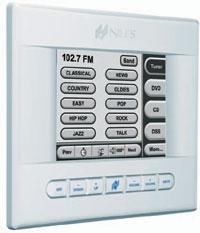 Because we want our audio/video gear to entertain us, not drive us insane with frustration, simplicity has always been the hallmark of a well-designed system. A lot of people avoid that frustration by getting all their components from one company. But almost inevitably, as pieces are replaced or new technologies emerge, other brands creep into the component rack and with them more remote controls.
Niles TS-1 touchpanel keypad
Fortunately, great universal remotes from companies like Philips, Harmony, and Universal Remote Control let us tame our systems with relatively little pain and expense. Regardless of the manufacturer or the number of components you own, you can get control of your system down to one remote.
But we're entering an era that encourages us to step beyond the boundaries of a single entertainment room and venture into the world of the connected home, where whole-house control is required. Think of a house-wide controller as the moderator at a UN delegation. It stands in the middle, making sure that everyone's doing what he should, regardless of the language spoken.
The most common language is IR (infrared). Virtually every piece of A/V gear ever made understands it, and it's relatively easy to master.
The second most common control language is computer based and uses serial (RS-232 or RS-485) ports. Many automated systems - lighting, HVAC (heating, ventilation, air conditioning), and security - are operated this way. Serial devices not only listen to the controller the way IR components do, they also talk back, reporting on their status - for instance, reporting that the lights are on at 50% or that the room temperature is 70°. Recognizing the potential of serial connections, several A/V companies have slowly started adding them to their products, while still including IR for people who prefer simple remotes.
The third type of language is mechanical, in which relays (contact closures) let you operate a myriad of devices like doors, drapes, gates, and irrigation systems.
And now there's an upstart nation that speaks IP (Internet protocol), which rose out of nowhere to incredible heights of power and popularity. Every machine on the Internet has a unique identifier, like your Social Security number, that's called an IP address. There's almost no limit to what IP can do or where it can do it. And since it has the support of the computer industry, it would appear to be the control language of the future.
Pads or Panels? Now that you understand all of the players, we can talk about the interfaces that are used to interact with the control system.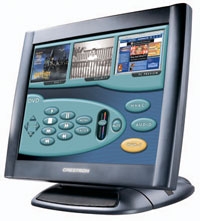 Crestron Isys TS-6000 touchpanel controller
The first stepping stone of house-wide control is IR, which provides cheap and easy control over distributed audio and video systems. The simplest system is an IR target (around $100) located in each room with wiring running back to your electronics. (For an idea of how this works, see "How to Install an IR Repeater," my April "The Custom Installer" column.) An IR system is great, but it means you always need to have a remote control handy. Elan, Russound, and Speakercraft offer volume controls with IR targets built into them for under $200.
The next step up in an IR system is a keypad controller. Ranging from $275 to more than $1,500, keypads are like having a universal remote in the wall. Models from B&K, Elan, Sonance, and Niles can be used as part of a complete whole-house system or purchased separately to control virtually any brand of equipment. Companies like ADA, Russound, and Speakercraft offer keypad systems designed to work with their company's controllers.
<!- ----------------------- Tech Center Ads ----------------------------->

SPONSORED TECH CENTER
<!- ---------------------336x280 ADS------------------------------->
<!- ---------------------FIXED AD------------------------------->
<!- ---------------------336x80 ADS------------------------------->
<!- --------------------Sponsored Link Ads-------------------------------->
<!- ------------------------Bottom Ads---------------------------->