Is Internet Radio Doomed?
The federal government's Copyright Royalty Board refused this week to reconsider an earlier decision to impose a massive rate hike on Internet radio broadcasters starting May 15. Depending on whom you ask, this is either a victory for recording artists or the finally tolling of the bell for net radio.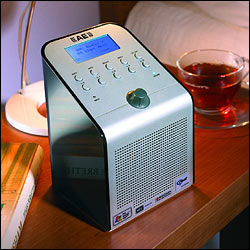 Despite strong protests by NPR, Clear Channel, and many net-radio outfits, "none of the moving parties have made a sufficient showing of new evidence or clear error or manifest injustice that would warrant rehearing," the board said.
Net radio hadn't exactly been operating royalty-free. The previous pay arrangement involved a percentage of revenue. Under the new rules, every net-radio broadcaster will have to pay a minimum of $500, plus .0008 cents per song per listener retroactive to 2006, rising to .0019 cents in 2010.
The board made one concession, allowing fees to be calculated by average listening hours, but only for 2006-07. It also clarified one point: Will the new rules apply to music sent over cellular networks? Yes.
The music industry's royalty-collecting cartel declared victory. "Our artists and labels look forward to working with the Internet radio industry--large and small, commercial and non-commercial--so that together we can ensure it succeeds as a place where great music is available to music lovers of all genres," said John Simson, executive director of SoundExchange.
The SaveNetRadio coalition disagrees. "The CRB's ill-informed decision to increase royalty fees to this unjustifiable level will quite simply bankrupt most webcasters and destroy Internet radio," said spokesperson Jake Ward.
Why kill a medium that serves as a promotional vehicle for record-company product and pays, however modestly, for the privilege? One possible explanation would lie in the music industry's traditional hostility toward new technology, especially Internet technology. Or perhaps it's just that net-radio broadcasters promote all that boring indie-label music--and don't accept payola.
<!- ----------------------- Tech Center Ads ----------------------------->
<!- ---------------------336x280 ADS------------------------------->
<!- ---------------------FIXED AD------------------------------->
<!- ---------------------336x80 ADS------------------------------->
<!- --------------------Sponsored Link Ads-------------------------------->
<!- ------------------------Bottom Ads---------------------------->